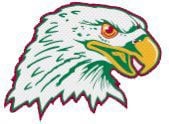 The Flagstaff Eagles volleyball team took a 25-17, 25-21, 17-25, 25-22 road win over the Lee Williams Volunteers in Kingman Thursday night.
The Eagles remain perfect at 5-0 overall with a 3-0 mark in the Grand Canyon Region.
Gracelyn Nez led the way for Flagstaff with 16 kills, 19 digs and one block on the night. Shea Wilson added in six kills, eight digs and a block, Devynn Hatathlie had 16 assists to bolster the offense and Alyssa Prager had seven blocks in the middle as part as her strong night at the net.
Flagstaff hosts region rival Bradshaw Mountain (5-1, 2-0 Grand Canyon Region) in the War Memorial Gymnasium, Tuesday at 6 p.m.
VALLEY LUTHERAN FLAMES 3, NORTHLAND PREP SPARTANS 1
The Northland Prep Spartans dropped their fourth straight match, losing to the Valley Lutheran Flames 25-16, 25-16, 23-25, 25-11.
Northland Prep falls to 1-5 overall and 1-2 in the 2A Central Region. The Spartans will be at the Payson Invitational starting today.
Get local news delivered to your inbox!
Subscribe to our Daily Headlines newsletter.