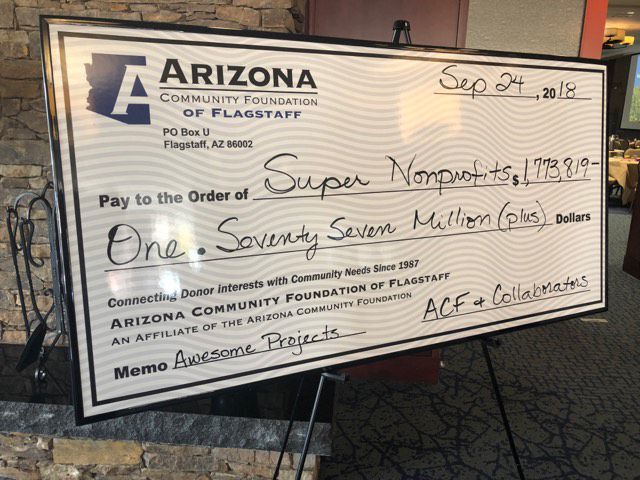 The Arizona Community Foundation of Flagstaff presented $1.7 million in grants on Monday at High Country Conference Center to local nonprofit organizations.
Gwen Groth, Arizona Community Fund of Flagstaff's Regional Philanthropic Coordinator, said the foundation received about 140 grant applications from community organizations, and 118 of those were awarded grants.
The foundation begins planning for each year's grant cycle in April with workshops, and the organizations submit their applications in June.
"The biggest thing with our grant cycle is it's a collaborative process with our donors," she said.
Instead of each nonprofit organization submitting an individual grant proposal to each donor throughout the year, ACF of Flagstaff has streamlined the process for both nonprofits and donors so the nonprofit organizations submit only one grant application once a year.
After an organization submits an application online, each donor is able to access the application, review it, rank it against other applications, and award funding based on the donor's mission, vision and criteria it's looking for in a program.
ACF of Flagstaff has specific committees for each fund made up of community members who review the applications and make decisions.
"It's a very competitive grant cycle," Groth said.
The partners and their contributions include:
• American Society of Civil Engineer's Northern Arizona Younger Members Group -- $500
• Arizona Community Fund of Flagstaff -- $508,243
• Capstone Health Fund -- $103,500
• Ernst & Evelyn Chilson Fund -- $18,000
• Forest Highlands Foundation – $200,800
• Full Circle Charities -- $13,990
• Geile Charitable Fund -- $75,000
• Molly and Joseph Herman Foundation -- $53,450
• McClanahan Family Unrestricted Fund -- $6,719
• Northern Arizona Healthcare Foundation -- $704,910
• W.L. Gore & Associates, Inc. -- $48,207
Get local news delivered to your inbox!
Subscribe to our Daily Headlines newsletter.