It may be summer, but there's still some hoops happening in town.
Throughout the summer Coconino has hosted a girls hoops summer league that has brought in schools from northern Arizona and in town. Although the three city schools that have played in the summer league are missing some talent, that doesn't stop the chance for growth for 4A Grand Canyon squads Flagstaff and Coconino, and 2A Central Northland Prep.
Coconino is without last season's leading scorer Kiana Manuelito, Flagstaff's Gracelyn Nez is playing in the 2019 NABI Tournament in the Valley along with former Eagles boys hoops player Troy Yazzie, and Northland Prep is missing its top returning scorer Ana Nicol -- giving each team a chance to give younger players more time on the court.
COCONINO
Manuelito was with Coconino for part of the summer but was gone Tuesday night as she nurses an injury.
"We miss her but it gives other girls a chance to get minutes and get some run in," Panthers head coach Martin Reyes said. "Summer is all about girls getting the opportunity to try and get better and challenge yourself."
Panthers guard Kaelynn Ashley took the chance with Manuelito out, showing some strong plays in Coconino's game against 3A North Page.
Ashley showed her shiftiness on a pair of drives against Page, blowing by her defender from the corner. Later, Ashley tossed a lob pass on an inbounds play on the sideline to Panthers forward Mahala Long for an easy basket underneath.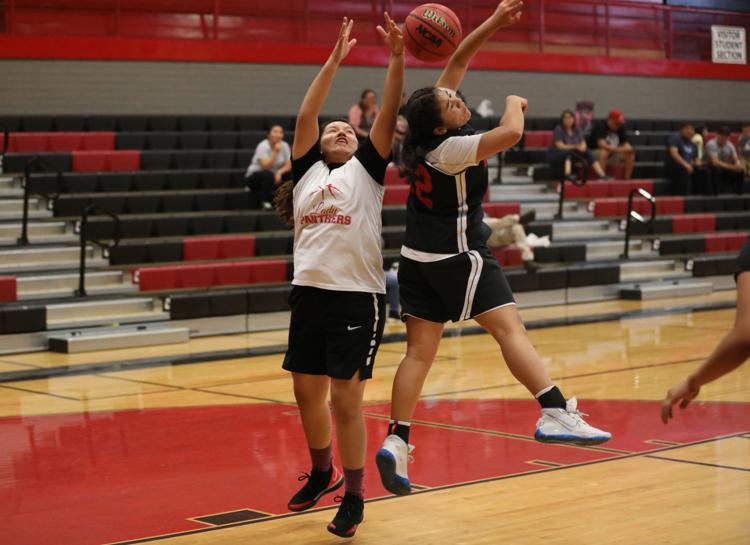 Reyes said his team hasn't quite found who they are yet this summer, but he has seen it start to come together recently.
"We've really struggled this summer to find ourselves," Reyes said. "So, it's finally now in the last couple games we are seeming to get a better understanding of what we need to do, the expectations that we expect as a coaching staff and really for a lot of them, they were playing JV basketball last season."
The Panthers went 10-9 overall last season and 7-5 in the Grand Canyon Region, finishing the season with a loss to Thunderbird in the 4A Conferences  play-in round for the state tournament.
FLAGSTAFF
Even without Nez, last season's Grand Canyon Region Offensive Player of the Year, Flagstaff still looks like a team that can continue its hold over the region after going 16-3 overall and a perfect 12-0 in the region.
As Emma Doskicz continues to improve her game and leadership skills, and as Rebecca Encinas adds an all-around weapon to the attack, the Eagles look tough even as early as it is.
You have free articles remaining.
Doskicz hit a few 3-pointers in Flagstaff's match-up with 3A North Ganado, all coming off various actions, just as Eagles head coach Tyrone Johnson wants to see out of the senior.
Hitting treys off transition pull-ups, spot-ups and baseline cuts to create space, Doskicz showed her continued development as a shooter. Last season as a junior, Doskicz connect on 62 of her 191 attempts from deep as Flagstaff's top threat from outside.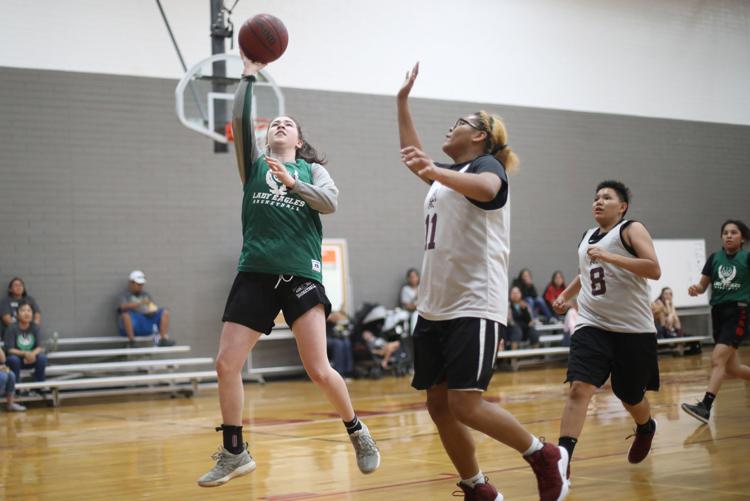 "One, we are looking at her leadership," Johnson said. "Her leadership is going to be key because we got a lot of young kids out there right now. … We already know what her skills are. But as teams understand and know who she is, she has to be able to do multiple things. She can't just stand up and wait for us to get her a shot, she has to get her own space and get her own looks."
With Doskicz raining from the outside -- and showing an improved handle on drives to the basket -- Encinas gives the Eagles a likely replacement for last season's starting big Josephine Faull.
Encinas displayed a knack for fighting through defenders on drives down the middle, making good decisions once she made it to the lane -- earning high praise from Johnson in the process.
"That's my little Draymond Green this year," Johnson said. "Rebecca is going to be a do-it-all for us. I think she understands that this is her senior year. She just loves the sport of basketball."
NORTHLAND PREP
One of the smallest schools participating in the Coconino Summer League, the 2A Conference Spartans played in the JV level of the league -- a spot that has worked well for the squad.
With last season's top scorers Emma Blair and Abby Vest graduated, the Spartans are looking for some players to step up. Nicol, Northland Prep's top returning scorer, wasn't with the team Tuesday along with a large number of expected varsity players.
With a high number of upperclassmen out, Spartans head coach TJ Harris rolled out a fairly inexperienced team.
Even though his team was going against bigger schools, Harris said the Spartans have been faring well and keeping games close throughout the summer.
What Harris really wants out of his budding program, which saw one of its better seasons last year going 6-12 overall, is players bringing consistent effort out on the court.
"Really, we are looking for commitment," Harris said. "We don't have a lot of our girls, and so we got a lot of our freshmen and sophomore girls out there."
All three schools will start their seasons in late November, leaving plenty of time for each to develop in the coming months.