Craig Collins's fifth-wheel camper is one of dozens tucked between tall ponderosa trees at Kit Carson RV Park in west Flagstaff. Collins has lived at the park with his girlfriend and newborn baby since last summer.
It wasn't a free-wheeling, always-on-the-road lifestyle that brought him here, Collins said, but cost.
"I just realized that for sure it's gotta be cheaper to rent an RV space than pay $1,300-plus for an apartment or a house," the Flagstaff resident said.
After putting down about $9,000 for his fifth wheel, Collins now pays $660 per month to rent a spot at Kit Carson, which is about half what he was paying to rent a house on Flagstaff's east side.
Finances are tight in part because Collins is a student at Northern Arizona University, where he is studying mechanical engineering.
He is among a small but growing contingent of students who, faced with rising rents and scarce housing supply, have turned to fifth wheel-type campers as their full-time homes.
Managers at two year-round RV parks in town said they both have seen rising numbers of students signing up for site leases. Many say it's less expensive than a dorm room or renting a room off campus, said Holly Savinelli, the assistant manager at Kit Carson. Over the winter, 19 of the park's approximately 100 long-term residents were students, which is the highest proportion park managers have seen in at least three years, Savinelli said.
The ratio is about the same at Black Bart's RV Park near Little America. There, 20 of the 90 long-term residents are students, said Jennifer Yazzie, co-manager of the park.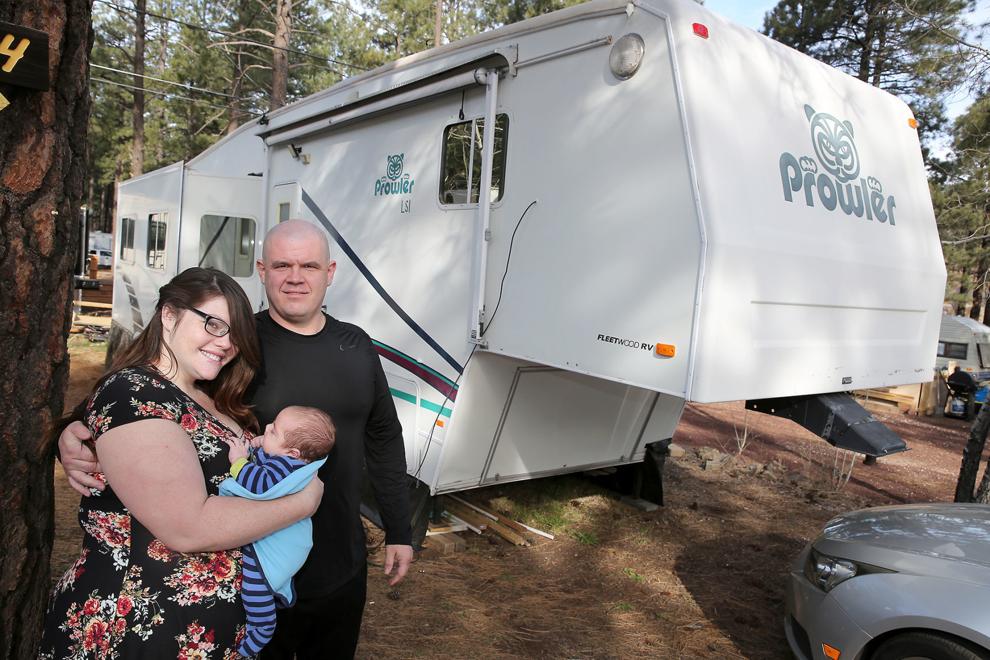 Yazzie said for many students, living in the park also allows them to get away from the hustle and bustle of campus.
Both parks have student rates that range from $490 at Black Bart's to $660 per month at Kit Carson. They also offer month-to-month leases, which allows students more flexibility, Yazzie said.
Often, the arrangement is made more affordable because students will borrow units from their parents or grandparents that have been sitting unused or barely used for years, said Lindsey Gabriel, co-manager at Black Bart's.
"It's on the up and coming," she said of camper living.
A BETTER INVESTMENT
It was somewhat by chance that Danielle and Brian Broadstock happened upon the idea of moving into a camper trailer.
They were paying higher and higher rent at their home in Florida and rented an RV for a family vacation. After spending some time in it, they started to think, "We could live in one of these," Danielle Broadstock said.
Soon after, they bought their 40-foot fifth wheel and they have been living in it full time with their two children, ages 2 and 4, for two years now. They shell out $425-per-month to pay off the fifth wheel plus $575 to rent their spot at Kit Carson, which includes an outdoor area, water and sewer hookups and free wireless internet.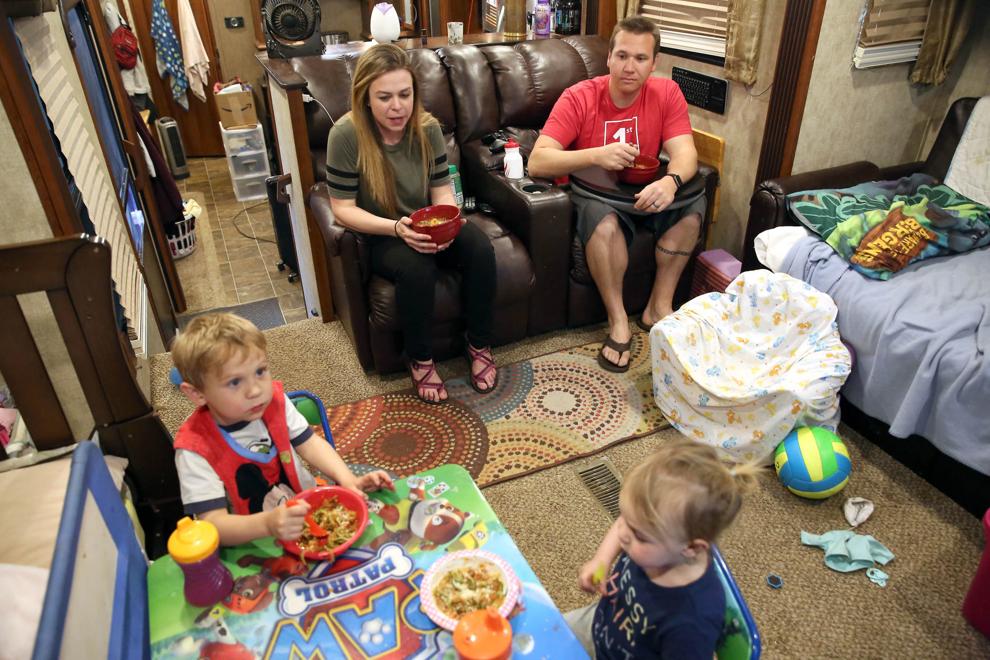 It's cheaper than any housing in town, Danielle Broadstock said. While their base housing costs are $1,000 each month, the latest survey from Housing Solutions of Northern Arizona shows a one-bedroom rents for an average of $1,161, while a two-bedroom is an average of $1,427.
Plus, the couple said they like that they're not tied down by a lease, can go anywhere with the camper and are putting their money toward owning something rather than renting it.
It did take some adjusting and rearranging to make the RV workable, Danielle Broadstock said. They had to take out the dining table to fit a desk and her son's clothes dresser, and the living room area serves triple duty as a playroom, dining room and bedroom for both children.
The family tried to apply for family housing at NAU but never got in, so this will likely be where they live until they buy a home, Danielle Broadstock said.
BETTER THAN EXPECTED
A convenient, but temporary option is the way Liz Bennett sees camper living as well. A sophomore at NAU, Bennett moved into a fifth wheel camper with a friend in November, squeezing her twin bed into a corner of the small living room. Most of her belongings are packed into a small closet or in plastic containers underneath the bed, her school books are stacked on top of her covers and she still stores some overflow items like extra bedsheets in her car.
Although she's planning to move out this summer, Bennett said the RV park has been better than she expected — affordable, private and dog- and cat-friendly.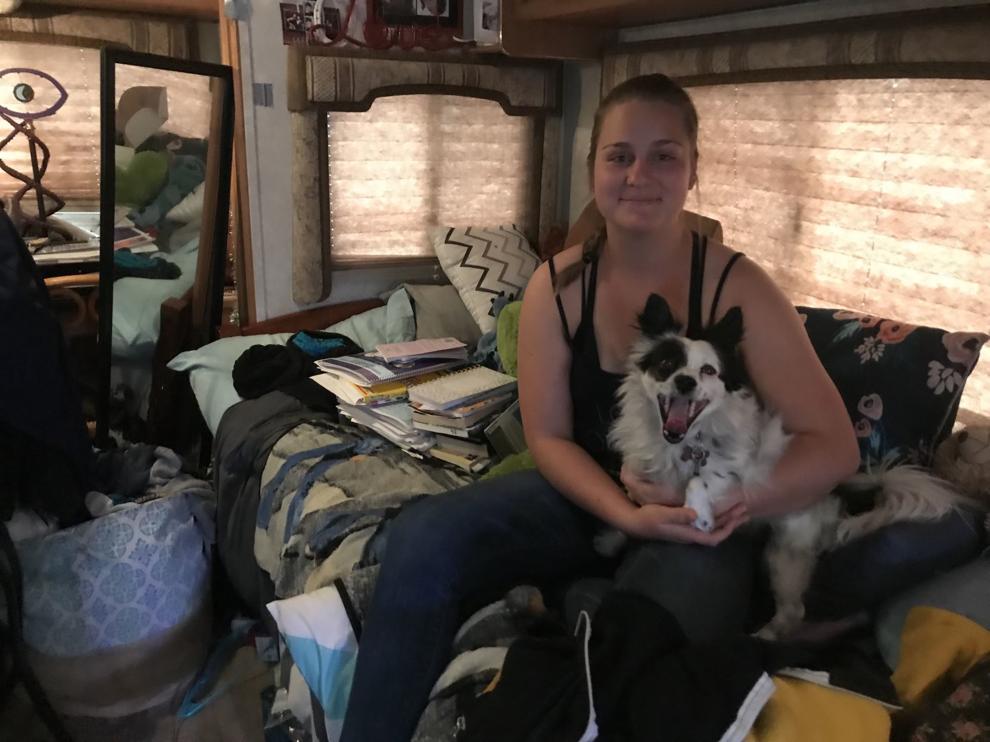 Bennett's roommate, Teresa Wise, owns the trailer. Her parents helped her with the $9,000 initial cost and now she pays to lease a site with her earnings from a part-time job, said Wise, who is in her third year at NAU.
Bennett and Wise each pay $330 per month, which includes utilities, and because they're both busy with school, work and extracurriculars they don't see each other much in the trailer, Bennett said.
Both women said they had explored campus housing as another option but had trouble getting through the system. NAU spokeswoman Kim Ott said in an email that while the university prioritizes housing freshmen and sophomores on campus, all of the approximately 4,800 upperclassmen who applied by the necessary deadlines were able to be housed on campus this year.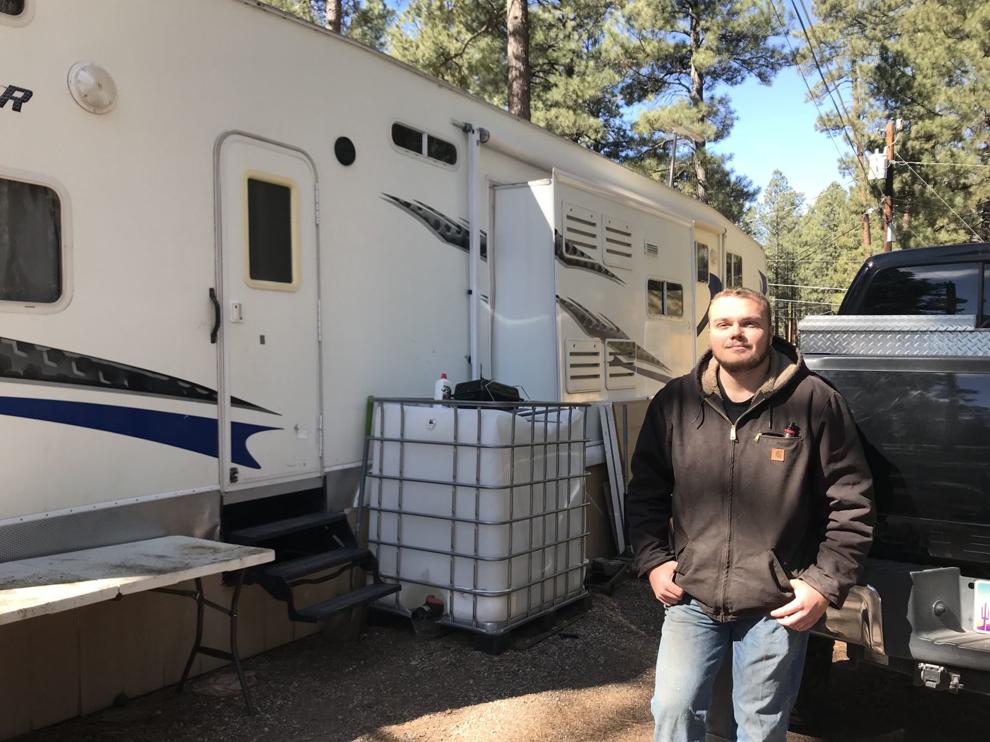 Thomas Berg, on the other hand, said living in a dorm was never the route he wanted to go. The NAU freshman said he also isn't an apartment person, which led him to buy a fifth wheel camper. He now has space for his two dogs, parking for his Jeep and other truck and room to put up a temporary garage-like structure for working on his cars.
Minus the initial investment for the trailer, "this is definitely one of the cheaper options," Berg said.