The Flagstaff Girls Softball 10- to 12-year-old All-Stars toppled Queen Creek, 12-2, on Monday in four innings, advancing to the semifinals of the state tournament with the victory in Flagstaff.
A hitting clinic was put on by Flagstaff, which had nine base hits in the first inning and scored seven unanswered runs to set the tone early.
Pitcher Gracie Schmitz was just as red-hot as Flagstaff's bats, recording nine strikeouts in four innings of work in the circle while allowing only four hits. Leading the way at the plate was Gianna Baca, who went 3 for 3 with two doubles and three RBIs. Danica Wilson, Alyssa Fockler and Reese Elliot added two hits apiece while Kody Watson, Bella Giurlanda, Wilson and Schmitz each contributed two RBIs.
Flagstaff, chasing a second straight state title, faces San Xavier at 8 p.m. on Tuesday at Coconino High School in a semifinal-round game between the only two unbeaten teams left in the tourney. 
BASEBALL JUNIORS
For the first time ever, the West Flagstaff Little League juniors All-Stars made their way to the state tournament after beating White Mountain Apache, 7-2, on Friday night in Winslow to become District One champions.
Anthony Lucero pitched six scoreless innings and struck out 11 for West Flagstaff, which went undefeated in the tourney. As a team, West Flagstaff tallied 37 strikeouts in 21 total innings to make their way to the state tournament, which is set to take place in Tempe starting Saturday.
Bodie Maier came in to get the save in the seventh inning, allowing two runs on defensive errors.
West Flagstaff had control of the game thanks to solid hitting. Tristen Figueroa ended his day with four RBIs and had a nice defensive play behind the plate. Spencer Smith's bat heated up in the second half of the game and he added two RBIs. Hayden Godinez fielded the final out at second base to record the win.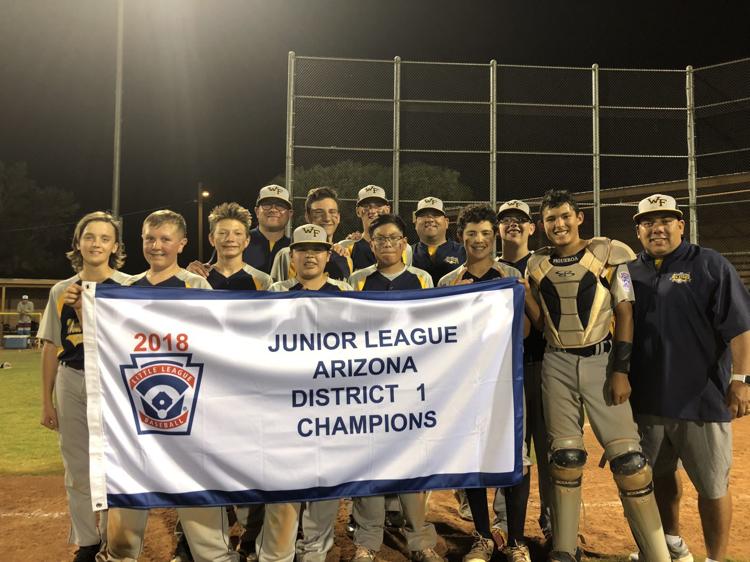 Tristen Figueroa is a six-time All-Star, five-time district champion and this will be his fifth time competing at the state level. Godinez, Lucero and Chad Philpot are all four-time All-Stars and four-time district champions. Lance Henry is a four-time All-Star and first-time district champ and this will be his first time competing at states. Cameron Domaska is a three-time All-Star, two-time district champ and will be in his second state tourney. Maier is a three-time All-Star, and two-time district champion and this also will be his second time playing in a state tourney. Smith is a two-time All-Star, and will be in his first state tourney game. Joshua Jones, Fox Dudas-Oatman and Trevor Westover are all first-time All-Stars and district champions.
The team's manager, Matt Stribling, has helped coach teams to three District One titles and three finishes in the state tournament prior to this season.
West Flagstaff now has three different age groups of All-Stars at state tournaments. The West Flagstaff 12s continue their attempt to get in a state tournament Tuesday in Winslow.