Talent, they say, cannot be taught. But it can be uncovered, nurtured and cultivated, until it blossoms forth as if in time lapse — that whole overnight-sensation, years-in-the-making scenario.
Early on, famed Hopi-Tewa painter Dan Namingha had plenty of help unearthing his skills and artistic vision. There was his teacher at Polacca Day School on the Hopi Reservation, Lillian Russell, who first had him put paint to canvas. Others, too, mentored him along the way: at the University of Kansas, the Institute of American Indian Arts and the Art Institute in Chicago. And, of course, he came from a multi-generational family of Indigenous ceramicists.
Now, at 71 and well established internationally, Namingha and his son, Arlo, a sculptor, have taken on the roles of mentors. They are just concluding a two-week residency for young indigenous artists at the Museum of Northern Arizona, culminating today with a public viewing of the work undertaken between 1 and 4 p.m. in the Jamie Major Golightly Courtyard.
What visitors are likely to see is the first intimations of artistic expressions by the five young artists-in-residence, some formally trained, others self-taught.
It will be their own work, of course, but perhaps influenced over the past two weeks by the steady tutorship of Namingha and son, who have more than 70 pieces in MNA's collection, courtesy of Philip M. Smith Trust, which also funds the two-week residency called the Namingha Institute.
"They are very patient," said resident Jennifer Arrighi, who has student acrylic paint and graphic design at Arizona State University and the Art Institute of Pittsburgh. "They walk around and work with you, one-on-one. They'll come up and ask you, 'How do you feel about this?' I'll be like, 'Well, I don't like what I'm doing here.' And they'll give you suggestions on which way to go with it to come up with a better solution."
When an artist on the magnitude of Dan Namingha, who had a one-man show at Harvard's Fogg Museum and whose work has rubbed frames with the likes of Picasso and Degas, gives "helpful suggestions," the student surely listen. He and Arlo, 48, a sculptor of note in his own right, try to gently steer students to find their own vision, not replicate what other Indigenous artists have produced.
Still, on the first day, self-taught Navajo artist Melissa Yazzie admitted to being a little intimidated.
"I'm learning more on how to do technique, especially the things Arlo showed me," Yazzie said. "I'm trying new things and they tell us to take chances."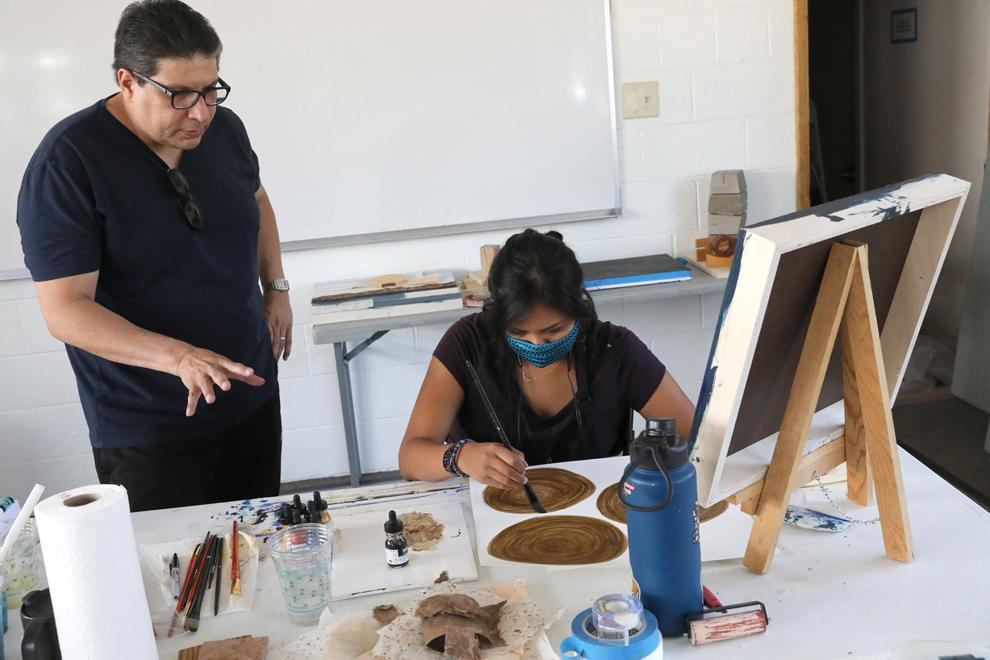 Expression and experimentation
You may not be able to teach innate artistic talent, but mastering the technical aspects of one's medium of choice can be passed along. So the Naminghas have instructed the students on such basic techniques as stretching their own canvas and trying mixed-media collages -- which some students admit is slightly outside their comfort zone.
This is how Dan honed his craft back in the day, and it's what he wants to impart to younger artists. When Dan talks about his first art teacher on the Hopi Reservation, the crow's feet of his eyes deepen and he smiles with remembrance.
"We were provided material and she showed us how to use it and then just let us go (creatively)," he recalled. "She allowed us to create whatever we saw or felt, freely. Oil paint, watercolors, pastels. We experimented."
Once he mastered the technical skills, Namingha cultivated his creative side as a student at the Institute of American Indian Arts during a period in the 1960s where free expression and experimentation of all kinds was paramount.
"During those times at school, it was almost free-form," he said. "Students were allowed to just freely express themselves through whatever medium. Of course, you had certain instructions, they just let you go. Some of it had social, political and spiritual content; it ran the gamut. Nature and natural resources were really stressed. In the 1960s, what they referred to as the happening, it was the psychedelic era. So a lot of going on."
Father and son master artists want to re-create such as atmosphere -- on a smaller scale and, of course, sans '60s psychedelics — at MNA.
The genesis for the institute came from patron Philip Smith, executive officer of the National Academy of Sciences and the National Research Council and a collector of Indigenous art, and that of the Namingha family in particular.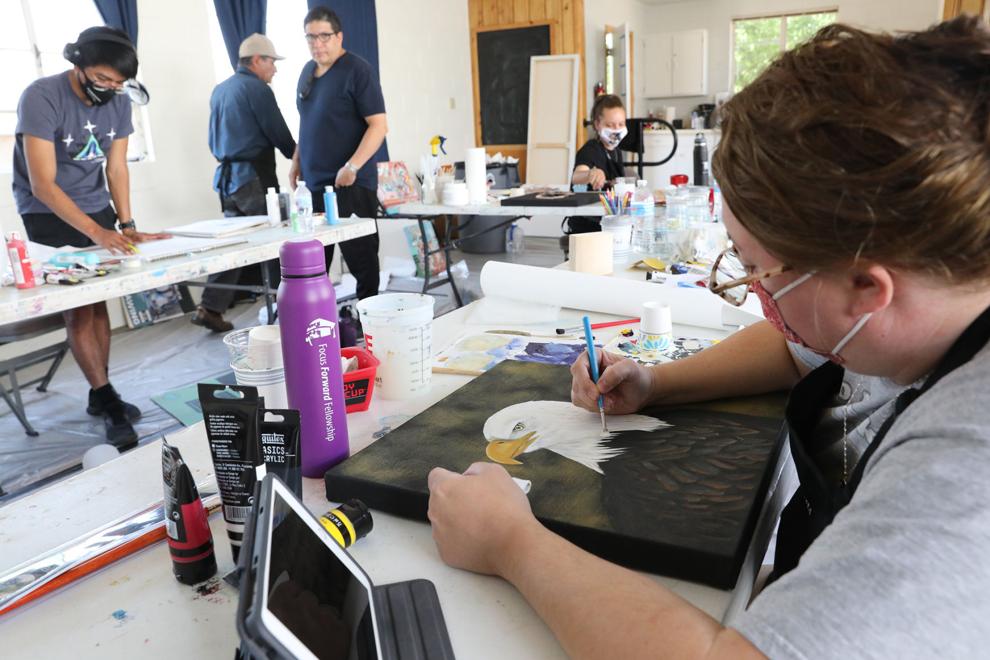 The two men knew each other and, many years before Smith's death in 2014, he pitched the idea of Namingha lending his expertise to an endowed institute to aid young artists.
"One day he asked me about teaching, if I'd ever done it," Namingha said of Smith. "The conversation went from there. He had this idea and decided to donate his collection to museum here. So that's how it came about."
Dan and Arlo are based in Santa Fe, New Mexico, where they have their own gallery, Niman Fine Art. But they travel extensively, and Dan said they relish the weeks spent in Flagstaff mentoring young artists. The first class of residents was in 2019 and, after COVID-19 shelved last summer's plans, they say they are pleased to be back.
They like the intimacy of having only five students, giving them more individual attention but also trying to form a tight bond among participants.
"The idea is bringing a diverse group together," Arlo said. "This small group works really well. They went out the first day and worked on a project collaborative using natural materials and left it there in nature. Getting them to work as a team and working on their individual ideas is what we're doing. Showing them techniques but letting them freely explore what they want to implement, maybe doing something outside the box of a structured environment."
From the first day, Dan and Arlo imparted the notion of making art with nature, not just using nature as inspiration. To that end, they had the students work together on an outdoor installation using only what they could find in the forest near MNA, material such as pine cones, sticks, leaves and pine needles in various stages of decay.
"We were able to find a common vision, eventually," said student Kyle Secakuku, a Hopi who studies at Utah State University. "We all have different philosophies in art and life, but with that activity we found a connection. Eventually, we thought a lot about water. Water was (the theme)."
That installation is meant to be ephemeral and simply blend back into nature. But the more traditional works the students are toiling over now will be on display at today's public showing.
"What you'll see," Dan said, "is how one idea will spark into many ideas. That's what this whole program is all about."