A line of twenty 4- and 5-year-olds dutifully practiced "hugs and bubbles" as they walked down the halls of Killip Elementary School last week, arms to themselves and cheeks puffed out to stay focused and keep quiet.
Tonight, they will perform a more celebratory walk as they participate in KinderCamp's annual Bridging Ceremony, becoming part of the latest graduating class of the 15-year-old kindergarten readiness program.
"Every year is different. We never know what we are going to get," Flagstaff KinderCamp Coordinator Sarah Owen said. "This group seems more ready for school and more willing to learn and do new things."
United Way of Northern Arizona began the free 18-day school readiness program in 2004 to give local children without access to preschool the academic, social and emotional skills needed to succeed in elementary school.
Sylvia Johnson, United Way Board Chair, said the bridging ceremony represents the program itself.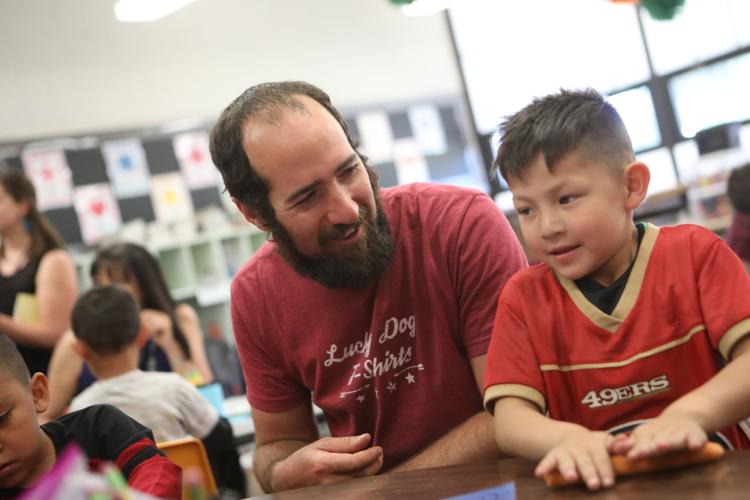 "The whole point of KinderCamp is to provide a bridge for children from whatever experience they've been involved in prior to kindergarten into 'formal' kindergarten," Johnson said.
Only a few years after it began, KinderCamp was expanded into other parts of northern Arizona: Williams, Winslow, Blue Ridge and Page. It has remained there ever since.
"The communities wanted it. They saw Flagstaff had one and they were excited," said Carol Dykes, interim president and CEO of United Way.
Though it started with just 45 students its first year, KinderCamp now serves from 160 to 180 students in Flagstaff alone each summer.
Each KinderCamp site typically holds up to three classrooms, each with at least one certified teacher, one paraprofessional and a maximum of 20 students. In Flagstaff, there are classrooms at three Flagstaff Unified School District elementary schools: Kinsey, Thomas and Killip.
Each day, students go through a practice run of their future school day, complete with breakfast and lunch, recess, circle time and small-group activities.
"We've been learning our ABCs, letters, numbers and it's hard," Brianna Hartsell, 5, said.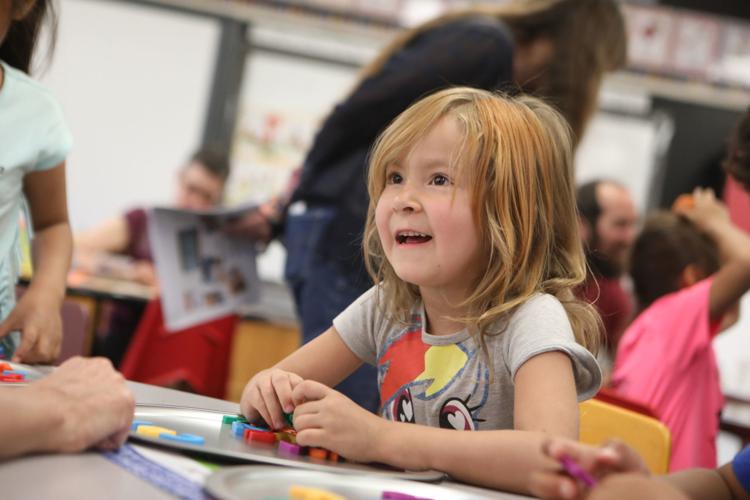 Owen said the most important part of the camp is not necessarily the academic lessons, though.
You have free articles remaining.
"It's really about building the whole child to understand things like school safety and how to hold a lunch tray, ask for help, share materials and learn from mistakes," she said.
Building relationships – with each other and the teachers they are likely to see in the future – is also essential.
Corree Davis, 5, said her favorite part of KinderCamp has been playing with the new friends she made.
Though students learn the same skills as those in other early education programs, teachers and staff said KinderCamp has a unique feel for its immersion and personal touches.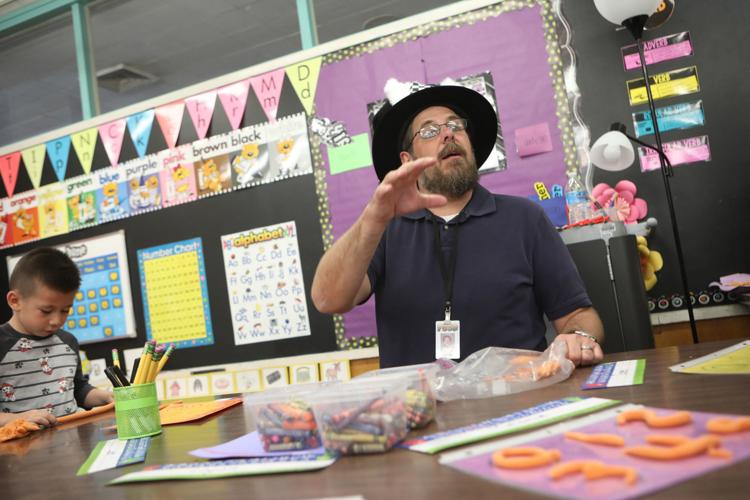 "Learning happens fast with immersion. You only have four weeks, where normally you can spread out a lot of that stuff. That's why the classrooms stay pretty small," said Heidi Hanson, United Way's chief operating officer.
Sean Duffy, who works in behavior at Flagstaff High School, was a first-time KinderCamp teacher this year and said the home visits through the camp – one per student over the course of the month – are unlike anything he has seen at other summer programs. The kids love to see their teachers after their school day is done and to show off their toys, he said.
The visits, like the entire camp itself, are not just for students, but also for parents.
"We have a lot of students from homes where both parents work, so they don't have time to do academics at home. It's really helpful that students get every extra bit of exposure before they start kindergarten," said Julie Ryan, a second-year KinderCamp teacher.
It also gives parents a chance to learn elementary school rules, which are different from the rules of most local preschools and daycares.
In addition to vacations, one of the main obstacles for kids eligible for KinderCamp is parents who are not ready to let go. This parental involvement is one solution.
Frank Garcia, FUSD director of educational enrichment, said KinderCamp parents can now use the district's "Here Comes the Bus" program, which gives real-time information about the bus's location and shows when their child gets on and off the bus, based on their ID card.
Though the technologies may have changed, 15 years since it started, teachers still notice the difference made by KinderCamp in the fall, when their camp graduates begin kindergarten.
"Day one, you can tell which students have attended KinderCamp because they are confident, comfortable and excited to be at school. And I think that's really the best thing," Owen said.
To celebrate its continued legacy, recent KinderCamp graduates as well as those who are now teenagers will walk together in the Fourth of July parade next week.