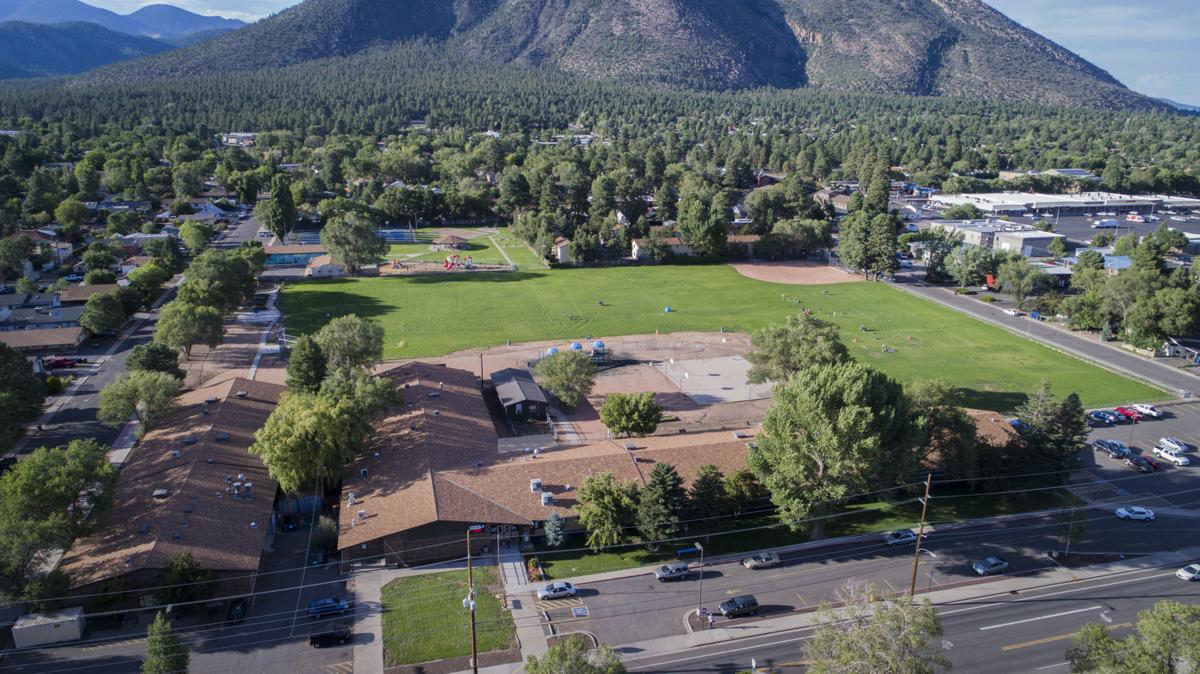 Following a November work session, Flagstaff Unified School District has selected Killip Elementary School for replacement using funds from the 2018 bond measure.
Groundbreaking on the new $19 million school that will be built adjacent to the existing school, is projected to begin early next year, with completion by fall 2022.
"Some of those kids who are kindergarteners, first graders, second graders, they're going to finish out their elementary career in a brand new Killip school," said FUSD Superintendent Mike Penca.
In a facility assessment conducted in early 2018, the now-72-year-old school and Kinsey Elementary, which was built 10 years later, were both recommended for replacement; costs to repair the two schools to last a few more years would have totaled more than $9 million.
The bond measure allocated a total of $29.6 million for replacement of one school and renovations to Mount Elden Middle School, another of the district's oldest identified by the facility assessment for major repairs. Physical updates to the middle school, including a new 8,000-square-foot building, began in July and are scheduled for completion as early as this coming fall.
Penca said the need to replace Killip became more urgent with the flooding risk caused by the Museum Fire this summer. The school's 9.4-acre parcel will also allow for replacement to occur on the same property while school is in session.
When Killip was named for possible replacement, the school formed a building committee that determined some of the school's needs, such as general updates to spaces for physical education and after-school activities (which are currently held in the cafeteria), as well as improved utilities.
"With the change in technology, we don't have the capacity of electricity needed for the building," said Killip Principal Joe Gutierrez. "There are times when we will plug in our computers and stuff and we start throwing breakers, so we have to be careful."
Air conditioning is also a need for Killip, which has been on a modified calendar for more than 20 years, keeping students in the facility for much of the summer. Gutierrez said only the school's front office currently has air conditioning.
The building committee plans to visit newly built schools in the Phoenix area for reference as the planning process begins.
Although design of the new school is still to be determined, Penca and Gutierrez agreed a priority, pending community input, will be to replicate existing roles and spaces, such as areas for community gatherings and the school's green spaces and garden.
"Killip Elementary School in the Sunnyside neighborhood is considered a safe haven," Gutierrez said. "It is a place where kids can go for safety. They know that; the community knows it. The community also knows that they can have meetings there and that sort of thing, so it's really about preserving that."
The new school will aim to better reflect Killip's recent certification as a STEM Provider, both in spaces and in partnerships the school hopes to form with the project crew to show students engineering in action.
"On some end, there were tears," Gutierrez said of the decision to replace the school. "We've got generations of people that have gone [to Killip], but then there's the need to really have STEM classrooms … that allow collaboration. We're excited. We're ready to rock and roll."
The FUSD governing board was scheduled to vote to start the search for architectural and engineering services for the project during its meeting Tuesday; however, board members wanted to be more involved in creating the qualifications for the positions, based on desired outcomes for the new school. The motion was postponed until the board's next meeting.
"When you pick a person or a firm, they have their way of doing things," Carole Gilmore, clerk of the board, said Tuesday. "And if we don't get to compare the firms or have a plan that says, 'this is what we want,' some will back away and say, 'I don't want to do that.'"
The architect and engineer, which are scheduled to be selected by May, earn a percentage of the overall budget, which will be negotiated once the contract is awarded. Assistant Superintendent of Operations Bob Kuhn said Tuesday the district hopes to settle around 6%, compared to standard projects at 10%, which equates to a little more than $1 million.
Kinsey replacement
Although Kinsey remained a contender for replacement in the months following the 2018 election, Penca said other organizations' plans for the area, especially the city's expansion of Lone Tree Road, have made updates to the school more complex.
"Those plans are out another five years, so we just felt there is a little more time for all the pieces of that puzzle to get put together for Kinsey," Penca said.
He said the board unanimously chose Killip for first replacement during a work session in early November. Administrators are beginning to discuss future plans for Kinsey, though, such as source of funding – another bond measure or capital assets, for example – and if the replacement school would be built in the same location.
"We'll have to consider if that's the idea site for us to have," Penca said. "We'll continue to look at where growth and development is happening in the community and where it may be strategic for us to have a school to accommodate the growth."