The click-clack of active keyboards resonated through a Coconino Community College computer lab this week as 20 kids typed away, earbuds in and faces to the screens.
They weren't playing games or surfing the web, though. They were coding their own websites.
"It's really not easy. It takes a lot of effort and time but once you're done with it, it just feels so good," said Michael Atiemo, 10.
Michael was one of the students participating this week in the last of four sessions of the annual STEM camp, Summer of Coding, hosted by the Greater Flagstaff Chamber of Commerce.
The 6-year-old program, sponsored by Arizona Public Service (APS) and Suddenlink, offers week-long sessions to kids from ages 11 to 16 who are interested in coding.
CCC joined in for the first time this year, offering up its technology-packed iLab as a home for the camp.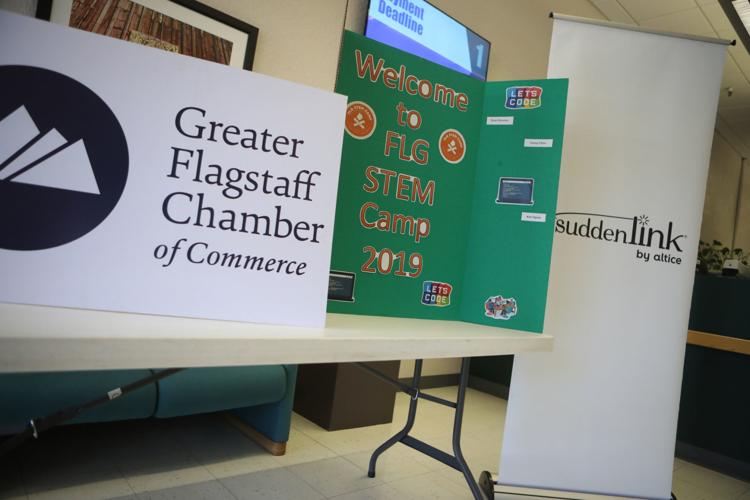 "STEM learning is not a niche learning. It's for all people," said Julie Pastrick, president and CEO of the Chamber. "We don't feel like you should start in high school to learn STEM. We feel like you have to start pretty early, which is why our program starts at age 11."
In addition to creating websites, other sessions of the camp allowed kids to program small LEGO robots with coding, learn how to think – and print – in 3D and calculate the velocity and landing time of a small rocket they launched together.
These other sessions gave kids the opportunity to do a different project each day, said camp leader Larry Marek, the robotics team coach at Sinagua Middle School; however, the web development groups are spending most of their camp time building their websites.
Though he said most of these students had some basic coding experience, he walked them all through a 'refresher course' on the basics of two different computer programming languages. He also showed them online resources to start a free website and those that allow them to code basic video games.
Their websites can be coded either entirely by hand or using online templates as a guideline.
"I hope that they can take some of the skills they learn while we're having fun this week and continue with their websites or build upon that knowledge," Marek said.
This creative freedom resulted in websites with content such as reviews of movies, books and even shoes.
Lily Ross, 10, was creating a website full of tips she has found helpful to cure writer's block. She writes fiction chapter books and wanted to share not only the tips, but also the books themselves. She plans to continue adding to her website after camp is over.
At the adjacent computer, Ellen Badger, 14, was working on a website where she can share photos of the places she has traveled. She is practicing how to use coding to attach the photos to her website using online images; however, she plans to update them later with the photos she and her family have taken.
"I like all the things that you can do with coding. You can design [a website] and make it however you want it to be," she said.
Jonah Vedral, 13, and Connor Ferguson, 12, were working together to create a similar photo- and video-sharing website – from scratch.
Conner said the effort has been a challenge: when two pages would not link to each other correctly, they had to delete the code and start over.
"You have to do all these steps to make one thing and then you have to keep doing different steps until you finish. It's tedious," Jonah said.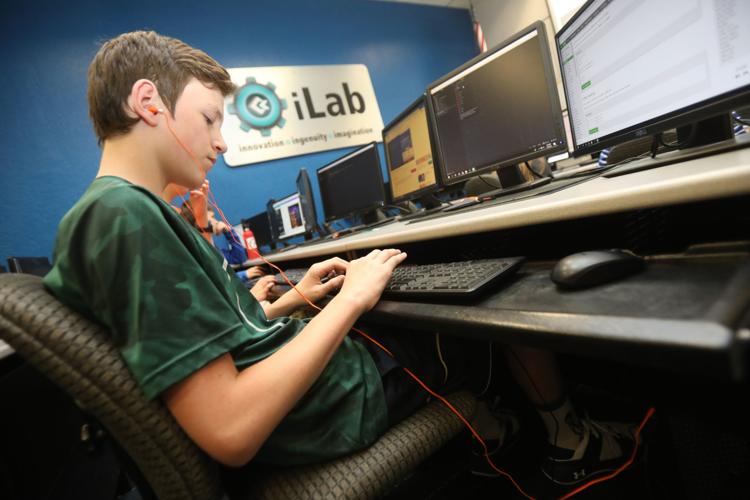 Michael is working on two different websites: one to compare Roald Dahl's book "The BFG" to its movie and another on NBA players.
He said his mom, who used to work for NASA, has inspired him to keep on building, even when something fails.
"If you mess up one piece of the puzzle, it's all broken and you have to restart. But sometimes, if I mess up on something, I can use that and make it into something better," he said.