After 21 seasons, Northern Arizona football head coach Jerome Souers will not be the school's coach going forward.
Sources told the Arizona Daily Sun that Souers and Northern Arizona vice president for intercollegiate athletics Mike Marlow came to the decision in a meeting Monday afternoon.
In a statement sent out by Northern Arizona Athletics on Monday, Marlow confirmed that Souers will not continue as head coach and that he will transition into a new role with the school. Marlow said Souers will continue to work with Northern Arizona in a new position that will have Souers focused on "athletic fundraising and Native American initiatives."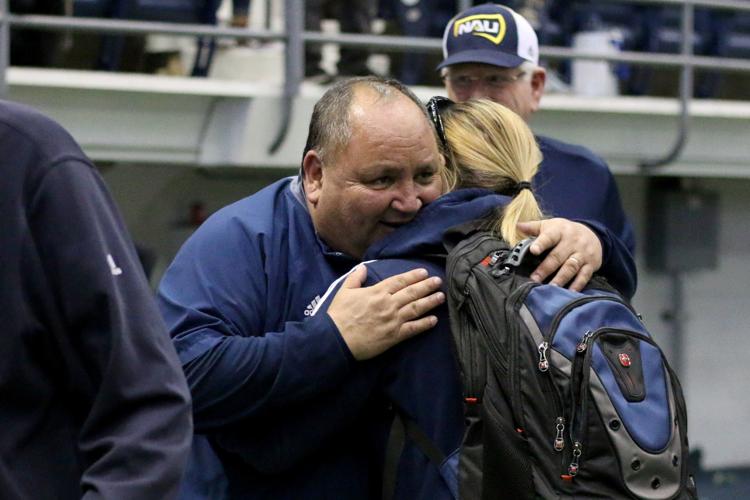 The Lumberjacks capped off the season with a 31-16 upset win over North Dakota in Saturday's regular season finale, giving Souers one last victory after injuries forced multiple major lineup shifts that played into the team's 4-6 overall record -- its worst finish since 2011 -- and 3-4 showing in the Big Sky.
Souers led the Lumberjacks to a 123-114 overall record and 85-77 in the Big Sky during his long career in Flagstaff. Since back-to-back eight- and 10-win seasons in 2012 and 2013, the Lumberjacks have posted seven-win seasons in three of the past five years, culminating in just one FCS playoff berth. He ends his career as the all-time leader in career wins and losses in the Big Sky and is in the top 15 among FCS coaches in career victories.
Last year, Souers was effectively fired and later re-hired as part of a drawn-out process by former athletics director Lisa Campos -- who took the same director job at UTSA shortly after announcing Souers wasn't going to continue as head coach.
During his run at the helm of the Lumberjacks, Souers has had four different athletic directors since being hired by Steve Holton in 1998. He has also been through the tenures of four Northern Arizona school presidents in Clara Lovett, Owen Cargol and John Haeger and Cheng.
It is not yet known how Northern Arizona Athletics will work to find a replacement for the longtime head coach.
Get local news delivered to your inbox!
Subscribe to our Daily Headlines newsletter.