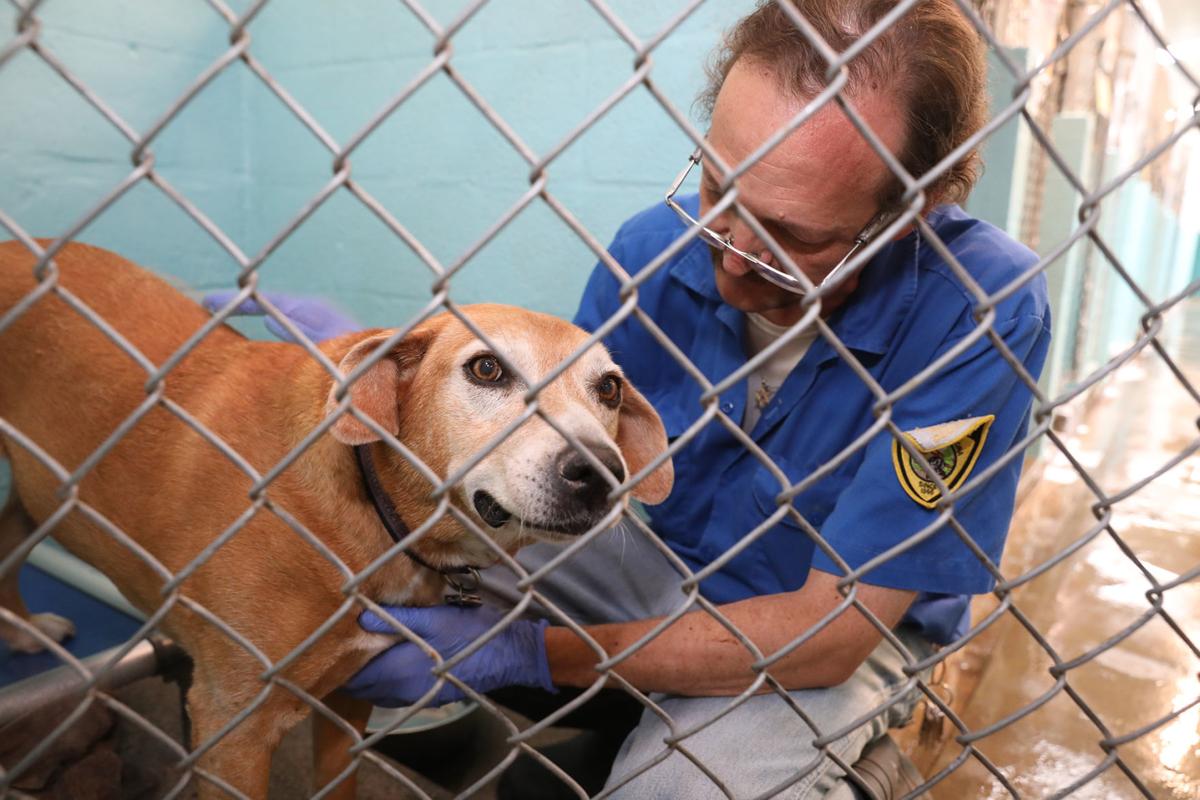 An early knock on the door resulted in a surprise for staff at Coconino Humane Association on Wednesday morning.
Inspired by a similar act of kindness this week, a Flagstaff resident arrived to pay the fees for 107 adoptable animals. The man, who could not be reached for comment and told staff to only identify him as Rick, paid $18,380 for every adoptable animal the shelter had on site.
Executive Director Michelle Ryan said in all the time she has worked for Coconino Humane Association, she has never seen something like this happen.
"My staff was crying, everyone was hugging him, it was probably one of the sweetest things I have ever seen," Ryan told the Arizona Daily Sun.
Ryan said Rick knocked on their door at 10 a.m. on Wednesday morning before they had officially opened for the day.
"We always let people in even if we are not open because we never know what the animal situation is," Ryan said. "He came in, he said, 'How many animals do you have on site right now?' And we came up with an estimated number and he said, 'No, I would like the specific number.'"
Ryan said she and staff quickly went into their system to pull the exact number of animals they had on site and determined the number of them that were ready for adoption, identifying 107 in all.
"Then he says, 'I want to pay for their entire adoption fee,'" Ryan said.
Rick told staff he had become inspired after learning a Kansas City Chiefs player had done something similar this week. Following the Chiefs' Super Bowl win over the San Francisco 49ers in the Super Bowl on Sunday, Chiefs defensive lineman Derrick Nnadi paid the adoption fees of 91 dogs at the Kansas City animal shelter.
Rick told staff he had seen the news on TV and was inspired to do something similar.
"So we figured out how many animals, we figured out the adoption fee for each animal, totaled it up and it came out to $18,380," Ryan said.
And with that, only about 15 minutes after he had knocked on the door, he left the humane association, Ryan said. Rick told staff the act of generosity was on behalf of himself and Dixie from Foxboro Ranch in Flagstaff.
Ryan said the adoption fees paid by Rick will follow the specific animals that were on site and ready for adoption at the time he paid for their fees. That means if it takes three months to adopt all the animals that were on site on Wednesday, those animals will still have had their fees paid for.
Ryan said the Coconino Humane Association has a program where people can sponsor individual adoptions, helping to pay the cost of adoption fees for animals.
But Ryan said those sponsorships usually cover just a part of the adoption fee for just one animal, only occasionally covering the whole fee for one animal.
Ryan said this act won't change how the animals are adopted out as they still want to make sure animals are going to a good home. But it does mean that those wanting to adopt an animal from Coconino, but running into financial problems, won't have to pay that fee.
Adrian Skabelund can be reached at the office at askabelund@azdailysun.com, by phone at (928) 556-2261 or on Twitter @AdrianSkabelund.
Get local news delivered to your inbox!
Subscribe to our Daily Headlines newsletter.