GRAY MOUNTAIN — From U.S. Highway 89, the horses that roam around the Gray Mountain area are little more than dark dots punctuating the landscape of brownish gray grass and shrubs.
Sanora Isaac was about to drive by those horses, like hundreds of others do each day, when she stopped at the small gas station at Gray Mountain to see a friend last week. She happened to see one of the horses trying to find a scrap of shade beneath a nearby tree and as she went closer, she saw the horse was barely walking. It was skinny and dehydrated.
Then, suddenly, it collapsed, its tongue dry and eyes glazed, Isaac said. She tried giving him water, but he died in her arms.
That's the moment Isaac started what she calls her journey with the wild horses in the Gray Mountain area.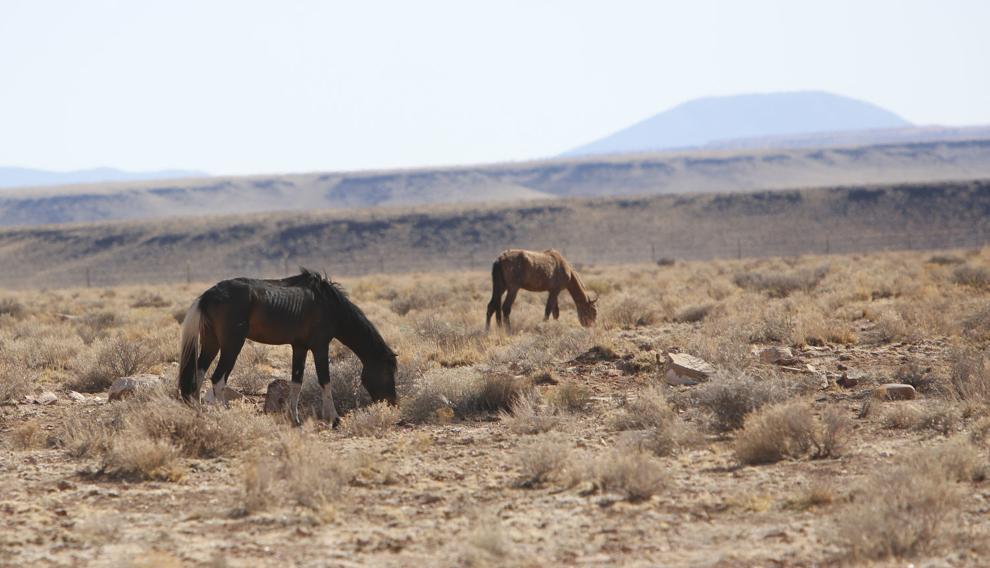 She raced to Flagstaff and bought plastic storage bins that she brought back and filled with water. Since then, she has been hauling food and water to the animals twice a day.
The feral horses are among tens of thousands that roam the Navajo Nation.
With their population growth unchecked, the horses' numbers have exceeded the capacity of the land to support them. As northern Arizona has fallen deep into drought, they are struggling to find enough food and water to survive.
In the Gray Mountain area, the only vegetation is dry grass and the brittle, leafless stems of shrubs. Most tanks and watering holes in the region are dry.
Seeing the horses' desperate state, Isaac is among a growing group of people from the Navajo Nation, Flagstaff and the surrounding areas that is rallying to truck food and water to hundreds of Gray Mountain-area horses.
Thanks to a fast-growing list of individual volunteers and donations, as well as support from horse rescue organizations, the group has put out an array of water containers, from small plastic tubs to 2,500-gallon tanks, and delivered thousands of gallons of water and more than 100 bales of hay to the area.
"I'm glad our eyes opened up and our hearts opened up," Isaac said.
HELPING HORSES
The area's horses became a focus of attention last month when more than 100 were found dead after getting trapped in the mud at the edge of a nearly dried up watering hole near Cameron. Then last week, Flagstaff resident Billie McGraw saw pictures of several horses around Gray Mountain that looked like "skeletons with skin," she said. After that, McGraw started the Facebook page Gray Mountain Horse Heroes that has served as a hub for the recent surge in volunteers and donations for the animals.
Other people started giving the horses food and water months before as water sources and vegetation dried up. Among them was Dave Rodriquez. He doesn't have running water at his Gray Mountain-area home but for months he tapped his own hauled drinking water supply to fill 5-gallon grain buckets for horses that would come near his door, he said.
"At the time I didn't have all the resources," Rodriquez said. "Now it's an amazing outpouring from south of here. I'm completely overwhelmed."
He, like Isaac and a few others in the area, wakes up around dawn to bring the horses hay and water before work, then repeats the task in the evenings. The work took until midnight at least a couple nights in the past week, Isaac said. The locals fill up water containers at standpipes in Tuba City, Cameron or Flagstaff then bring them out into the scrubland where the horses linger.
With the influx in donations and volunteers, the operation is becoming better equipped and better staffed by the day. Wildhorse Ranch Rescue, in Gilbert, donated two 2,500-gallon water tanks and a pump, and many others have donated drinking troughs, electrolytes, hay, water and other items.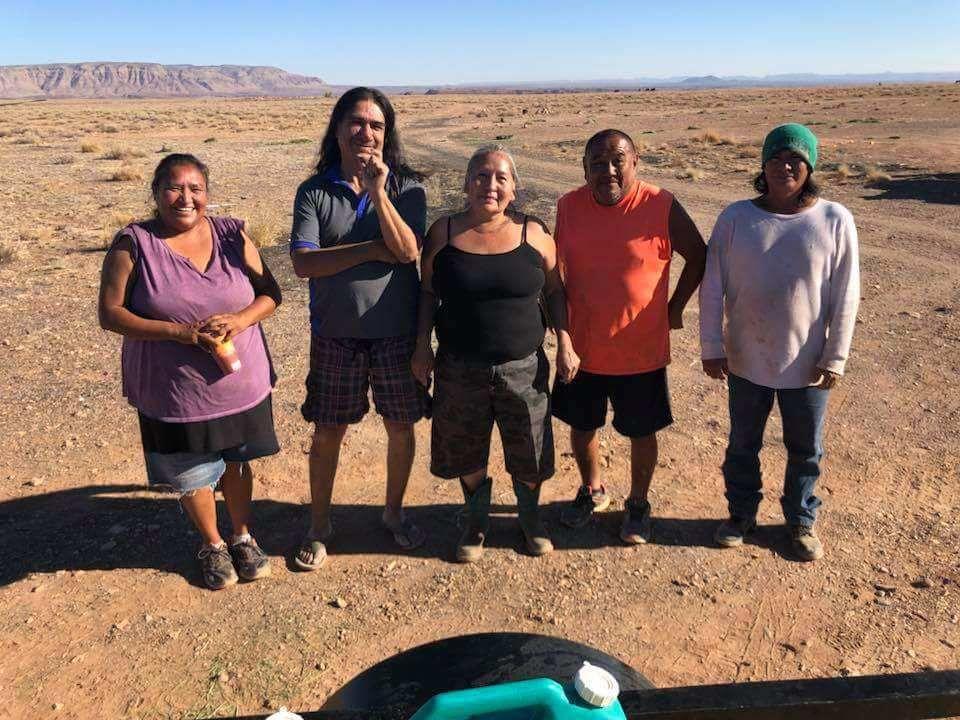 Much of the organizing is happening via a fast-expanding network of text messages, Facebook messages and posts to the Facebook group, McGraw said.
After just a week of intensive work, Isaac and others say they are seeing improvement in the horses' condition.
They seem to be getting plumper and are moving around more than they were a few days ago, she said.
"I see some of the colors coming back to them, they're starting to look not as dry," she said. "For now we are making a difference."
WHAT'S NEXT
For all the flurry of activity, the group has yet to begin much planning for the long-term sustainability of the feral horses at Gray Mountain. The Navajo Nation is still grappling with that issue as well.
The fact is there are too many horses and they are overgrazing the area, said James Beard, the grazing official for the Cameron chapter. While this year is exceptionally dry, it has been common in past years for the horses to need supplemental water regularly before the monsoons, officials said.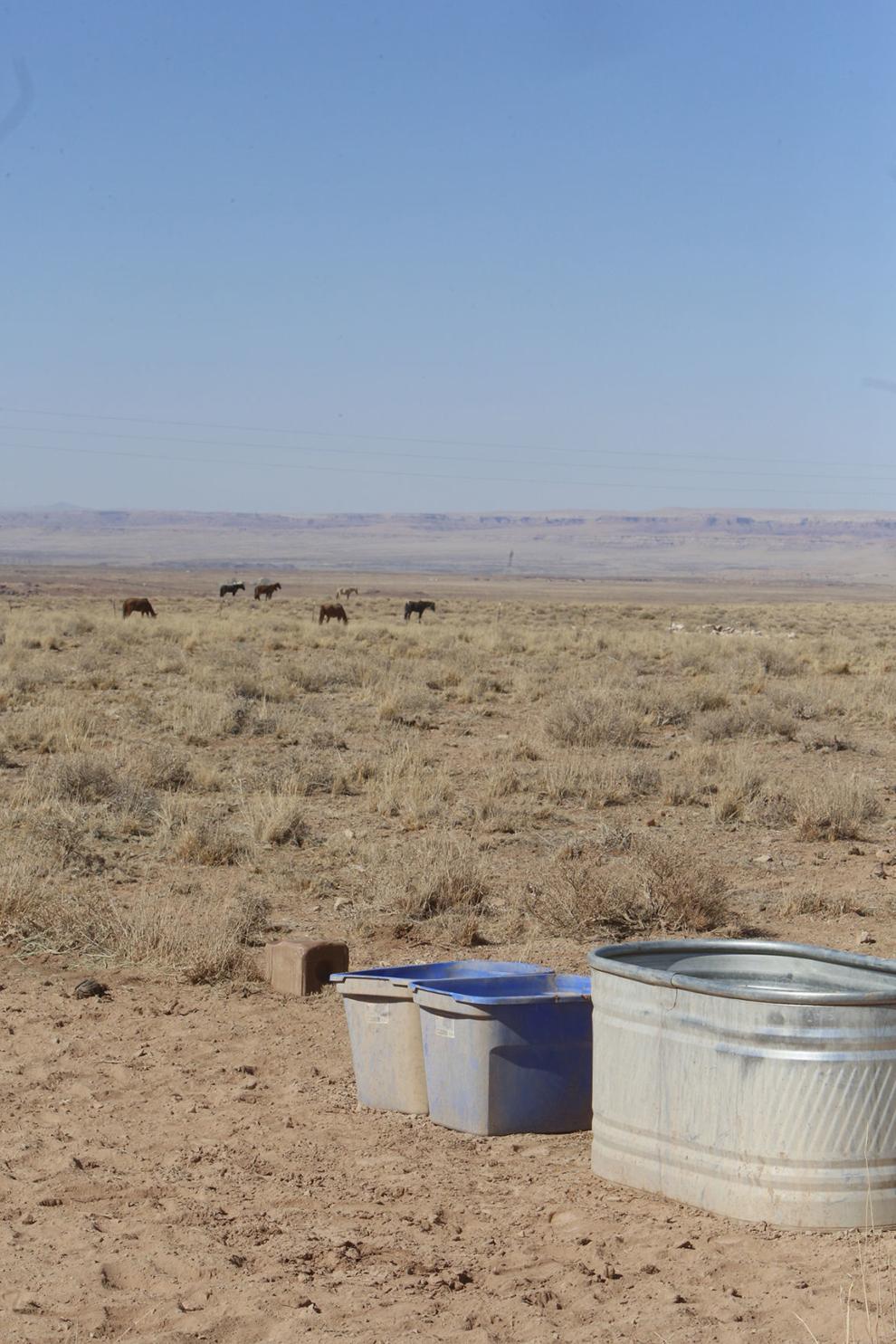 The warming and drying effects of climate change will only make this landscape harsher and the land's carrying capacity is already half what it was in 1930, said Grey Farrell, with the University of Arizona's cooperative extension office in Tuba City.
"Human activity has a lot to do with it," Farrell said, citing overgrazing, mismanagement and lax enforcement layered on top of long-term drought.
Grazing lands need to be given a rest period to recover, but the open range model on most of the reservation prevents that from ever happening, Farrell said.
If the supplemental food and water does succeed in helping Gray Mountain's wild horses survive, the problem is their needs and impacts on the land will only grow as they reproduce next year, McGraw said.
"Volunteers aren't going to rise up again and again," she said.
One management tactic is to authorize hunts of feral horses, though President Russell Begaye vetoed such a proposal this spring.
Another is to round up the horses and sell them at auction, a practice critics say dooms the animals to the slaughterhouse. Current tribal policy does allow roundups but requires authorization from local chapter houses before the Bureau of Indian Affairs and the Navajo Nation will pitch in resources, said Vangie Thomas, deputy director of the Navajo Nation Division of Natural Resources.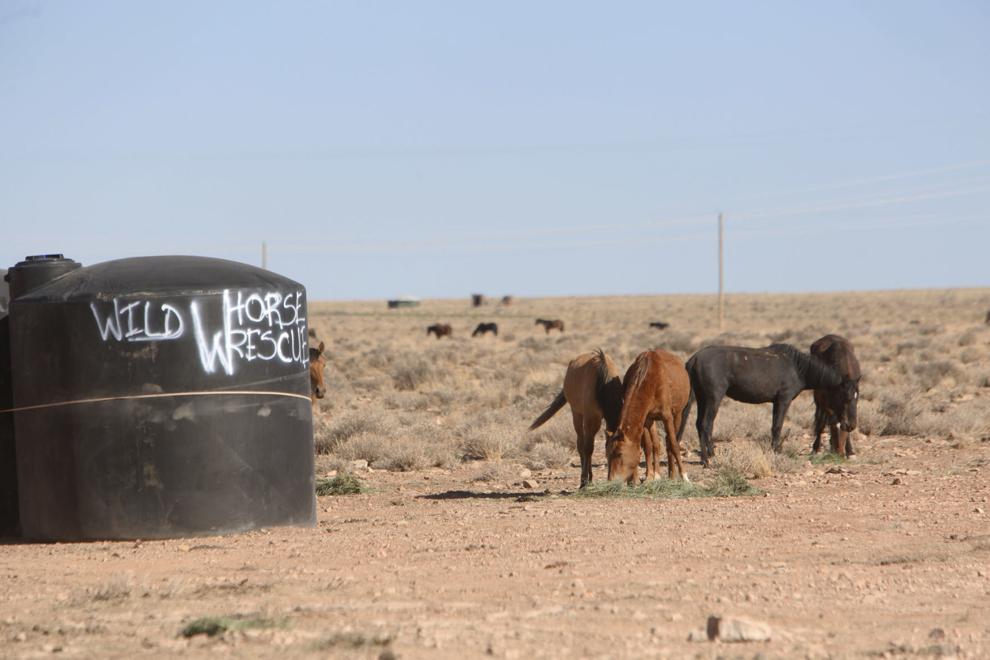 The Cameron chapter does have a resolution supporting the roundups but Beard said he doesn't anticipate one happening anytime soon.
Isaac and other volunteers in her group don't support roundups, saying the horses should be left free to roam.
Adoption and contraception are on the table as well, but they are time- and resource-intensive for a low number of animals impacted, Thomas said.
Any sort of long-term solution, roundups or otherwise, gets muddled in politics, cultural beliefs and religion, said Charlie Smith Jr., who starting putting out water for the horses in February but generally does think roundups are a good idea.
Smith, like many others, wants to help the horses hold on until monsoon season.
"A lot of people say don't worry about these horses, but I can't do it," he said. "You see these horses standing there skinny and about ready to die and you feel for them, just have to stop and try to help them."