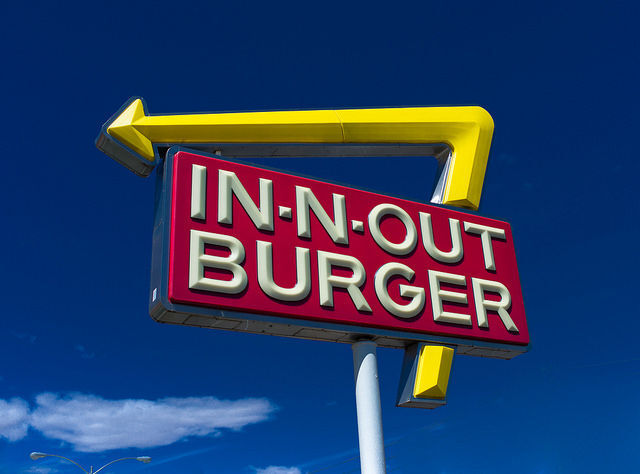 At long last, one of Flagstaff's biggest desires is nearing a reality. No, it isn't affordable housing. In-n-Out is poised to make progress on its long-rumored arrival.
According to city documents, the company has submitted a concept plan to the city for a new location on 1860 S. Milton Road.
Through email, In-N-Out Vice President for Real Estate & Development Carl Arena cautioned that the project is still in its early stages and design elements such as building exteriors, site layouts, circulation and access are still being determined.
Because of that, Arena couldn't provide an estimate for when construction might get underway or when the location could open.
"We have been working on a possible site for a future restaurant in Flagstaff on Milton Road, and we are very enthusiastic about the opportunity there. That said, it is still very early in the development process," Arena wrote. "We do know that Flagstaff is a fantastic community, and we definitely look forward to serving customers there in the future."
The new location has been in the works since at least 2016 when the company sent a letter of interest to then-Mayor Jerry Nabours.
At that time, the plan appeared to be that the burger chain would share a building with the Pizza Hut that occupied the lot. But now that the Pizza Hut at that location is closed, the building will be demolished with the In-N-Out taking its place, according to city staff.
Flagstaff residents have long hoped an In-N-Out might open in Flagstaff. The California restaurant chain has a cult-like following through much of the western United States and some Flagstaff residents have been known to visit Prescott purely for the In-N-Out that is located there.
In 2011, rumors that the chain could be coming to the city exploded after a prank "coming soon" sign was posted at the intersection of Milton and Butler, along with the phone number of one unfortunate Flagstaff resident who received over 100 calls the day it was posted.
Rumors have also spread that the company would never open a Flagstaff location because the city was too out of the way and distant from distribution routes. But over email, Arena put that rumor to bed.
"At a distance of just 150 miles or so, our distribution center in Phoenix is able to provide frequent deliveries of fresh product to a location in Flagstaff as we do to every one of our restaurants," Arena wrote.
Get local news delivered to your inbox!
Subscribe to our Daily Headlines newsletter.