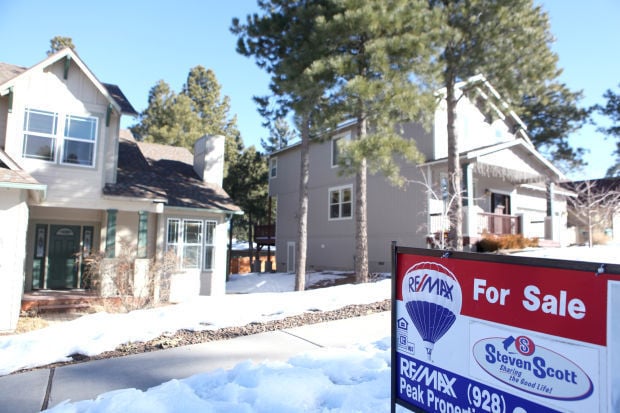 Despite rising case numbers in Arizona, Flagstaff's housing market appears to be booming with the number of homes sold for over a million dollars in in June reaching the double digits.
"I don't think that I have seen this many homes sell over a million dollars," said Sara Holloway, a realtor with ReMax Peak Properties.
The office has been monitoring Flagstaff's housing market for close to 15 years, but Holloway said she cannot think of another time so many single-family homes were sold for so much.
Eric Davis, another realtor with ReMax, said he also can't recall a time so many homes have sold for over a million dollars.
"In the numbers I've seen, I don't think it's ever happened before, not in Flagstaff," Davis said.
Even in 2006, at the height of the Flagstaff housing market and before the crash, Davis said he doesn't remember the market shooting off like a rocket.
In June alone, 15 sales closed on homes that sold for over a million dollars, with another 24 sales for over a million dollars pending.
By comparison, the same month last year had only five homes that went for over a million dollars. The median price for homes has also been steadily increasing, now close to 500,000 in Flagstaff.
Of the 138 homes sold in June, only 31 of them were sold for under $400,000.
When it comes to the number of homes sold in June, 138 is also staggeringly high, said Holloway.
In 2019, only 93 homes were sold during the month of June. Holloway said much of the reason the housing market is booming now is a result of much lower sales earlier on in the year.
The winter and spring months in Flagstaff are notoriously bad for home sales anyway every year, Holloway said. Most people simply don't want to buy and move into a new home when it is cold and snowy, and most people avoid pulling their children out of school mid-semester.
But this year, the housing market was even slower than normal because of the pandemic.
"There was a dramatic dip right around April and March when we were having the shutdown," Holloway said. "People were not wanting to go into other peoples homes and people were not wanting to list their homes because they didn't want [strangers] in their homes. So it went both ways."
As a result, many of those who were on the market held off until stay-at-home orders ended and they felt more secure.
"Truly, I think there was so much pent-up demand when we had the first shutdown that when the world opened up again, everybody came out," Holloway said. "Now it's just gangbusters."
On top of all that, lower interest rates set by the Federal Reserve mean it is very inexpensive to barrow money, Holloway said. That may have encouraged customers who were unsure about buying a home to make a new purchase.
Holloway added that she has seen a substantial number of buyers who are buying as a way to invest.
Buyers have told her that they are pulling money out of stock portfolios that they now see as unpredictable and risky, and they are putting that money into real estate.
And with so much interest in purchasing homes, and a limited supply, prices have spiked, Holloway said.
That means many homes have been sold for much more than their original listings, Holloway said.
It's not just Flagstaff's housing market, as Davis said as he has spoken to colleagues in other cities and is hearing similar stories.
"The realtors that I have talked to, most of them probably on the West Coast, are defiantly seeing the same things," Davis said. "In the Phoenix market, the folks that I talk to down there are seeing the same things, just low inventory and a huge demand for buyers right now."
Get local news delivered to your inbox!
Subscribe to our Daily Headlines newsletter.