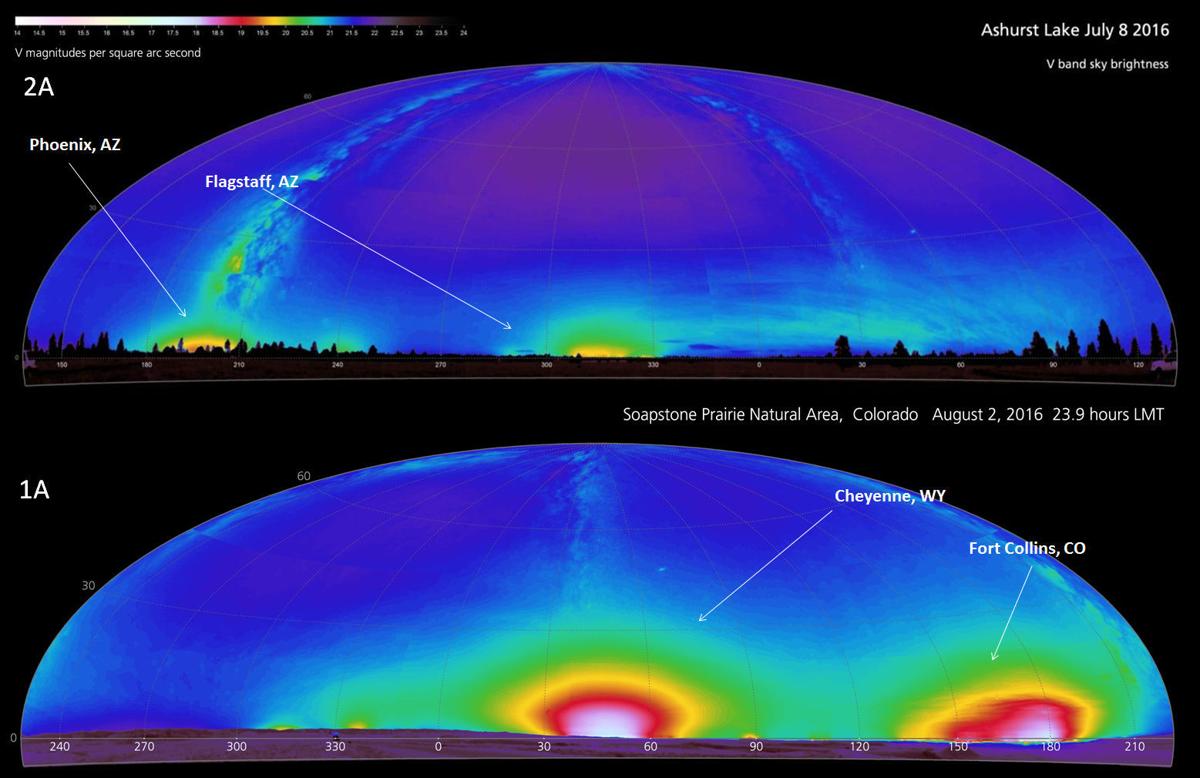 Those curious about the effectiveness of Flagstaff's dark skies practices need look no further than a new set of images produced by the National Park Service.
The nighttime observations captured and compared Flagstaff's light pollution to that of Cheyenne, Wyo. And though the cities are similar in size, measurements found that Flagstaff's nighttime light emissions are nearly 14 times fainter than Cheyenne's.
When it comes to dark sky protection, the images provide a clear and dramatic validation of Flagstaff's efforts, said Christian Luginbuhl, who is part of the Flagstaff Dark Skies Coalition and helped collect data for the analysis.
"The results have shown we have done even better than we might have expected," Luginbuhl said.
Flagstaff began its commitment to dark sky-friendly lighting nearly 60 years ago, according to Luginbuhl, and it became the world's first international dark sky city in 2001.
Luginbuhl, who is a retired U.S. Naval Observatory astronomer, used the brightness measurements to also calculate Flagstaff's light pollution footprint, or the geographical area affected by its light pollution. He found it to be eight times smaller than Cheyenne's.
The observations of Flagstaff's light pollution were taken in July near Ashurst Lake, about 15 miles southeast of the city. A special panoramic camera developed by the National Park Service produced a 360-degree view of the sky and the horizon.
In the images produced from those observations, a rainbow of colors ripple up and out from Flagstaff and Phoenix in one scene and Cheyenne and nearby Fort Collins, Colo., in another. The difference between the two is striking, with a massive halo of white, red and yellow hovering on the horizon above Cheyenne compared to a hint of yellow that fades into a haze of green over Flagstaff.
While other measurements have been done comparing Flagstaff's light pollution to that of other places, this study's on-the-ground data is "pretty pioneering," Luginbuhl said.
Studying a dark skies leader
Measuring the domes of light emanating from places like Flagstaff and Cheyenne is part of a larger effort by the Park Service to study the impacts of different types of lighting and lighting practices used in various cities, said Ashley Pipkin, a regional specialist with the National Park Service's natural sounds and night skies division. Pipkin helped collect the light pollution data and presented it at the American Astronomical Society's annual meeting earlier this month.
Concerning among dark skies advocates is a trend among communities across the country to move toward LED lights because they are less expensive over time and have lower maintenance costs, Pipkin said. The downside is most LEDs emit blue and white light that causes much brighter sky glow and diminishes people's ability to see the stars, she said. High-pressure and low-pressure sodium lights that dominate Flagstaff's streets, on the other hand, emit light in just the red and yellow portion of the visible light spectrum, which has a much smaller impact on night skies.
Flagstaff is the gold standard of dark sky lighting, so the aim of this study was to better understand the on-the-ground differences between a dark skies leader and the way an average American city is lit, Pipkin said.
Dark skies for birds, bugs and people
Preserving the night sky is an important part of the National Park Service's mission, Pipkin said.
Natural darkness is a crucial to ecological processes ranging from bird navigation and migration to the behavior and survival of insects that form the base of the food chain, she said.
With 80 percent of Americans now no longer able to see the Milky Way from their backyard, national parks' dark skies are also an ever-rarer place for people to experience the wonder of a star-filled sky, she said.
Collecting measurements from a place like Flagstaff helps the Park Service as it works with other communities to promote dark skies, Pipkin said.
Flagstaff's work with Grand Canyon National Park, for example, has been "a success story of night sky protection," she said.