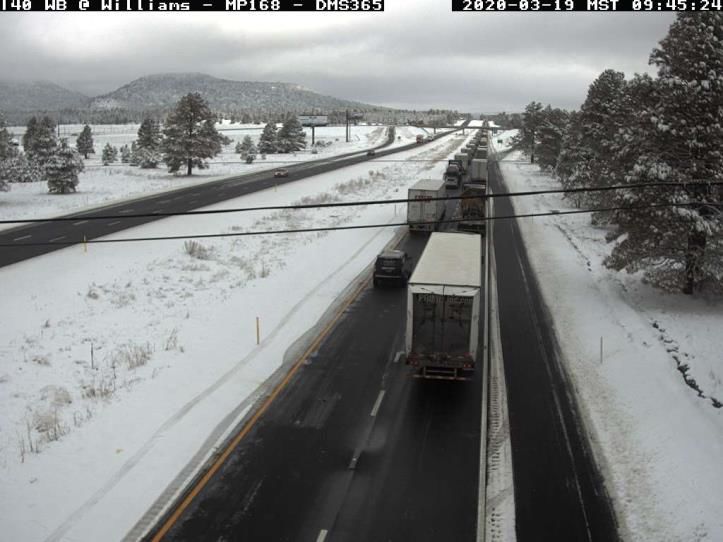 Updated at 2:38 p.m. on March 19, 2020:
The Arizona Department of Public Safety reported that the winter storm on Wednesday and Thursday resulted in 14 collisions that caused major delays on the westbound Interstate 40.
Two jack-knifed semi trucks that had difficulty going up the grade, motorcyclists colliding with semi trucks and vehicles sliding off the roadway caused chaos on the interstate during the storm. Bart Graves, DPS spokesman, said all road closures and delays are now cleared as of noon Thursday.
"Sometimes in adverse weather conditions does create slide-offs and does create chain reaction collisions, and sometimes collisions on their own," Graves said.
Although the roads are now clear outside of Williams, one lane of the interstate near Seligman in Yavapai County has been recently closed causing delays.
Graves explained the case is related to an investigation into a person who threatened death by suicide but the person has been taken into custody, and is being managed by Yavapai County Sheriff's Office. The area will likely continue to have delays until the investigation is completed.
Original article posted at 9:52 a.m. on Thursday, March 19
Multiple crashes have caused heavy traffic on the westbound Interstate 40 near Williams, according to Arizona Department of Transportation (ADOT) information.
ADOT originally closed the road at milepost 161 at 4 p.m. Wednesday and did not reopen the interstate until 5:30 a.m. Thursday morning. The route is still seeing heavy traffic and major delays due to the backlog of traffic. The route was initially closed Wednesday when multiple crashes and blocked the interstate.
Since Wednesday, the National Weather Service has said that 11 inches of snow fell at the Flagstaff Airport while  Williams received 4 inches. Transportation officials have asked that the public postpone travel until the road is cleared.
"It is still advisable for people to delay travel if possible to allow the backup to clear," ADOT told the Arizona Daily Sun Thursday morning.
Get local news delivered to your inbox!
Subscribe to our Daily Headlines newsletter.