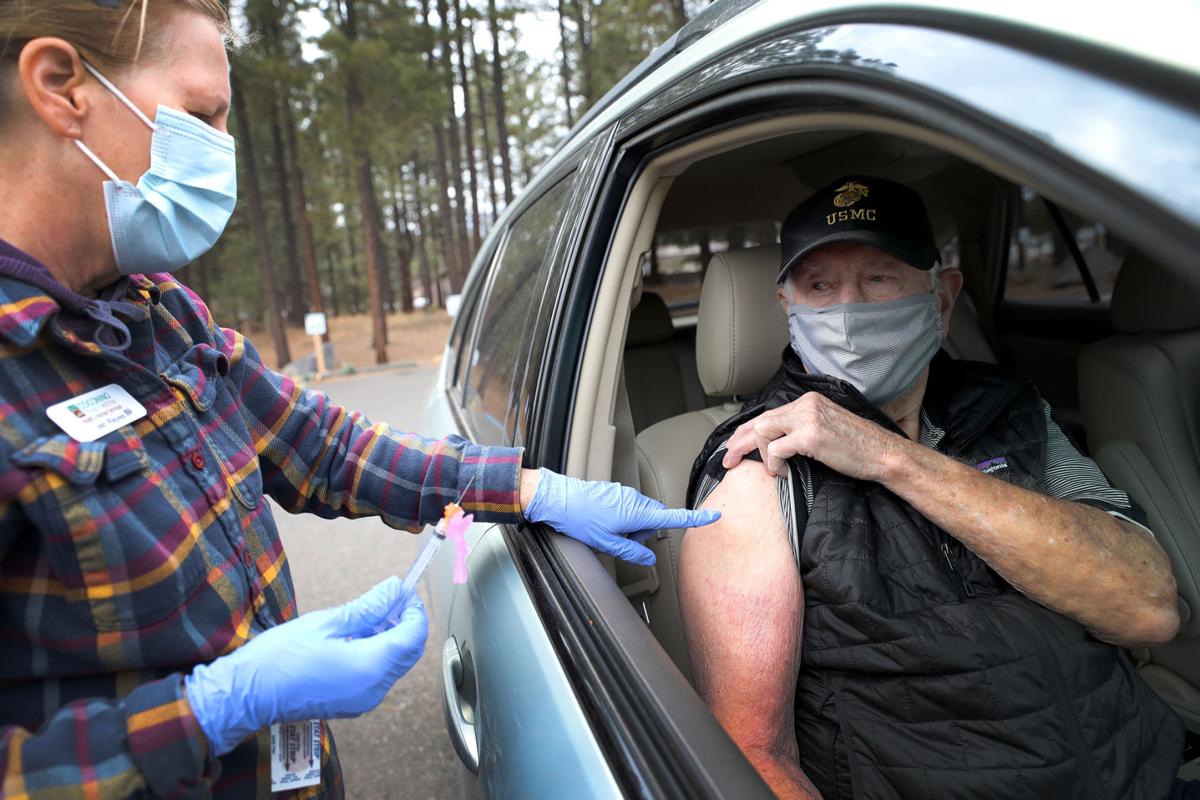 Eligible groups
Coconino County COVID-19 vaccination sites are currently open only to those aged 18 and older and defined eligible populations in the Phase 1a, Phase 1b and Phase 1c groups.
Health care workers
Emergency medical services workers
Long-term care facility staff and residents
Education and child care workers
Law enforcement and protective services
Adults age 35 and older
Adults with high risk medical conditions
Adults living in shelter or other congregate living settings
Other essential workers: power and utility workers, food and agriculture related occupations, transportation and material moving occupations, state and local government workers providing critical services, business and financial services, supply chain for critical goods, funeral service, critical traders and more. 
Phased priority groups are defined by the Centers for Disease Control and Prevention and Arizona Department of Health Services. 
Those seeking vaccination are asked to bring proof of occupation such as a paystub, employment badge, a letter from an employer or a driver's license or ID displaying date of birth to their vaccination site. Those without proper eligibility identification may be turned away.
For those eligible because of a high-risk medical condition, documentation of medical conditions is not required to schedule a vaccine appointment as a part of Phase 1c.
Individuals ages 65 and older and without internet access who require assistance with registration can call the COVID-19 Information Line at 928-679-7300.
Locations
Vaccine supplies are limited at this time: appointments are required at vaccination sites and available on a first come first served basis. There is no cost to receive the vaccine; however, individuals with insurance should bring their insurance card. No one will be turned away for lack of insurance. As more vaccine doses become available, additional appointments and locations will be added. The county is currently working with partners to plan specific vaccination events for people age 75 or older.
All eligible Phase 1a and 1b individuals can schedule an appointment at the Statewide Vaccination Site at the State Farm Stadium in Glendale or the Phoenix Municipal Stadium in Phoenix.
Flagstaff
At Fort Tuthill County Park, first dose appointments fill up fast, so county officials are encouraging community members to check its vaccine website or call the COVID-19 Information Line (928-679-7300) frequently for availability. New appointments are typically added at noon on Fridays. 
Northern Arizona Healthcare's Flagstaff Medical Center is offering vaccinations for eligible groups at the Elks Lodge, 2101 N San Francisco St. Appointments are required and can only be made online at the NAH website. Each Friday afternoon, appointments for the following week are be opened for scheduling. 
North Country HealthCare is offering vaccinations for eligible individuals at its Fourth Street clinic in Flagstaff, but all appointments are booked. Individuals can submit their phone number on the North Country website to be notified by text when more appointments are available.
Flagstaff Family Care Clinic, 1501 S. Yale St, Flagstaff. The clinic has reached capacity for vaccines to provide to patients. 
Northern Arizona University, 824 S. San Francisco St. Currently serving university employees who live within Coconino County. 
Northwoods Medical Associates, 715 N. Beaver Street. Call 928-779-5707 for assistance.
Vera Clinic, 1500 E. Cedar #80. Vaccinations are for Northern Arizona Public Employers Benefit Trust (NAPEBT) employees only. Organizations whose employees can be served by VERA: City of Flagstaff, Coconino Community College, Coconino County, Coconino County Accommodation School District, Flagstaff Unified School District, Kachina Village Improvement District and Mountain Line.
A daily waitlist is available to fill any open spots. Individuals on this list are asked to be prepared to arrive at the clinic within 30 minutes to receive a vaccine. Calls are made around 4 p.m.; if you do not answer when called, Vera will move on to the next person on the list.
Call 928-774-3985 for assistance.
Select Safeway/Albertsons stores are offering vaccines to eligible community members. Safeways at 1500 E. Cedar Avenue and 1201 S. Plaza Way in Flagstaff are participating. 
Fry's, 201 N Switzer Canyon Dr, is offering vaccines to eligible community members.
Northern Arizona VA Health Care System for registered veterans. Individuals can call call 928-717-7406 on Monday to Friday from 7:30 a.m. to 4 p.m to schedule an appointment 
Grand Canyon
North Country HealthCare: Registration for North Country's Grand Canyon vaccination site can be accessed through the NCHC website. If appointments are unavailable, individuals can submit their phone number to be notified by text when more appointments are available.
Page
Banner Health Page Hospital: Appointments are opened opens for eligible individuals each week as vaccine shipments and staffing are confirmed.
Canyonlands Health Care: Call 928-645-6633 for assistance. If there is no answer, leave a message with your name, call back number and date of birth.
Encompass Health Services: Call 928-645-5113.
Tuba City
Tuba City Regional Health Center: Additional vaccination events and information will available soon.
Tusayan