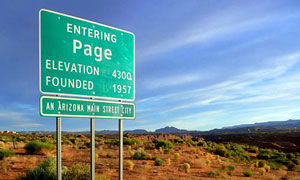 PAGE -- "Cannot connect to server."
"Your request has timed out."
"Your server has unexpectedly terminated the connection."
"This site can't be reached."
These are some of the mournful and maddening refrains for the Internet-starved of the Page area. An already-truncated bandwidth shrank to paper-thin in mid-May when summer vacation started for sedentary local children and tourists who flood the region.
(As I write this, I am interrupted by the "cannot connect to server" popup every 10 seconds).
South Central Communications had been expected to come to Page's rescue on July 2. The Utah-based Internet service provider was to take over Cable One's Page operations on July 1 and deliver vastly faster speeds. But now SCC won't complete the transfer until Aug. 1.
Page has been woefully short on fiber for years, but it has only been this year that the situation escalated to critical mass. For years, the local ISPs balked at adding lines. Last October Page City Council accepted the challenge and struck a deal with SCC and the operators of Navajo Generating Station to bring 96 strands of fiber into Page and NGS from the Buckskin area across the state line.
The upgrade, though, is not expected to take effect until sometime next year. In the meantime, SCC has been delivering high-speed Internet to city facilities and participating businesses. But residential customers -- takers of online college classes, Netflix watchers and Internet surfers -- are still watching the endlessly spinning circles of buffering. Businesses not connected with SCC have seen transactions creep to a tortoise pace because credit and debit purchases rely on an Internet connection.
Relief had been expected this week, even for residential customers not linked to Cable One/SCC. It was hoped the cyber congestion would have been reduced for them.
(Excuse me, the "cannot connect to server" notification keeps popping up. This may be cyberspace's version of Chinese water torture. To make it go away, I have to suspend my attention on this report and hit "OK").
For the next few weeks, here are some possible remedies: dedicate the wee small hours of the morning to watch the latest Netflix release; get your online needs met at Page Public Library, which has the city's SCC service; turn to pricey satellite TV for entertainment; go to the Mesa Theater for the latest release of a children's film or franchise blockbuster; or abandon all screens and explore the outside world.
The great Page unplug also is a reminder of how dependent we have become on technology.