They can be heard in the crunch under car wheels, or the thud of earth as something falls from tree to ground. The 2018 fruit season has seen apples in the thousands in Flagstaff; growing as high as 7,000 feet, the fruit in its abundance is almost impossible to overlook.
So why are there so many apples this year?
According to Hattie Braun, County Director with the Coconino Cooperative Extension and Assistant in Extension with the Master Gardener Association, the fruit is blooming due to the absence of a late frost — something that is otherwise common for Flagstaff. According to the National Weather Service, a later frost means late-season bloomers such as apples are more likely to survive and later produce fruit.
"Apple trees are pretty cold-hardy. So they're fine and can grow where it's really cold; the problem here is that we have unpredictable late spring frosts," Braun said. "Here it gets warm and cold and things bud out in April but often in May we get a killer frost," Braun said.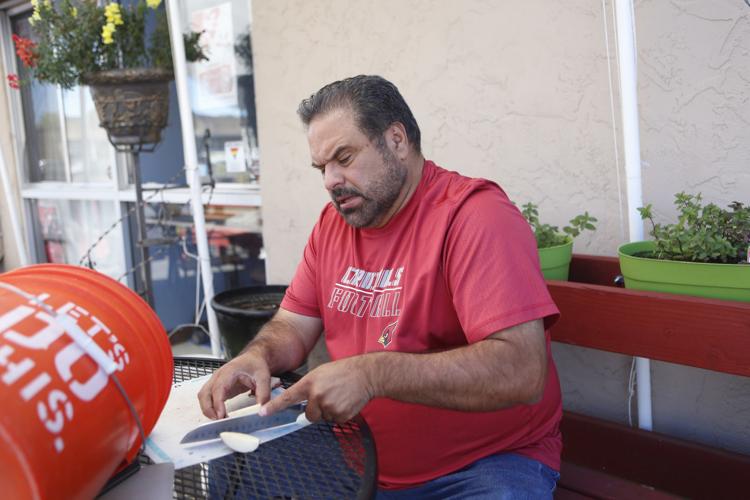 This year, that was not the case and Flagstaff residents can certainly testify to the large apple crop that the warm weather brought with it -- especially longtime residents like Lydia Garcia, whose apple tree bore fruit for the first time in several years.
"We got so many, it's the first time I've seen so many apples on that tree. When we planted it, it was just a baby tree -- about 30 or 40 years ago," Garcia said.
The apple tree, which now lives in her front yard in the Mobile Haven neighborhood, was planted off Beaver, saw many moves and now lives permanently in the Garcias' front yard.
The trees of Munds Park resident Cindy Scott produced over 1,000 apples, she said, the last of which she had to climb to reach. According to Luke Bowman, a Cheshire resident, his backyard tree became so "overzealous" in its apple production that the branches began to break. Martin Delgado has been giving his away in large batches from his tree off Cedar Avenue on the east side, he said, to friends and family members alike -- his family recently made several jars of apple jam. The rest, he said, continue to fall as he struggles to keep up with the crop.
"We had a crazy amount of apples," he said.
And according to Braun, apples were not the only fruit to surpass their normal amount this season.
"We saw cherries, apples, plums, pears," Braun said. According to Lynne Nemeth, the director of the Arboretum at Flagstaff, the Arb's plum trees bore fruit for the first time in recent memory, also something Nemeth attributed to lack of late frost temperatures.
In Flagstaff, the fruit order is as follows: First come apricots and Japanese plums in March; peaches, nectarines and sweet cherries are soon to follow, blooming at the end of the same month; and sour cherries and apples flower in April and can extend into the last days of May.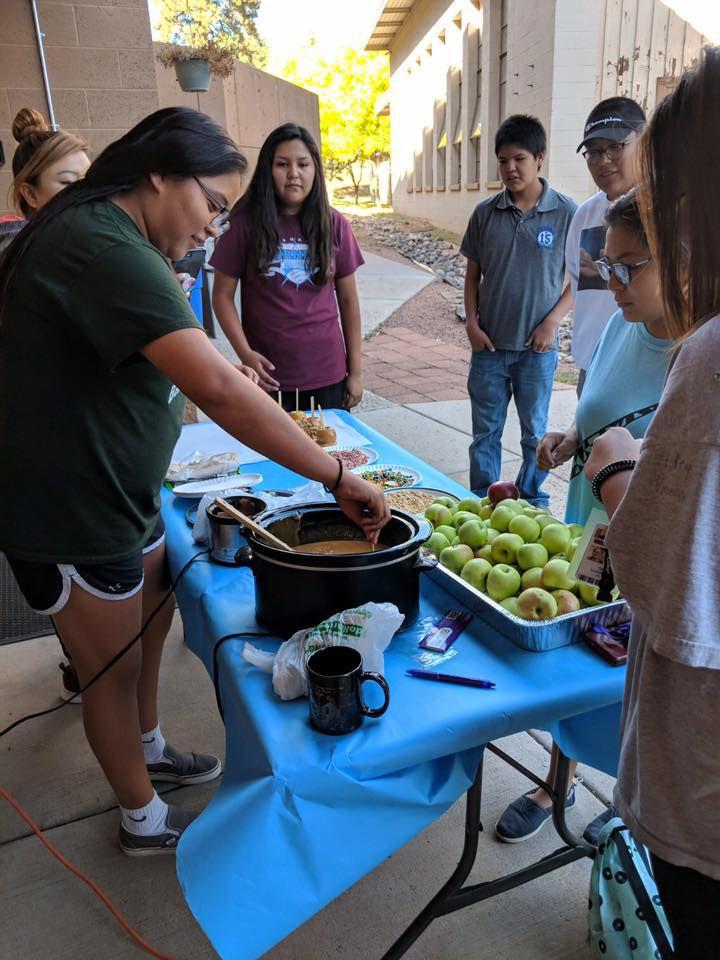 Apples, being the latest to bloom, can grow at such elevations because they are cold-hardy but have buds that are still susceptible to frost, mostly because of how late they bloom, Braun said. As such, whether or not apples grow is heavily contingent not on if the cold arrives, so much as when.
"It depends how open the blossom is, but once it starts opening, if the temperature gets below 24 degrees it'll get frosted," Braun said.
You have free articles remaining.
So what kind of apples grow in Flagstaff, where microclimates can mean a significant difference in temperature between neighborhoods?
According to Braun, cultivars that are most commonly seen in Flagstaff are Golden Delicious, Macintosh, Red Delicious, Winesap and Yellow Transparent apples.
"People have also begun to plant Galas and Honeycrisp," Braun said. "So we're also slowly seeing more of those."
Green, red, yellow or pink, some communities are struggling to keep up with the abundance, using the apples as best they can.
"There were far more than I'd ever be able to cook or eat, and really, more than the friends I could give them to could cook or eat. So I had to look for another approach," said Bowman, who began brewing cider instead.
Scott began giving hers away in a box that read "Free Apples."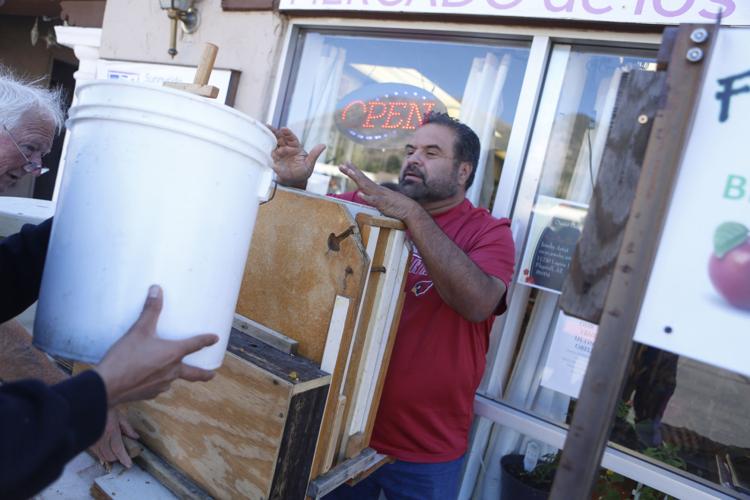 "I've seen posts about apple cobbler, slow cooked apples, apple crumb cake, all made from my apples. It makes me really happy," Scott wrote in a Facebook message.
Flagstaff Foodlink, who works to ensure food access and eliminate food insecurity by providing healthy food to the community, is working to use all the apples they can. Foodlink's Flagstaff Fruit Tree Project works to prevent falling fruit from going to waste and getting it to food pantries and people in need.  
Similarly, Roots Micro Farm, who farms on a small patch of land on Birch Avenue, offers to pick fruit trees in exchange for a small share of the bounty.
"It's kind of been a main mission this fall with all the fruit on trees to try and get them all harvested and in the mouths of the community," said Josh Chance, who owns Roots Micro. 
The Flagstaff Family Food Center, Golden Rule Charities Food Pantry and the St. Mary's Foodbank each accept apples as well. Sunshine Rescue Mission also accepts any donations, fruit included, according to CEO Stephanie Boardman.
The Kinlani Bordertown Dormitories candied many of their apples, according to CEO Teresa Boone-Schuler. The dorm also gives bags of apples to its staff, Boone-Schuler said.
At the Market of Dreams Sunnyside Community Market on 7th Street, residents can bring their apples to Ward Davis and get them pressed in his apple press, for free.
According to Dennis Chavez, the store manager at the Market of Dreams, the machine has been popular every Saturday and Sunday during the market's hours of operation.
"We've pressed about 1,000 gallons of apple juice so far," Chavez said.