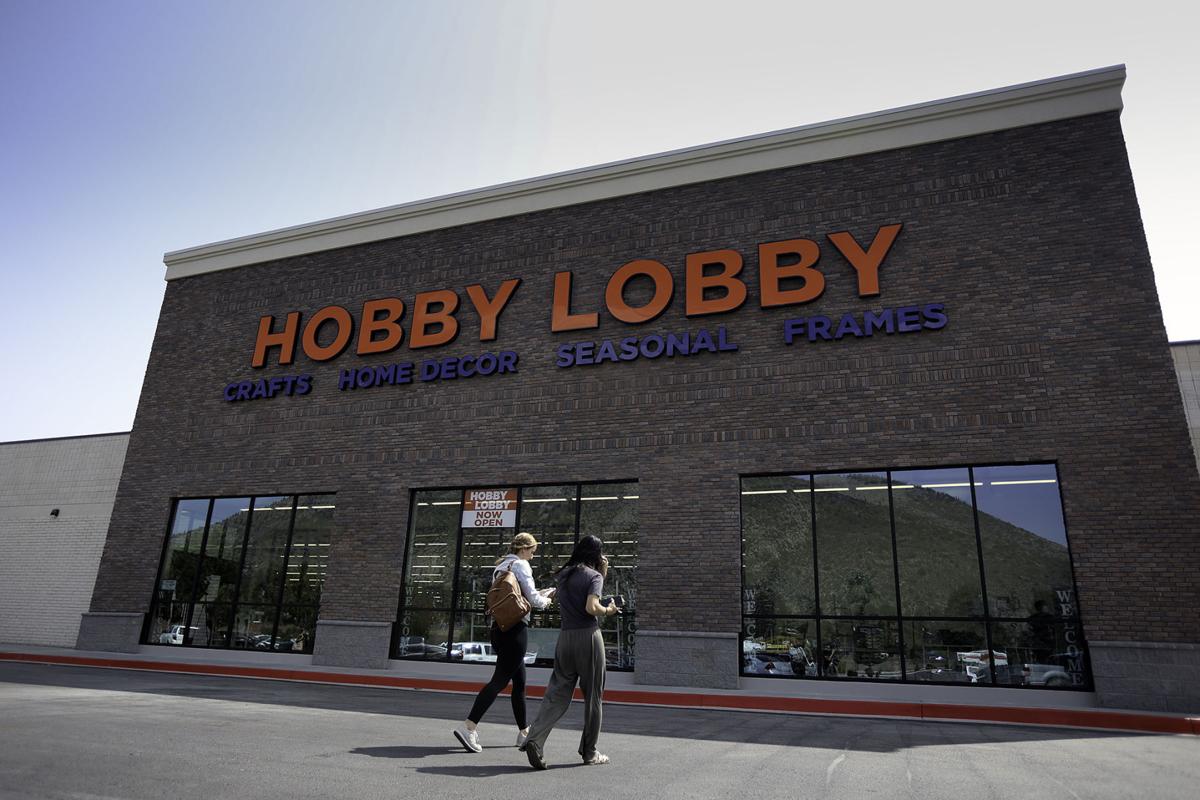 Hobby Lobby is now open in the Flagstaff Mall, attracting many crafters to the city's quickly changing mall on the east side.
From paint and stationary to cards and yarns, the national chain store is stocked with arts, crafts and home decor for most hobbyists, including seasonal decorations and furniture. The business had multiple cash registers open at both the interior mall and exterior mall entrances with lines multiple people deep.
Hobby Lobby's presence in the anchor location comes as the mall makes major shifts to its storefronts in order to entice more clientele. However, due to action Hobby Lobby has taken in the courts, not everyone is fond of the business.
The opposition stems from a U.S. Supreme Court decision in 2014 where the court ruled that Hobby Lobby, and other closely held corporations, can hold religious objections that allow them to opt out of health law requirements that cover contraceptives for women.
Heather Casali, an avid crafter who lives in Flagstaff's east side, said she knew that some people aren't fond of Hobby Lobby, but felt their products and location was too convenient to pass up. She used to have to navigate freeway construction and traffic on Route 66 and Milton Road in order to make it to Michaels and Jo-Ann multiple times per week.
"I think it was a good idea for [the mall.] I think they are going to get a lot of business over here, especially because they're one of the only craft stores over here now," Casali said. "Everything else is on the other side of town. We live on this side of town, so it's really convenient.
"When you're here, you might as well walk through the rest of the mall," Casali added.
Kirshawna Mailboy owns a nail salon in town and said she just likes shopping. She visited Hobby Lobby on Tuesday for some furniture and decorations. She felt like Hobby Lobby would fit in well at the mall because many people in Flagstaff are into interior design.
"You can get crafty or get things that are already made," Mailboy said.
When Hobby Lobby was asked by the Arizona Daily Sun about the business's reputation, its plans to support the community, and for a visual tour of the building through email, a representative declined to comment.
The business has filled the spot of the former anchor store of Sears. Sears Holding Company, which owned Sears and Kmart, declared bankruptcy in 2018.
Rhino Holdings Flagstaff LLC formerly purchased the location from Sears for $4.5 million, according to the Coconino County Assessor. The sale closed in July 2019.
Rhino Holdings' website also shows it owns 24 other properties across the western United States, including California, Washington and New Mexico. One other location in Wyoming showed a Hobby Lobby opening in January 2020, with four of the company's locations being either former Sears or Kmart locations.
Hobby Lobby took out the second floor of Sears' 60,000-square-foot location, choosing to fit its maze of hobby supplies onto the first floor. It opened in late August.
The website also showed a 5,618-square-foot unit for another tenant and a plan to construct a new building in the parking lot across from Marketplace Drive and Safeway's lot.
The Flagstaff store will be open Monday through Saturday from 9 a.m. to 8 p.m. and closed on Sunday.
Hobby Lobby said the location will bring about 35–50 jobs to the community that pay $15.70 per hour for full-time and $13 per hour for part-time associates. The company currently has 20 locations in Arizona.
Kelly Black, advertising director, previously said their results in other Arizona cities was a primary indicator that they would have success in Flagstaff as well.
Get local news delivered to your inbox!
Subscribe to our Daily Headlines newsletter.