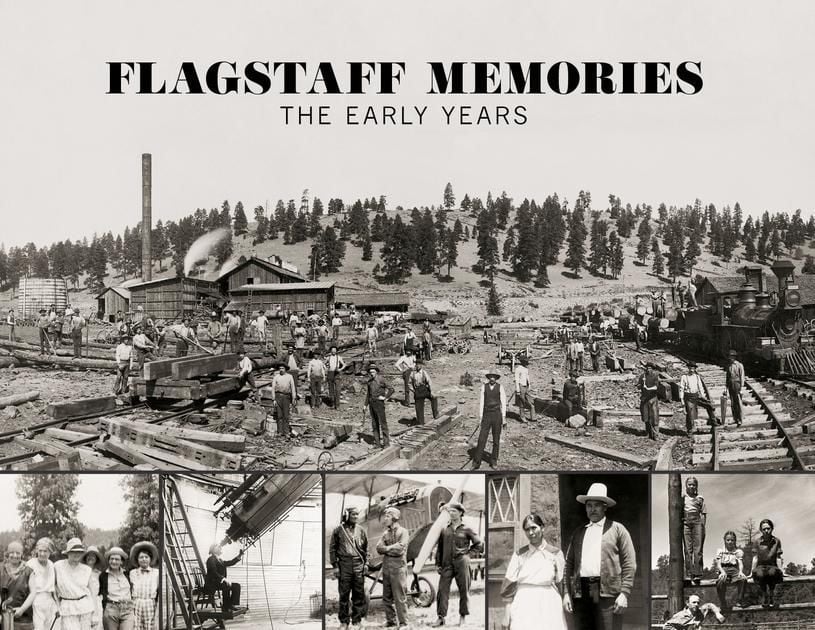 125 YEARS AGO
1895: It was decided at a Meeting of the Town Council on Monday night: female musicians in saloons cannot be stopped.
The Ransom Post of the Grand Army of the Republic has honored the hero dead of the great war. Sometimes with our local flowers of the field and sometimes with blooms from warmer climes than this. This year the Memorial Day procession will form at the G.A.R. Hall on Sunday morning, May 26, at 10 a.m. Theo Williams Drum Corp will take head of the procession to Babbitt Opera House under escort of Co. I. A. N. G. There will be speaking and The Rev. D. M. Danford will hold an appropriate service. Following this a procession will march to the cemetery and decorate the graves of the hero dead with flowers.
No objection to the free and unlimited coinage of brass drink checks has been filed by any citizen of Arizona.
In view of the fact that a number of boys between 6 and 12 years of age are on our streets after 9 p.m., it might be well for our city dads to pass a "curfew" ordinance. These boys have no business on the streets after 8 in the evening, and if parents do not keep them at home an ordinance should be passed.
100 YEARS AGO
1920: Sheriff Jack Harrington's assistants have broken up a very promising liquor manufacturing business that was headquartered down in Anderson Canyon 45 miles southeast of Flagstaff. They captured the still, mash and a lot of other paraphernalia, as well as some very good looking booze.
Last week Undersheriff Campbell, Deputy Sheriff O'Brian and Forest Ranger T. P. Thompson motored to Anderson Canyon, where they suspected deserter Bob Singleton was hiding with members of his family. They found him there and he admitted that he was a deserter. O'Brian brought him back, and he is now in jail here. Campbell and Thompson remained behind with a pair of field glasses to investigate several interesting circumstances that had struck them as being suspicious. After quietly sleuthing for several days, they found the still hidden in the canyon about 2 miles from the Singleton place.
There was a 5-gallon keg of corn mash, a 5-gallon copper still, with worm and condenser, and about 200 packages of extracts, each of which -- according to the wrapper -- would convert a gallon of white mule into an exact duplicate of some well-known brand of booze.
Singleton was taken before Superior Court Judge J. E. Jones on Thursday who will sentence him at 2 o'clock on Friday -- at which time he will also decide the fate of Jose Giles, the man who passed the raised check on Joe Blumberg.
Ernest Burris, of Doney Park, lost his big barn, five fine horses, a cow, a mowing machine, several tons of hay and straw, and all of his harnesses to a mysterious fire Tuesday night.
He had retired about 10 p.m. Next morning having heard nothing through the night, he went out to feed his stock and all he found was smoldering piles of ruins. His loss is about $5,000 and is not covered by insurance. He is a very careful and neat farmer, and believes it could not have been caused by spontaneous combustion.
Fortunately his car and most of his farming implements were kept in another building. The only animal remaining is a small bull calf that was free to leave.
The Arizona Lumber & Timber Co. offered Mr. Burris the use of some of their horses to finish his spring planting, which was well underway. He is one of our most progressive farmers. And while this is a severe blow, he will no doubt soon get his work going again and make up for his losses.
There is a 10-mile stretch on the Flagstaff-Winslow road that is in very bad shape. It is a state road and was built up to a good grade four years ago. It has since been left without attention. Dragging it this summer would put it back in good condition, but the state is paying no further attention. Given that the county takes care of it, there appears to be no way to have the cost refunded by the state given the previous county experience with this kind of situation in the past.
Since the University of Arizona is bringing its summer school faculty and students here for its summer session, it is clear that quite a number of cottages will be needed to house them. People having summer cottages to rent would do the school a great favor by letting it know of their availability.
Billy Switzer is all puffed up because he is now doing an export business for the saddles he makes. He got an order this week from Bolivia, South America, from H. H. Kelly -- one of Flagstaff's old-time residents who used to be in the sheep business here with Switzer and Tom Rickel.
75 YEARS AGO
1945: The first forest fire of the season destroyed 80 acres of small timber and pole-sized pines Sunday. The human-caused fire broke out in an irregular-sized acreage about 45 miles northeast of Flagstaff near Sunset Crater. The Saginaw Lumber Company had been logging in the area but had recently suspended their operation there. Logging debris, slash and pine needles, in addition to high winds, contributed to the rapid spread of the flames. The fire was discovered from the Mt. Elden lookout by Bill Pradit. The alarm was relayed to Mrs. Collin Brown, fire dispatcher for the U.S. Forest Service. Fire fighters and equipment were dispatched and men were sent to extinguish the fire. It was out by mid-afternoon.
The emergency need for additional employees at the Navajo Ordnance Depot has been answered by 595 civilian workers to handle the huge column of explosives and munitions that arrived on Monday to be off-loaded from 39 freight cars. War prisoners located at the depot are also proving their worth working as maintenance workers.
50 YEARS AGO
1970: The city of Flagstaff will take a 30-day option on the building known as "Laborer's Hall" in the downtown area to study and consider the possibility of turning it into a Public Library. The Women's Club, which originally built the library and gave it to the city, is asking that the city give it back and suggesting a move back to the original library building across the street from Nativity Catholic Church. Mrs. Laura Runke briefly recited the history of the building, telling council that it had been built with "dish washing" dollars and then given to the city. She then asked for it to be given back to them and not be torn down
There are no sites available for scattering 100 units of low-income housing promised for the city of Flagstaff.
25 YEARS AGO
1995: The city appears prepared to dive into fixing the school pools with $300,000 from money budgeted for a snowplay area. That is one reason why the city recreation department budget could jump 49% over last year's -- the largest increase in any department this year.
The Flagstaff City Council is discussing the issue of curbside recycling in the budget plans for the city. Concerns included creating a facility to handle the material as well as the simple things such as buying the curbside containers.
The Flagstaff Adult Center offers reasonably priced classes for children as young as 18 months through the teen years. Classes include activities such as baton twirling, crafts, drawing, sports, geology, dancing, magic lessons, stamp collecting and cheerleading. For teens as well as adults, activities include country western or swing dance, drawing, oil and watercolor painting, creating with clay, yoga, theater workshops and karate.
The only Flagstaff Waldorf School is now a charter school. Pine Forest School, modeled after the Waldorf method of teaching will open its door to kindergartners through fourth grade this fall. The school that has drawn local heat was approved by the State Board of Education. Only half a dozen other Waldorf Schools are approved as part of the sate school system.
All events were taken from issues of the Arizona Daily Sun and its predecessors, the Coconino Weekly Sun and the Coconino Sun.
Be the first to know
Get local news delivered to your inbox!