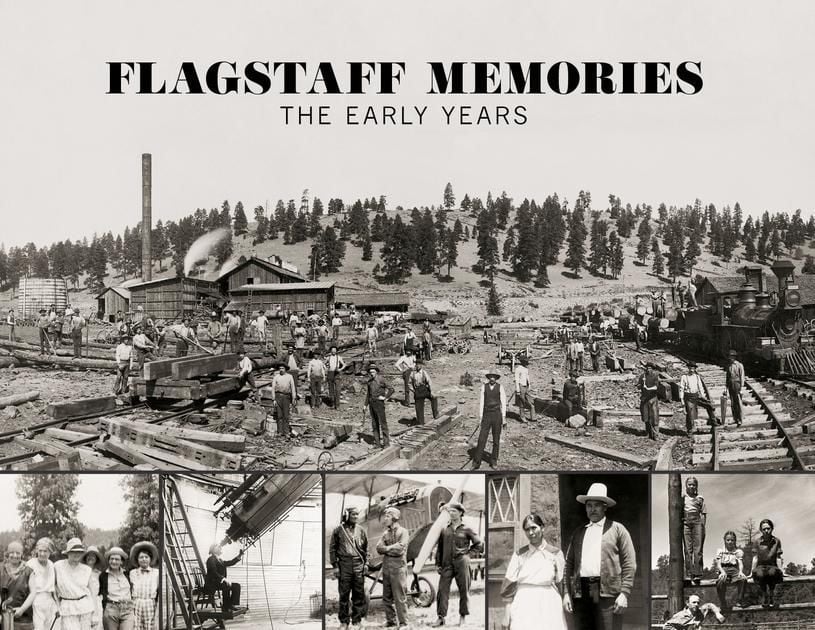 125 years ago
1895: The Flagstaff Electric Company has all their main lines in position.
The telephone system has been completed and is now in operation. C. Huff, the manager, expects to have added a number of new subscribers to the system before he leaves for Tucson.
The Greenlaw Bros. are in town this week putting in a storage space at the Enterprise saw mill.
Live-stock inspector Al Doyle was busy on Thursday tallying the various brands of four carloads of cattle feeders at the Flagstaff Stock Yards, headed for Grand City, Kansas.
Sunday Babbitt Bros. shipped 12 carloads of cattle to Strong City, Kansas.
York & Gates are now loading 11 cars for Kansas City.
On Monday C. Al Montgomery will load four carloads of cattle for shipment to Los Angeles.
D. P. Haring was up from Oak Creek on Tuesday and says the fishing is good and that by next year he expects to have enough apples on his trees to bring his harvest up to Flagstaff.
100 years ago
1920: That red-headed live-wire J. P. Healey arrived here on Saturday to become coordinator with the Arizona Motor & Implement Co. On Monday he took charge of the auto inventories store on East Aspen.
During the war he was senior engineer with the 12th Army Engineers, who you will recall the stories about how they threw away their rifles after their ammunition was gone and attacked their German foes with their trench digging shovels and picks. He was on the front lines and in the trenches for over 18 months.
Billy Beason is about the busiest man in Coconino County right now. When he isn't working on his ranch, he is scouring the county for exhibits for the State Fair next month.
The man who isn't going hunting for deer or turkey these past few days is in the minority but very few have been successful. There has been plenty of shooting at squirrels, tin cans or anything else that offers a target other than deer, which seem to be scarce.
Father C. Vabre has made several more articles of utility and or ornament out of cactus. One is another reading lamp over 5 feet high. The base is a pine gnarl, the standard trunk of a big cactus arm, the shade is made with sections of the cactus.
50 years ago
1970: Sunday was "Go to the Mountains Day" as hundreds of cars, trucks motor homes and trailers jammed Hart Prairie Road, and Fort Valley Road, and pulled off to the side to give the camera buffs just the perfect shot of the brilliant foliage display.
Sixteen ecologists met in Flagstaff last week to see if their separate studies of the Colorado Plateau's environment over the last 20,000 years might collectively hold clues to conditions on the plateau in the future. It was felt that the time had come to gather and learn about the work that has been done in several different fields of research interest. There is specific interest in the climate during the last 4,000 years during which there has been a human population here.
The city council voted 4-0 to bring at least temporary halt to any further action on the proposed 97 units of low-income housing to be located at one of three sites in the city.
City Councilman Larry Loven said that his vote for an investigation of the need for low-income housing has to do with his concerns about corporate investment by the city.
25 years ago
1995: A showdown is percolating between two different visions of what should become of an empty lot in downtown Flagstaff at the corner of Aspen and Leroux. It may soon come to a boil. City Manager Dave Wilcox said he is shooting for a November vote on the plan. As that date approaches a grass roots effort to build a park on the land is gaining support both in votes and in cash while a referendum looms a possibility.
The proposed Empress Plaza would include a 1,600 seat underground cinema, 3,000 square feet of above-ground commercial space and 15,000 square feet of landscaped open space as well as a 200 space parking structure.
The Planning and Zoning Commision has approved a new consolidated site for the Northland Family Help Center on North West Street behind the Cedar Hill Shopping Center.
All events were taken from issues of the Arizona Daily Sun and its predecessors, the Coconino Weekly Sun and the Coconino Sun.
Be the first to know
Get local news delivered to your inbox!