Summer is approaching, signifying another season of outdoor exploration for Flagstaff locals and visitors.
Trails including Fatman's Loop, Humphrey's Peak, Elden Lookout, Schultz Creek and more are all popular destinations for experienced and inexperienced hikers alike, but safety remains top priority when strolling through these trails.
According to Jon Paxton, spokesman for the Coconino County Sheriff's Office, there are 10 essential items hikers and backpackers should carry when going out on a hike: Water, food, extra warm clothing, navigation equipment, a flashlight or headlamp, a first aid kit, shelter material, a fire starting kit, a pocket knife or multi-tool and a whistle or signal mirror. Paxton said another essential is to notify someone of one's hiking plans.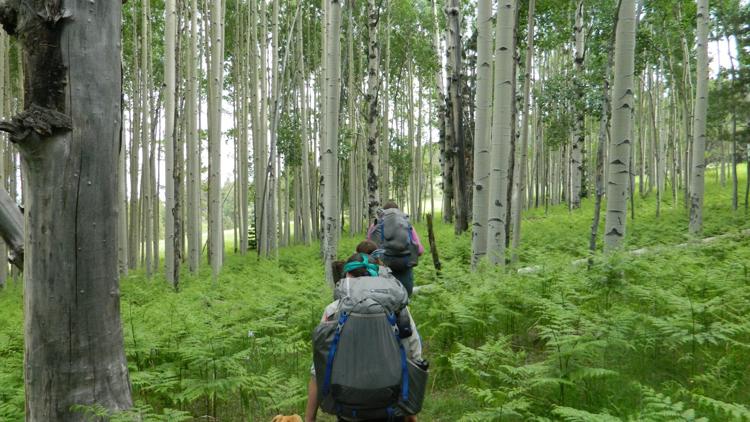 "The most important thing we tell everybody is to tell somebody where you are going," Paxton said. "Give them a starting point, where you are going to go and when you expect to be done."
Paxton also advises hikers to know how to properly use their navigation equipment, whether it be a GPS, compass or a map.
"So many people have a really, really nice GPS but have no idea -- outside of knowing how to turn it off and on -- how to use it," he said. "In a lot of these places like West Fork, it's a very narrow slot canyon and GPS don't always work in there, so we ask you to take a map and a compass."
You have free articles remaining.
Register for more free articles
Stay logged in to skip the surveys
Paul Clifton, Coconino County Sheriff's Office assistant Search and Rescue (SAR) coordinator, said in a situation in which a person is believed to be missing, dispatch will receive a call and treat it as a call of service -- meaning CCSO will respond as it would in the case of an emergency. A patrol deputy will typically conduct the initial investigation and determine if a response from SAR is required.
Clifton said SAR receives about 400 calls classified as search and rescue per year. In 2018, about 140 of those 400 calls were actually sent to SAR.
"The difference is oftentimes resolved by the patrol deputy that responded," Clifton said. "In the case of a rescue, where we have a known problem and known location, but we have an access issue, then our dispatch will contact us directly. Each call is unique so from there it depends on the nature of the call."
The onset of warmer weather also means an increase in fire hazards. There are two stages of fire restrictions before a park or trail are closed to the public. Stage 1 Restrictions prohibit fires, campfires, charcoal, coal and wood stoves, and also smoking -- with the exception of smoking within an enclosed vehicle, building or developed recreation site -- according to Shannon McCloskey, Coconino National Forest's visitor services information assistant.
During Stage 1 Restrictions, campfires are only allowed at a developed recreation site, which are listed on the Coconino National Forest website. Stage 2 Restrictions prohibit Stage 1 Restrictions in addition to using explosives or fireworks, operating a chainsaw or other equipment powered by an internal combustion engine, welding or operating a torch, operating an internal or external combustion engine, discharging firearms, air rifles or gas guns and possessing or using a motor vehicle off National Forest System roads, according to McCloskey. Stage 2 Restrictions prohibit usage across the entire forest including campgrounds.
"We did partial closures [last year] in areas that have steep terrain and it's really difficult for firefighter to get in," McCloskey said. "Areas that have a lot to lose such as that, there's private residents, really important buildings or even close to the city, we try to close those areas to limit the potential for that hazard to affect those things."
For those hiking and traveling around Flagstaff's natural beauty, Paxton advises people to have fun, be safe and take lots of photos while enjoying the outdoors.