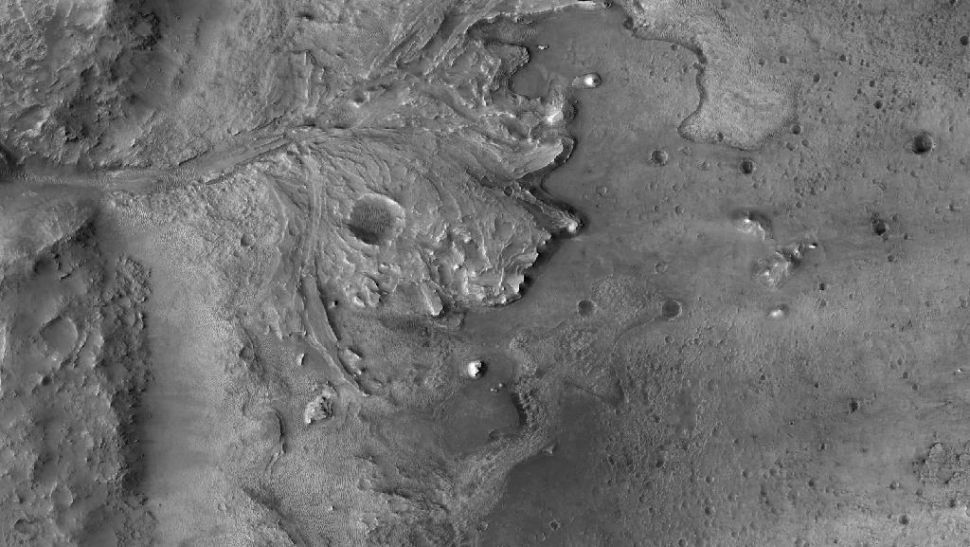 Mapping Mars, once terra incognita to scientists and researchers, no longer remains such a mystery. Not only has the Red Planet been charted down to its minutest details — the size of outcroppings, the thickness of dust, the looseness of rocks — but this precision will allow the latest Mars rover, Perseverance, to explore rugged areas previously deemed off limits.
Such advances have been made possible by precise and intricate mapping technology developed by United States Geological Survey scientists in Flagstaff and implemented onboard Perseverance, which launched on its Mars 2020 mission on Thursday and is expected to touch down on Feb. 18, 2021.
It's that landing that's the tricky part. And ensuring that the rover will land on terra firma inside Mars' Jezero Crater, a 28-mile-wide former river delta believed to once have had the possibility of hosting organic matter, has been the two-year mission of USGS research geophysicist Robin Fergason and her cohort.
From a cartographic perspective, this may have been the biggest challenge to date for Fergason and colleagues, who previously helped map other planetary bodies. Their high-resolution mapping of the terrain, every dip and jutting, will combine with real-time images taken by the rover as it descends to guide the craft to a safe, smooth site.
They, obviously, will not find out until next February's touchdown whether their precise calculations yielded success, But Fergason, who has been mapping sites for NASA since 2003, knows this much:
"I don't think anyone can make a better map than what we did. We spent two full years making sure this map was using the best methods we knew, combining all the tools into one processing pipeline -- which is harder than it sounds. This map has undergone rigorous evaluations by independent boards at NASA as well. Of course, space exploration is not easy; there's always uncertainty."
The result of their work is a new system called Terrain Relative Navigation, which, as its name implies, uses onboard maps aligned and overlaid with real-time images taken on the descent to guide the rover away from hazards such as outcroppings and declivities. Once landed, TRN can also plot a safe route for Perseverance as it roams the landscape.
Before the new system's development, Fergason said, it would not have been feasible for a rover to land in such a potentially geologically fraught area as Jezero Crater.
"In order for it to land safely," Fergason said, "the features inside the map had to accurately represent where they are on the surface relative to one another. We had to develop new methods and techniques because the old ones weren't quite good enough. These are software packages to generate digital terrain models, the same technology to make topographic maps on earth, like on one of those USGS topographic maps that tell you how much relief I'm going to get on the hike."
Here's how it works: The base or "truth" map that the USGS designed will be aligned with a second mapping of real-time images taken to make sure the craft will avoid troubled spots ("red pixels") and steer toward safe ground ("green pixels").
"That's the goal, to identify where on the truth map we are going," Fergason said. "It'll take images on its descent five times. Identify first time, then validate it, each step as it gets closer (to landing), to ensure with high accuracy that it really does truly know where on the map it'll be going."
Once the craft has charted its path, the "truth" map will be aligned with what Fergason called a "hazard map," this one designed by the Jet Propulsion Laboratory, that can tell within a meter whether its headed for a troubled spot.
"If it determines it's not a safe pixel," she said, "it's going to locate the nearest safe pixel (on the overlay map), fire its retro rockets and go to that safe location."
Other rover missions have safely landed on and navigated Mars, but NASA is upping its degree of difficulty this time around by attempting to explore a rough and rugged crater that scientists believe may once have hosted life.
It's not enough anymore for scientists to poke around the easily navigable areas of the Red Planet; now, they want to dig deeper in areas that in ancient times were believed to host lakes and river deltas — areas presumably once teeming with life and now perhaps harboring its remnants.
"It's like, if you're hiking on earth, you want to go to these places where you see these beautiful vistas and interesting geologic features," Fergason said, "but those are most often the most hazardous places as well. There's a conflict we try to balance. Where can we answer the most interesting questions scientifically but still be safe?
"Some people might ask, 'Why are we going to Mars again? We've already done this, right?' But because we now can go to a site we haven't had the technology to go to before, that might help us address these questions in a more complete way than we have before. And these maps we've produced are absolutely essential to be able to land safely on Mars."
Get local news delivered to your inbox!
Subscribe to our Daily Headlines newsletter.