Monday afternoon looked like every other beginning of the week at Northern Arizona University: Hoards of weekend-weary students rushed to and from classes, stopping only to socialize, eat or check their phones.
Less of a familiar sight were several white cooler-like machines that rolled among the usual crowds. 
One of the small boxes paused and then maneuvered its wheels around two pedestrians on a walkway near the north campus student union, another waited patiently at a crosswalk. 
The fleet of 30 robots, a product of Bay Area startup Starship Technologies -- whose founders Ahti Heinla and Janus Friis co-founded Skype -- officially launched on Monday after a three-week period during which campus dining workers were trained and the machines themselves mapped the 683-acre campus.
The 50-pound bots, which can travel up to 4 miles per hour, are part of an ongoing partnership between Starship and food provider Sodexo. They currently tote orders from Einstein Bros. Bagels, Cobrizo Mexican Grill, Turnip the Greens, G's NY Style Deli, the Wedge Market and Pizza, Star Ginger and other retailers to the NAU's nearly 25,000 students, staff and faculty.
"They kind of scare me," said Casey Pieczynski, a student worker at Einstein Bagels who had loaded about 20 bots as of Monday morning.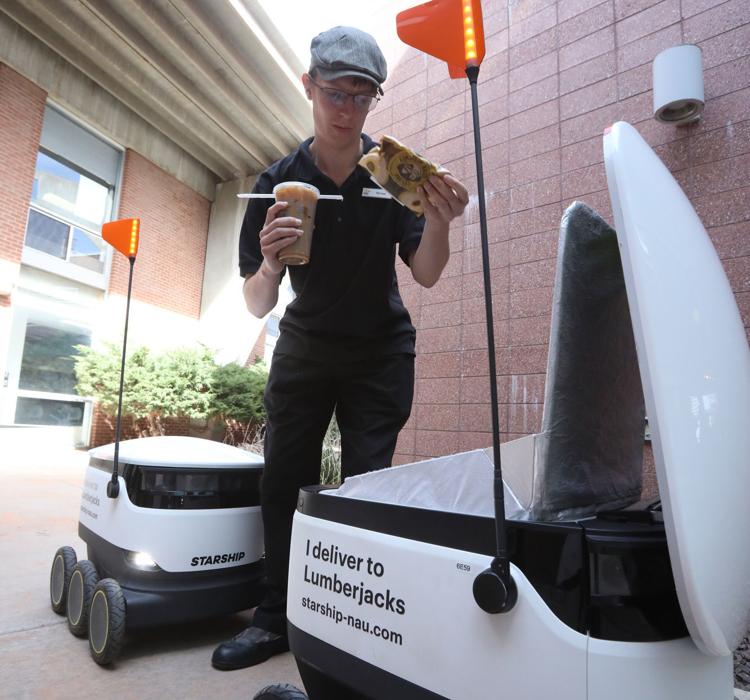 But initial data suggests the bots are gaining popularity rapidly.
According to Ben Hartley, director of campus dining at NAU, by the end of the day Monday, the bots had delivered a total of 130 orders. Tuesday alone saw more than 200 orders -- making for more than 300 transactions in two days. He also anticipates that number will rise to about 500 per day as the service gains traction. 
The bots cover the entire campus and students can meet them at dorms or en route to class by dropping a pin at their location. Each robot can hold up to 20 pounds of food and delivers one order at a time in an insulated, lunchbox-like interior.
Unlocking the robot comes with the push of a button within the Starship Delivery app, which also tracks the bot on its route.
At the moment, breakfast is proving to be a particularly busy time of day. The robots, which run from 8 a.m. to 10 p.m. on weekdays and 11 a.m. until 10 p.m. on weekends, were most in demand between about 9 and 11 a.m., according to Hartley.
This corresponds with data collected from the flagship delivery bot program at George Mason University. The Virginia school began using the bots two months ago.
"There's a lot of students who were not eating breakfast who are now eating breakfast. That was one of the big findings at George Mason University," said Ryan Tuohy, senior vice president for business development at Starship Technologies.
"We're kind of pushing breakfast because a lot of students skip it," Hartley said. "In a very real sense a student could get up, order breakfast and have it waiting for them as they come out the door. It gives them the opportunity to have a meal before class so body and mind have fuel."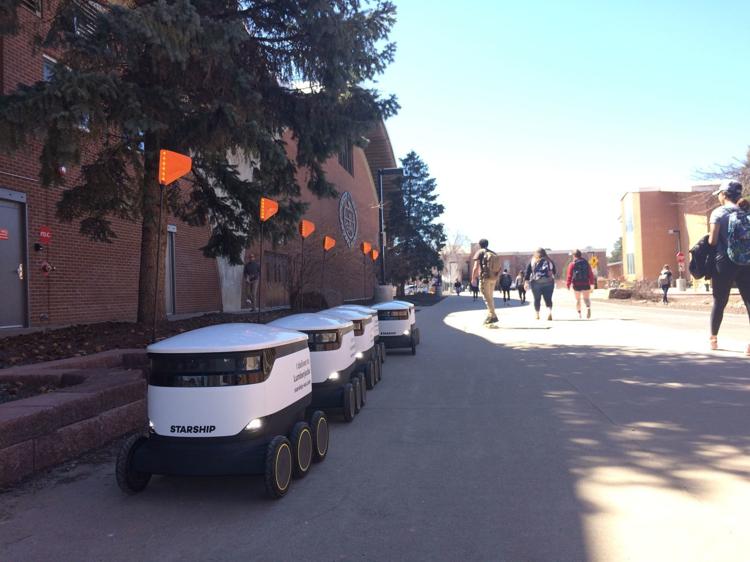 NAU is the second university in the country to incorporate the Starship robots into its student dining plan and the first to do so in Arizona.
Following GMU's example, Sodexo and NAU partnered with Starship, who receives profits through a $1.99 delivery fee.  
"The cost to the student is extremely competitive and you don't have to tip a robot," Tuohy said. "What we're seeing is that having this delivery on campus is driving sales of on campus restaurants."
According to Hartley, Sodexo and campus dining discussed hiring student workers to drive or deliver food via bike in the past, but the idea never went beyond that. 
Starship Technologies, which is a private company, declined to give the cost of an individual delivery bot. 
NAU's fleet comes just shy of a year after Arizona Governor Doug Ducey signed legislation authorizing the robots -- officially known as "personal delivery devices" -- on sidewalks.  
HB2422, a bill originally brought to the House by Rep. Kelly Townsend, R-Mesa, was finalized with requirements including weight limits, minimum liability insurance and brakes. 
The talks to bring the robots to NAU began in January of this year, with the first meeting taking place in February. 
"That's when we decided to launch on a pretty aggressive timeline," Hartley said. 
According to Hartley, the robots will most likely grow in numbers as demand rises and new restaurants are added to the list.  
"Starship has committed as many robots as needed to handle the business, so if we need 40 or 50 instead of 30, they have the ability to get them here quickly," Hartley said. 
"Adding more robots is definitely something that can happen, and that we'll evaluate on an ongoing basis," Tuohy said. 
The list of restaurants will expand as early as next week with south campus spots Qdoba, The Coupe and possibly Subway being incorporated into the app's options. 
Although winter is over, come the next storm, Tuohy said, the bots' six-wheel drive allows them to maneuver over ice and snow with relative ease. While the bots are 99 percent autonomous, according to Starship, they will alert people sitting in a control room if they encounter any issues or obstacles.  
The permission of these devices to use Arizona sidewalks will expire in September of 2020 unless lawmakers renew the mandate.