Rabbi Dovie Shapiro was disturbed when he saw the swastikas smeared on the windows and carved into the walls inside Chabad's Molly Blank Jewish Community Center, a place intended to be a safe space.
The swastikas conveyed a message, one reported in other communities around the United States and in the annals of history.
"It was extremely disturbing, and really shook us up," Shapiro said.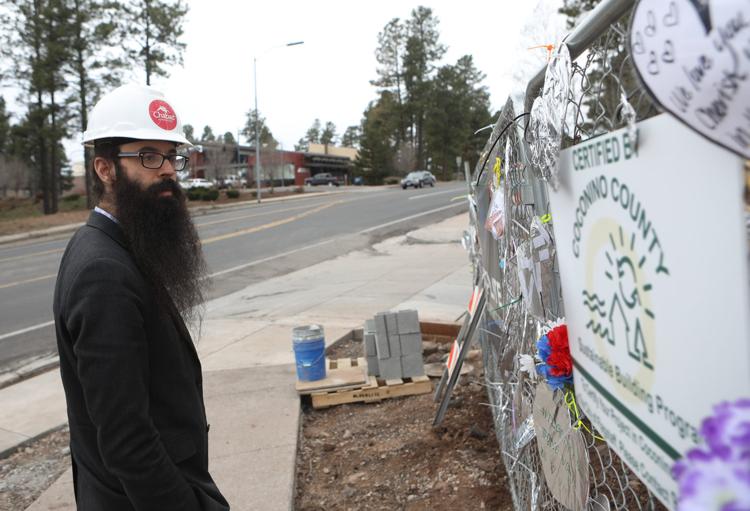 But Wednesday, when small foil hearts started popping up outside the gate of the construction site, he began to be reminded of his community. By the middle of the day, there were a few more. As word spread through Facebook, by 4 p.m. there were hundreds of hearts from all corners of the community with written words of support, encouragement and love.
The messages read: "Let light shine out of darkness," "Flagstaff loves you," and "Evil persons will never darken our hearts. We support and stand with you, Chabad." The foil hearts glistened with light and created another layer to surround the future community center.
Shapiro was astounded by the gesture, one so different from the act of vandalism that was found on Monday morning.
"I never thought at the time that the support from the community would be so positive. This is really heartwarming, because when you're dealing with something like this a lot of times you feel alone," Shaprio said. "This is amazing to see that everyone can make that difference."
Kelly Poe Wilson, a 34-year resident of Flagstaff, was one of those people in the community who did not want to let the act of vandalism go unopposed.
"This is Flagstaff," Wilson said pointing to the hearts.
"I want to make sure that everyone knows they're welcome. Swastikas are a way of saying they're not welcome here. And they are welcome here," Wilson added.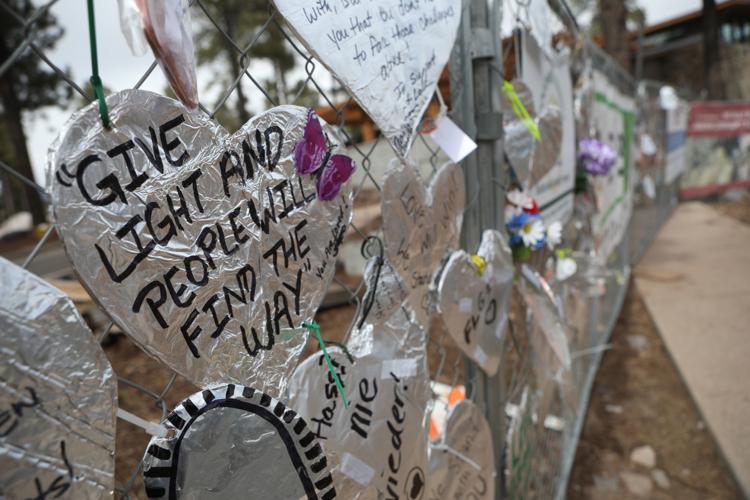 You have free articles remaining.
Register for more free articles
Stay logged in to skip the surveys
Suze Mancy and Chris Raynsford work as a kindergarten teacher and principal at Flagstaff Community Christian School. Together, they had a box of around 80 foil hearts their students made Wednesday to show their support for the Chabad community. The two said that even though some of their younger students didn't know how to spell every word, they knew the words to use.
"Every single day that these workers come in and the people that go to this precious Synagogue, they're going to be able to see these hearts and know that Flagstaff absolutely loves them and treasures them as a part of who we are in God," Raynsford said.
Raynsford explained that they used the time making the hearts to revisit the Synagogue shooting in Pennsylvania, and other acts of anti-Semitism in recent events. A report from the Anti-Defamation League reported that anti-Semitic incidents rose 57 percent in 2017.
The 1,986 anti-Semitic incidents reported in 2017 is the second highest number reported since the group began tracking anti-Semitic reports in the 1970s.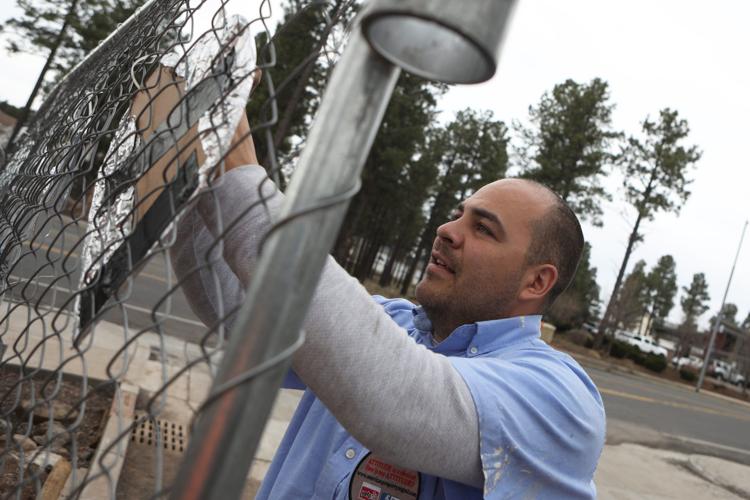 Coconino County Attorney Bill Ring said if the Flagstaff Police Department's investigation shows that a hate crime was committed, his office will seek "prosecution of every perpetrator to the maximum extent of the law." The case is still under investigation by the Flagstaff Police Department.
"If crime in the name of hate is done in this jurisdiction then you will have the full weight of the law and the full strength of this office to deal with," Ring said in a statement. "That is not a challenge. That is the truth in fulfillment of justice."
Standing outside of the center, Wilson did not feel that she needed to share the Jewish belief system to extend a heart in support of the Chabad community.
"This has nothing to do with people's religious beliefs, this just has to do with respecting people and supporting people," Wilson said.
Shapiro believes that the community's acts of kindness are the most proper way to oppose hateful acts.
"The way to combat hate for no reason is to love for no reason," Shapiro said. "To see these kids coming out from schools — they don't know the Synagogue, many of them — to write a message of love and hope and peace. It's amazing to see."