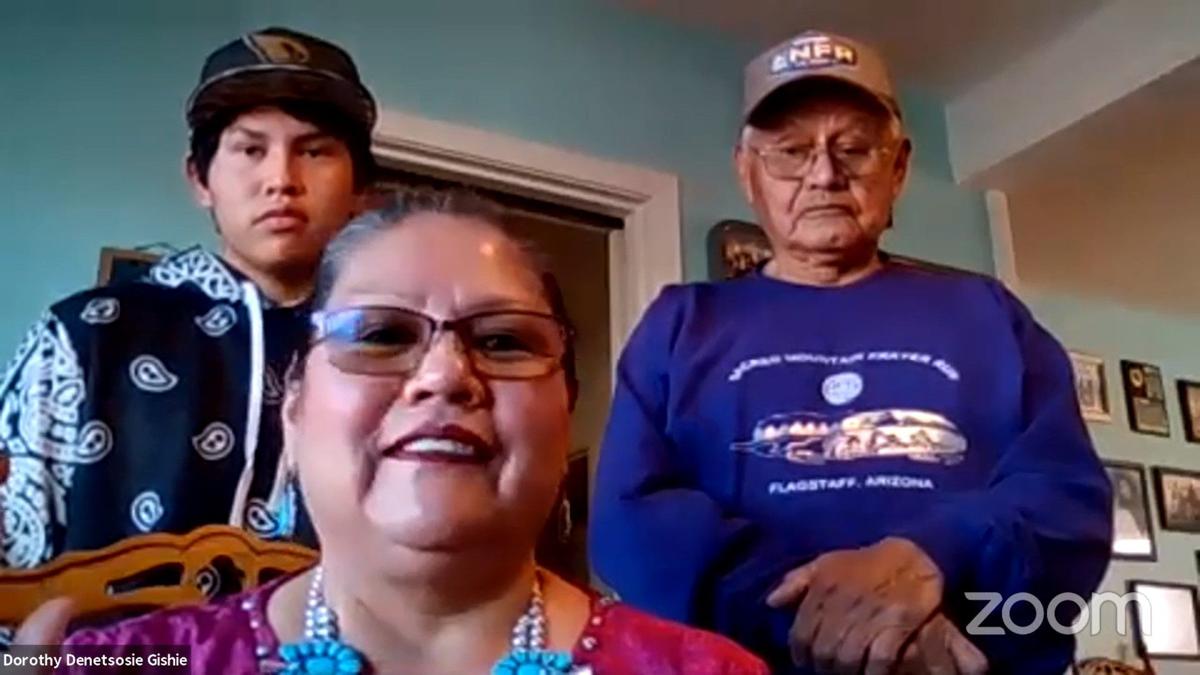 Flagstaff Unified School District students returned to virtual classes Monday as new Governing Board members, who will make the final decision on when schools can eventually reopen in person, took the oath of office.
The board voted in November to continue remote learning through the second quarter, which ended Tuesday, and again discuss the status of its reopening plans at its next meeting on Tuesday, Jan. 12.
According to the latest health data, though, reopening soon seems unlikely.
For several weeks, Coconino County Health and Human Services has advised all school districts throughout the county to use virtual classes because of substantial transmission of COVID-19 in their geographic areas. On Tuesday, CCHHS reported a total 11,606 COVID-19 cases and 209 deaths in the county since the beginning of the pandemic. Testing positivity is at 13% and case incidence is at 7,880 per 100,000.
In CCHHS' latest schools report, for the week ending Dec. 26, FUSD had a case incidence of 421.8 cases per 100,000 people and a testing positivity of 11.6%. The district has seen a decrease in case numbers in its area since Dec. 5, but not enough to meet its thresholds for reopening, which are more stringent than the state guidelines used by Coconino County.
"Our district, our board, our community and our staff made the decision to be consistent. We've got data metrics that we need to meet to reopen, so right now we're hanging hats on that plan and watching the numbers," said FUSD Board President Anne Dunno.
The district said in its Monday health update it will remain in full remote learning until health data improves. Its latest COVID-19 dashboard update for the week of Dec. 19 shows seven total reported cases, with five cases among staff and students affiliated with Coconino High School, one with Thomas Elementary School and one with support facilities.
Since the start of the school year, FUSD has recorded 153 total reported COVID-19 cases, 30 of which were athletics-related.
To receive a recommendation from the county for in-person or hybrid learning, a school district area would need to display a lower level of community transmission for two consecutive weeks. No school districts in Coconino County have experienced fewer than 100 cases per 100,000 or below a 10% positivity yield in such a time, though. Flagstaff charter schools currently have the lowest positivity yield at 11%, while Grand Canyon Unified has the lowest case incidence at 161.
Although FUSD school campuses cannot be fully reopened yet unless the district revises its health data requirements, Dunno pointed to the benefits of the district's new activity policy, which allows small student groups to meet on campus for limited activities following approval of a COVID-19 mitigation plan.
"We are trying to find ways to be creative here over the next few months if we're not back to full in-person," Dunno said.
Governing Board
Coconino County Superintendent Tommy Lewis led board members Christine Fredericks, Carole Gilmore and Dorothy Denetsosie Gishie in a virtual Oath of Office ceremony Monday morning.
Their terms — Fredericks' third, Gilmore's second and Denetsosie Gishie's first — will last through December 31, 2024. They have joined Dunno and Carol Haden, whose terms end in 2022.
"It's a tremendous responsibility and also a great public service," Lewis said Monday, following the three oaths. "You will be faced with many challenges, I'm sure -- obstacles as well -- but I really believe you have the qualifications, you have the skills, the leadership to help the superintendent move right along to advance your school district to a higher level, always knowing that it's for the best interest of student learning and high academic achievement."
Dunno said in addition to continuing to focus on COVID-19 policies and response, she hopes this new board will also be able to return to previous projects — like the creation of a strategic plan that incorporates the findings of this fall's Anti-Racism and Anti-Bias Task Force — that were set aside in favor of the pandemic response.
FUSD spokesperson Zachery Fountain said district staff are working on plans for upcoming spring events, such as graduations and testing.
"We just continue to adapt. The board is going to be instrumental in the coming months in making those decisions and figuring out where we can adapt and make the best situations and safe situations," he said.