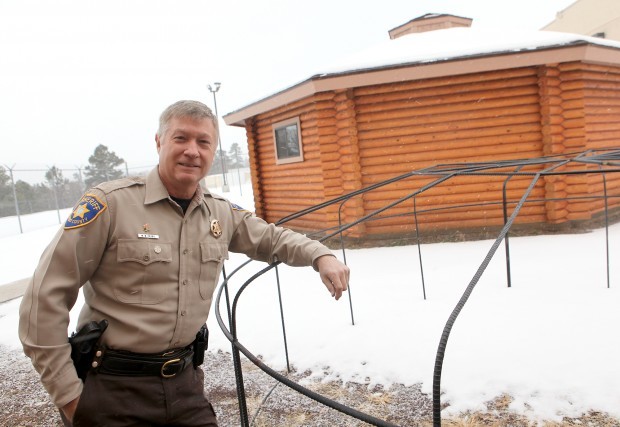 TUBA CITY -- The medicine man remembered when the teenage boy requested his help.
The medicine man said he prefers not to use his name because he doesn't want the attention and wants to make sure that people who seek him out do so because they are determined.
He had been going about his job in the juvenile detention facility in Tuba. The boy, in trouble and behind bars, had an alcohol problem and he had been raised in an alcoholic family.
"Then, one day, he came to me himself and stopped me at my work," the medicine man said. "He asked me how to help him."
Working in maintenance now at a different place, the medicine man, in his 70s with graying hair, wearing a baseball cap, blue jeans and western shirt, remembered the young man said to him, "Now, my whole body is alcohol. Can you help me get out of it?"
He said he could. He made arrangements with the juvenile authorities, and the two went through a sweat lodge ceremony every week for a month. After the young man's release, he was sent home.
The medicine man said that a year or so later, he received a call at the front office that somebody wanted to see him. It was a young man with a woman and a child.
"He asked, 'Do you remember me?,'" the medicine man said. "I said I did."
It was the young juvenile offender he had helped with traditional healing. The young man had gone to school, gotten a good job, had a wife and a child. The young man had thanked him.
Traditional healing is important for just such a reason, the medicine man said.
NATIVE INMATES IN MAJORITY
According to Coconino County Detention Facility statistics, on any given day, about 50 percent of the inmates in the jail are Native American and are often addicted to alcohol or drugs.
Law enforcement officials in Flagstaff consistently identify alcoholism, poverty and joblessness as reasons for the disproportionate numbers of Native American arrests and inmates.
According to information from the Coconino County jail, Native Americans made up 50.6 percent of inmates in the average daily population from January to October in 2011. In 2010, that percentage was 51.3 percent.
The 2010 Census estimates that about 12 percent of Flagstaff's population is Native American. But that number, on any given day, is likely much higher because a large number of Native Americans commute to Flagstaff for jobs and schooling.
Robert Robin, Ph.D., chief executive officer for Native Americans for Community Action, said that although he is relatively confident Native Americans aren't being targeted specifically by law enforcement, social, economic and substance abuse factors do come into play.
Those factors bring Native Americans to the attention of law enforcement more frequently. Flagstaff is a border town and other border towns likely experience the same statistical percentages, Robin said.
Stereotypes also prevail -- like Native Americans having greater susceptibility to alcoholism, despite significant research debunking such a notion.
Coconino County Sheriff Bill Pribil said the jail offers a number of traditional Native American resources for the inmates.
"It sounds unique to people outside of northern Arizona in some ways," Pribil said. "But having lived here for as long as I have, it doesn't sound unique to me."
Just as the jail provides Christian-centered events, visits and volunteers, it seemed only natural to include similar resources for Native Americans, who make up 50 percent of the average daily population.
"I think we all have a yearning to discover who we are and where we come from," Pribil said.
On the jail property is a hogan for a variety of traditional uses. The jail in the past had visiting medicine men come in and perform sweat lodges, but the location of the sweat lodge allowed smoke from the fire to enter into the jail proper, so a new location is under construction next to the hogan.
The sheriff said he plans to have the sweat lodge available for operation by the summer. Talking circles are also available in the jail.
The ultimate goal for any program at the jail, Pribil said, is to help people find a connection in their lives they can hold onto and with which they can begin recovery and rehabilitation.
"We want to keep people from reoffending," Pribil added.
While traditional healing is being made available to Native American offenders, local behavioral and mental health specialists caution that it should not be considered a "be all to end all," but rather a tool in the toolbox of recovery and rehabilitation.
"It's an element," said Robin. "It's an approach that can be beneficial. It's like one of the ingredients in a recipe."
E. Sandi John-Jacques, mental health therapist at NACA, said that substance abuse often causes a loss of connection to people's roots and subsequently makes them more disposed to continued substance abuse.
Pursuing traditional healing allows a reconnection.
"I think it's invaluable," John-Jacques said.
She leads a talking circle at the Coconino County jail's Exodus in-custody drug and alcohol treatment program for females, more than 50 percent of whom are Native American.
"The majority of the time, they ask me, 'What do you know about ceremonies?'" she said.
The reason for the connection, she said, is a spiritual one in many cases. The songs, the support, the ritual, soothes and fosters connection to a larger group.
"It's like living among individuals in another country and suddenly you're surrounded by something you're familiar with," John-Jacques said.
Robin added that beyond the social element, personal healing is also possible. Language, customs and rituals of one's culture enhanceresponsiveness to treatment. Understanding that, Robin said that NACA has increased its indigenous staff who can bridge that connection -- whatever the religious view.
Does it yield more positive results?
Anecdotally, with little firm scientific research available to answer the question, Robin says yes. But the best measure of the success of using traditional methods of healing is self-referrals.
"When people start coming in on their own ... then you know that people want to be there," Robin said.
Robin was quick to point out that the use of traditional healing should not apply to all Native Americans. Some are more acculturated to western ideals, some have values that have moved them away from tradition. That a Native American must be either fully acculturated or fully traditional is a false belief. All Native Americans have a continuum of involvement and are a part of both worlds to a degree.
"But understanding one's history and one's culture can be very grounding," Robin said.
David Begay, a physicist, astronomer and Ganado-based medicine man, echoed Robin's point.
"I think any method, whether it western or traditional, needs to be utilized," Begay said. "I imagine it would be case by case, individual to individual."
Just because a person is Native American, it doesn't mean he or she will resort to traditional methods. Some are more acculturated than others and carry a variety of beliefs, Begay said.
"Not all Native Americans resort to traditional methods every time, "he added. But whenever a person asks for it, it should be available, though.
"By the mere fact the Native person asks for it, it is evident in itself that there is a belief that there is some remedy there," Begay says.