For her first time running to a city title, Hana Hall put on a display of dominance at Buffalo Park on Wednesday.
The California transfer clocked a 17:37 for the Flagstaff Eagles, who won the girls team title to complement the boys. Hall's time was nearly a minute faster than the runner-up, who happened to be wearing Flagstaff green as well.
Before Hall showed off her fitness at the City Championship Meet, Northland Prep's Micah Stanton took the top of the podium on the boys side with a time of 15:50 and helped his team to a second-place finish behind Flagstaff.
"She comes with this wonderful go-get-them attitude and just try a little harder and we can all be better mantra," said Eagles head coach Trina Painter of Hall. "She's always happy, asking what are we doing today and encouraging people and really pushing herself."
The Flagstaff girls placed six in the top 10, with Hall and Brianna White providing a one-two punch. The Eagles put up 22 points, while Coconino's girls took second with 37 points. The Northland Prep girls earned the bronze with 79 points.
The Flagstaff boys had just as many in the top 10 as the girls. Zac Joyce ran a 15:55 for second place, and Max Davis crossed the finish line in 16:02 for third, helping the team score 22 points. The Northland Prep Spartans, the reigning Division IV state champs, garnered the silver medal on the boys side and Coconino came away with third.
Some of Painter's boys were battling illness.
"They are able to run well even when they are not feeling well, and they've been able to stick close together and feed off each other," she said.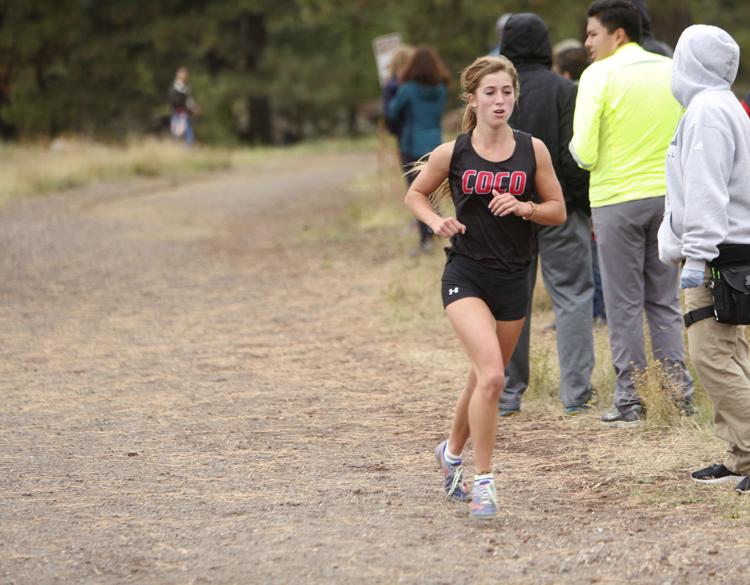 After Nate Milton recorded a fourth-place overall finish, Northland Prep's Brandon Bounds broke up a pack of Eagles with a fifth-place result in 16:10. Another group of three Flagstaff runners followed, with Riley Human taking sixth, Gabe Harju seventh and Alan Hagerman eighth.
Hayden Anderson finished in ninth place for the Spartans, and teammate Sailor Starcher rounded out the top 10 overall finishers.
"Lots of PRs today, and Micah has been working so hard, and I am so happy he's a city champion because he put the time and energy into it," said Spartans head coach Missy Acker.
Hall came charging up the Buffalo Park hill alone and hardly dealt with any traffic on the way to the win after jumping out ahead early.
"I pushed my muscles hard the whole time," the junior said, adding that the cool weather provided the right conditions for her to run hard in.
She's happy to be contributing to a cross country program that has won the last three D-II state titles on both the boys and girls side.
"I just work with them really hard," said Hall, who added that she moved to Flagstaff in the summer and trained intensely with her father during the offseason.
White ended her race in 18:27 and also without a crowd around her. Coconino's Woodlyn Smith took third overall in 19 minutes flat.
Katrina Vollmer placed fourth overall for Flagstaff in 19:24, and Coconino's Hope Saxton had a fifth-place overall finish in 19:55. Flagstaff's Sydney Marston placed sixth, and Coconino's Kaelynn Ashley and Lilia Tassinari finished seventh and eighth respectively. Flagstaff's Sayti Plank was ninth, with teammate Olivia Schepper 10th.
Basis Flagstaff competed in the meet featuring city-only teams. On the boys side for the Yeti, Colm Cawood was the first of his squad to cross the line, running a 17:18 for 16th place overall. Tucker Grams provided a 20th-place finish for Basis, hitting 17:39. For the Basis girls, Camila Hess-Neustadt was the first to finish up the course on a time of 25:25, 51st overall.
Freshman Abby Sperl was the first of the Northland Prep girls squad to finish Wednesday's race, ending with a time of 21:18.
Taylor Taliman was the first Coconino boy for his team and finished in 17:15.