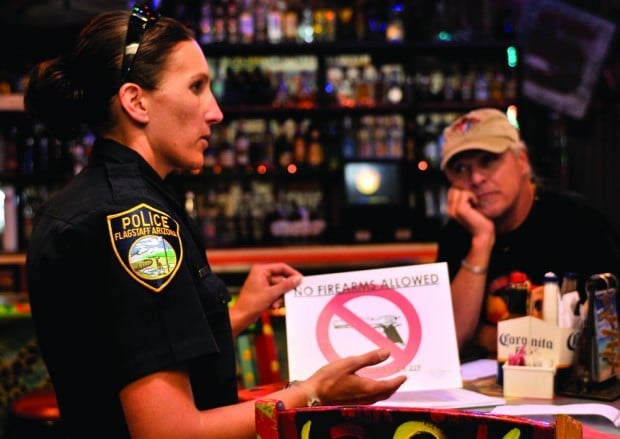 Is it legal or illegal to carry a firearm into a bar or restaurant in Arizona that has a liquor license? Yes and no -- sometimes.
Flagstaff police officials say confusion still exists about new gun laws that went into effect last year. They're out to remind residents and bar and restaurant owners who have liquor licenses about what the new laws do and do not allow.
-- If you have a concealed carry weapons permit, you may legally enter with a firearm into a bar or restaurant that has a liquor license -- unless the bar or restaurant has a properly posted sign that prohibits it.
-- If you carry a concealed weapon without a permit (as allowed by the new law), you are not allowed to carry a firearm into bars or restaurants that sell liquor -- even if there is no sign prohibiting it.
The two laws in question are ARS 4-229, and ARS 13-3102, said Sgt. James Jackson of the Flagstaff Police Department.
ARS 4-229, governs the actions of a gun owner entering a bar or restaurant that has a liquor license.
ARS 13-3102 now allows Arizona residents to carry a concealed weapon without a permit.
Jackson said police have had regular interaction with gun owners and liquor license owners who are not entirely familiar with, or misinformed about, the state's new laws, which have resulted in criminal infractions.
"We want to cut down on the confusion out there," Jackson said.
To that end, police officials have directed officers, like Rebecca Kiener, to meet with liquor license holders on their beats and familiarize them with the new requirements outlined in the law, Jackson added.
Kiener said the confusion by liquor license holders centers on signage.
The law requires a licensee to post a sign prohibiting firearms if no firearms are wanted in the establishment, she said. License holders do not need to post a sign if they do not wish to post one.
Kiener also said that if a sign is not posted properly -- near the liquor license, on the correct paper, etc. -- a gun owner with a CCW permit may still legally enter the premises of an establishment.
For instance, if a license holder posts a "no firearms" sign at the front door, but the liquor license is behind the bar, a gun owner with a CCW can enter legally with his weapon, Kiener said.
The only option a license holder would have to get the armed gun owner out of the establishment would be to verbally refuse service, Kiener said. At that point, the license holder could call police and ask for trespassing laws to be enforced if the gun owner does not agree to leave.
MAKING CUSTOMERS COMFORTABLE
Drew Gruver, part-owner at San Felipe's Coastal Cantina, said he posted a "no firearms" sign in his establishment to help his customers feel more comfortable and safe. He also made sure that the signage is in compliance with the law so that anybody coming into San Felipe's with a firearm would be doing so illegally.
"If we catch them in here with a firearm, we can call police," Gruver said, adding that he has not had any incidents requiring a call to police.
He also said that, to his knowledge, a majority of liquor license holders in Flagstaff have decided to post "no firearms" signs.
Kiener said that armed CCW permit holders may still enter an establishment legally for the purpose of confirming whether a license holder has properly posted "no firearms" signage. Once the gun owner has confirmed a valid "no firearms" requirement, he or she must then leave the premises.
People who carry concealed weapons without a permit, which is now legal, may not enter armed into an establishment with a liquor license, whether or not there is a properly posted "no firearms" sign, Kiener said.
For more information about local enforcement of the new gun laws, contact Sgt. James Jackson at 556-2300.