In 1999, Larry Wieland had an epiphany. It was the kind of moment where half-formed ideas clicked into place and he knew what he had to do.
He had to chronicle and share all the major trails of the Grand Canyon using panoramic photography.
For the last 20 years, Wieland has created more than 500 panoramas that he shares online, for free, as the Grand Canyon Panorama Project, an expansive map of 360-degree images that seem to transport viewers to the canyon itself.
The project began while he was still working as a software developer and when he retired in 2007, he committed to it full time, making as many trips as he could from his home in Texas.
"Once I saw the possibilities with panoramic photography and the Grand Canyon, it basically took over my life," Wieland said.
Like the seamless lines of his panoramas, the project fused three of his interests: hiking, panoramic photography and software development.
In the 1990s, Wieland, a lifelong hiker, was beginning to experiment with panoramic photography. During a trip to France when he hiked the Mont Blanc circuit, he wondered what it would be like to gain the perspective from each of the jagged peaks he saw from below.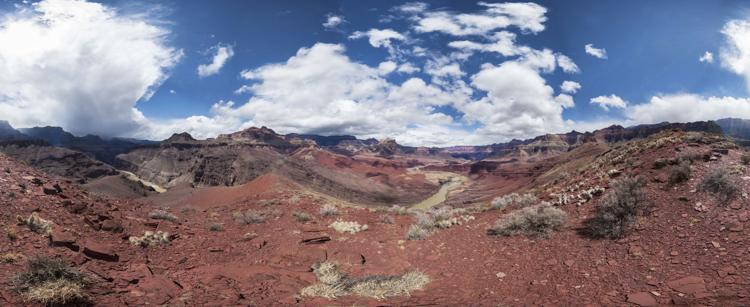 A few months later, during his first hike in the Grand Canyon, he saw the panoramic potential of the rims' open views and the sparse foliage within the canyon itself.
Wieland hiked hundreds of miles to collect all the photographs he would need to complete the project. He estimates he has images for an additional 200 or 300 panoramas that he has not compiled yet.
"I think you can attribute it to stubborn determination or craziness," Wieland said of his hiking experiences, which have included running out of water in the summer and taking off during a blizzard.
Six terabytes of data later, the project has gained popularity via Facebook, where Wieland has gathered more than 3,000 followers in the last three years. He shares his newest panoramas directly to Facebook, to the delight of viewers.
"Love, love, love the Grand Canyon Panorama Project!" one follower wrote. "Can't wait for the next pano!"
"Makes me feel like I was there," another noted.
When Wieland initially set up his website, he had visions of using donations to maintain it, but after collecting only a few small donations over the years, he said he has accepted the fact that he is doing this on his own.
"For me to be able to get that kind of satisfaction from combining a number of things I love and then to get some feedback and appreciation for what I'm doing, that's enough to keep me going," he said.
Getting the shot

Each panorama is the combination of about 35 individual images taken in all directions using a semiprofessional Nikon camera. He then quilts all the images together using digital software.
You have free articles remaining.
The process, including setup and teardown, takes about 20 minutes per location; however, if Wieland uses a wide-angle fisheye lens, he can do it in five minutes with only four to six images. He developed this technique for use on rafting trips, where speed is essential, though he prefers the higher image resolution possible using his original technique.
For the sake of his wife, Wieland maintains his 3-foot rule at all times: he will set up his monopod (equipped with a panoramic mount) no closer than 3 feet from the risky-looking cliff edges, resisting the temptation of the views any closer. He also clears the space of loose rocks to prevent tripping.
Seamless scenes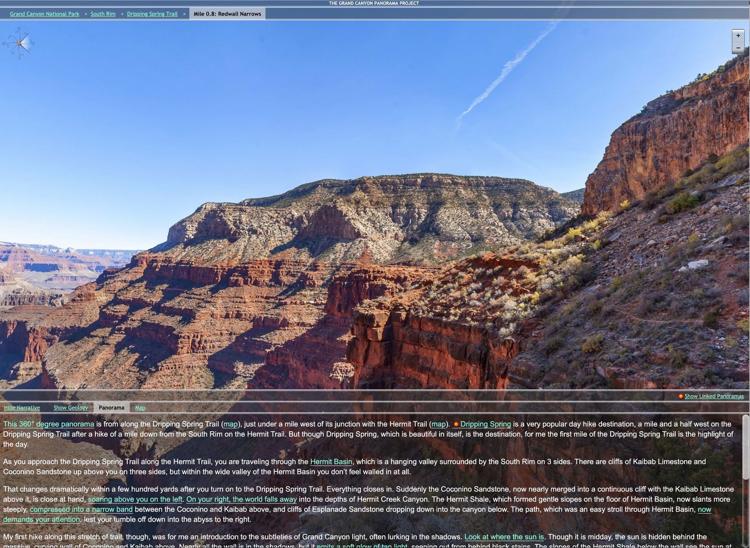 Over the two decades this project has existed, Wieland said the project has been transformed by his increasing skills and improved technology. Though his task list for the project is already packed, he is also working to remake some of his older panoramas.
Since he began, he has developed what he calls a "panographer's eye," a different concept than a typical photographer's eye.
"In a traditional sense, you're able to recognize something that you can frame into a picture that has the right light, the right interest, the right composition," Wieland said. "With a panorama, it's different because when you're not looking for one single frame to put in an image, you're trying to get a sense of how the whole thing works -- what's interesting nearby, what's interesting far away and how they work together."
He has also discovered that, when parallax of the different images becomes a concern, replication of a scene is not always the answer.
Parallax is when an object appears to have moved when viewed from different positions. When Wieland's camera is pointed at the horizon, for example, the objects on ground nearby look differently than they do when his camera is pointed at them, so the images do not line up perfectly.
Using Photoshop, he has been able to blend his images, despite parallax, to create seamless scenes in fewer layers.
He said even people with photographic memories, if they happened to find the exact spot where he took the panorama, would struggle to tell the difference.
"You can create the scene as you need it and nobody will know the difference," Wieland said. "I felt a lot better when I realized that I can do seven instead of 17 files. It made life more bearable."
In addition to improved panoramas, Wieland has also recently added his own narrations and United States Geologic Survey maps to the project. He hopes to one day tie the two together by finding geologists willing to narrate certain scenes.
Panographer's paradise

Wieland said the Grand Canyon is most pleasant in the wintertime, with some of his favorite images taken in February, when the sun is at a lower angle and is less likely to wash out the scene. Snow along the rim makes a perfect background, too, he added.
As for his favorite spot?
The Tonto Platform at the rim of the Inner Gorge.
"You've got great views of what is above you in the canyon, plus at the edge of the platform, you can look over and get beautiful views of the canyon," Wieland said. "If you pick the right spot, right on the edge of the platform, you can get this wonderful combination in all directions. It's really wonderful for panoramic photography."
To access the Grand Canyon Panorama Project, visit www.gcpano.org or Facebook @gcpano.