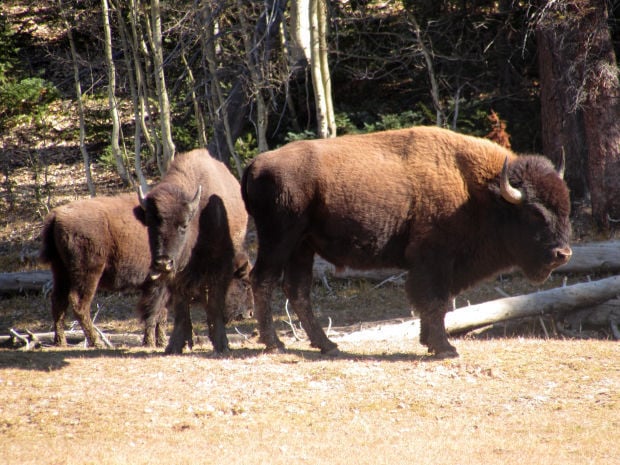 The National Park Service is calling on hunters to volunteer in order to reduce the number of bison living on the Grand Canyon's North Rim.
The herd of bison has been living on the North Rim since the 1990s and has long been a source of frustration for park managers, scientists and conservationists.
Descendants of bison that were brought to northern Arizona in 1906, park officials estimate the herd could be as large as 800 animals. And park officials worry about the herd's growing impact on water, vegetation, soils and archaeological sites.
Reducing the number of bison, which are considered non-native to the area, will protect the park's ecosystem, resources and values, according to the national park.
Still, local environmental and conservation groups have long called for nonlethal methods of removing the bison.
The park captured and relocated 57 bison to Native American tribal nations in Oklahoma, Kansas, Nebraska and South Dakota just last year. At that time, 11 bison were also equipped with tracking collars. Since the park began managing the herd in 2019, a total of 88 animals have been relocated.
But now, in a media release, park officials said they are looking for skilled volunteers to assist with lethal removal of some of the bison.
Of those who apply, the park and the Arizona Game and Fish Department will randomly select a pool of 25 volunteers. Then, 12 will be selected out of that pool to take part in the effort by May 17.
Volunteers will have to meet several qualifications including physical fitness, accuracy with a firearm and passing a background check.
As the effort is not an AZGFD permit hunt or draw application, applying or being selected for hunt will not affect bonus points, count toward lifetime species limits, or invalidate any big game tag or application an individual may have with AZGFD.
Individuals who are interested in applying to be volunteers can submit an application at www.azbisonstewards.com beginning at 12 a.m. on May 3 through 11:59 p.m. on May 4.
In addition to the hunt, Grand Canyon officials say they will continue live capture and relocation operations in the fall of 2021.
Adrian Skabelund can be reached by phone at (928) 556-2261, by email at askabelund@azdailysun.com or on Twitter at @AdrianSkabelund.