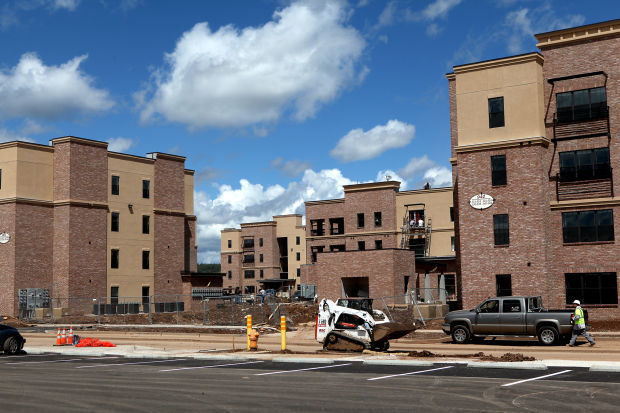 Fort Collins, Colo., could have the solution to Flagstaff's  student housing problem.
Fort Collins Neighborhood Services Manager Beth Sowder enthralled local government officials and residents attending the Community Conversation on Student Housing on Monday with how her city had partnered with Colorado State University to handle the student housing problem in their community.
Sowder said in 2010 Fort Collins was facing many of the same problems that Flagstaff is today - a very limited supply of multifamily housing units, a low vacancy rate and increasing rent rates.
At the same time, the city also had a number of complaints about students who were living off campus and an increase in requests from companies that wanted to build large housing complexes that would cater to students, she said.
Colorado State has an enrollment of around 27,000 and a future enrollment of 35,000 in the next 10 to 20 years, Sowder said. Around 23 percent of the students are housed on campus. The university houses all freshman and international students and around 25 percent of returning students on campus.
In comparison, Northern Arizona University has total campus enrollment of 19,950 and around 46 percent of those students live on campus, according to NAU.
Sowder said in 2011 Fort Collins started working with Colorado State, the public, developers, Realtors and students to create a Student Housing Action Plan to accommodate the growth. The plan was approved by Fort Collins City Council in 2013.
One change put in place by the plan was the creation of a community liaison, Sowder said. This person reaches out to the community, students and developers to make sure each has the information they need. The position is jointly funded by the city and CSU.
For example, when a new project is planned for a neighborhood, the liaison goes out to greet neighbors and make sure they are aware of the project, she said. She also informs neighbors about the planning process and will even take and read statements from citizens before the city's planning and zoning commission.
The liaison also reaches out to students, Sowder said. The city has a small advertising budget of around $5,000 that it uses to educate student on how to rent their first home or apartment and how to be good neighbors.
City staff and student volunteers pass out brochures and knick knacks, such as playing cards with suggestions, and door hangers that they can fill out and leave on their neighbor's door. The city also has an off-campus student housing handbook.
"We want them to have a connection with the neighborhood, to be a part of the neighborhood," she said.
Other items that were implemented through Fort Collins' new student housing plan were requirements that all medium-density, mixed-use projects have larger setbacks, variations in building heights and a park or gathering space for residents.
Sowder said the city had quite a few developments that were using parking lots as buffer zones between student housing and the single family homes nearby. The city decided that wasn't acceptable anymore and now requires developers to put in a landscaped buffer area.
The plan also requires all housing projects that have more than 50 units or 75 beds to have a public hearing before the Fort Collins Planning and Zoning Commission, she said. The plan also redefined multi-family housing in the city. The city now splits multi-family housing into different types to make it blend better with the existing housing.
Fort Collins also started an education and enforcement campaign of the city's nuisance ordinance. The ordinance, which has been around since 2001, allows the city to fine property owners if there are three violations on a property in a year, she said.
"Many property owners like it because they don't often know that a party has been held on their property," Sowder said. Many property owners are incorporating it into their lease agreements.
"The police department and city also met with student housing developers before they open their new housing projects to discuss some of the problems we've had in the past," Sowder said. "For example, a lot of them like to host pool parties, sometimes with alcohol. We really try to discourage that. We can't tell them they can't, but we do tell them we have a nuisance ordinance."
Another thing that helps is that CSU's student code of conduct also applies off-campus, she said.
The city also holds neighborhood cleanups at the beginning and end of each semester, she said. The city provides Dumpsters for students to get rid of their unwanted items and sometimes food to encourage participation.
Fort Collins is also working on setting up an ongoing committee made up of city and CSU officials, students, residents, property owners and police to guide the city council on student housing issues.
Another project the city is working on is residential parking permits, Sowder said. The city allows each neighborhood to determine if it wants a permit system and how it will be run.
Councilmember Celia Bartoz and Coconino County Supervisor Liz Archuleta were both intrigued and excited by Fort Collins' solution.
"I think we could bring something like that here. This is just the first step in the process," Acheleta said, referring to the symposium that was held Monday morning.
Sowder said the catalyst for Fort Collins' plan was a student housing project call The Grove, which was built by Campus Crest.
"When that project was going through the approval process, the neighborhood meetings got really ugly," Sowder said.
In order to create the plan, Fort Collins held open houses, passed out surveys, created a website where people could get information on the plan and new housing projects. The city also collected information on the number of available housing units to rent and what types were available.
"We also reached out through social media and partnered with CSU's Department of Public Deliberation. We worked in small groups at first," Sowder said.
Individual focus group meetings with students, CSU, homeowners, renters and developers were held, she said. The city sent out surveys to renters, residents, students and other stakeholders. City employees presented ideas before local Realtor and Chamber boards, student government meetings and other professional organizations. Larger public meetings were also held with students, residents and developers.
Archuleta and Barotz said they thought the same process could be held in Flagstaff. Others who attended the symposium thought the same and expressed it in their comments at the end of Monday's event.
"A task force with the city and university would be great, but it needs to happen sooner rather than later," one attendee wrote in a comment card.
Several attendees said they liked Fort Collins idea of having all large projects come for approval before the planning and zoning commission and a community liaison. Others said they liked the idea of residential parking permits. A number of attendees said they liked the idea of working with students to create a better sense of community.