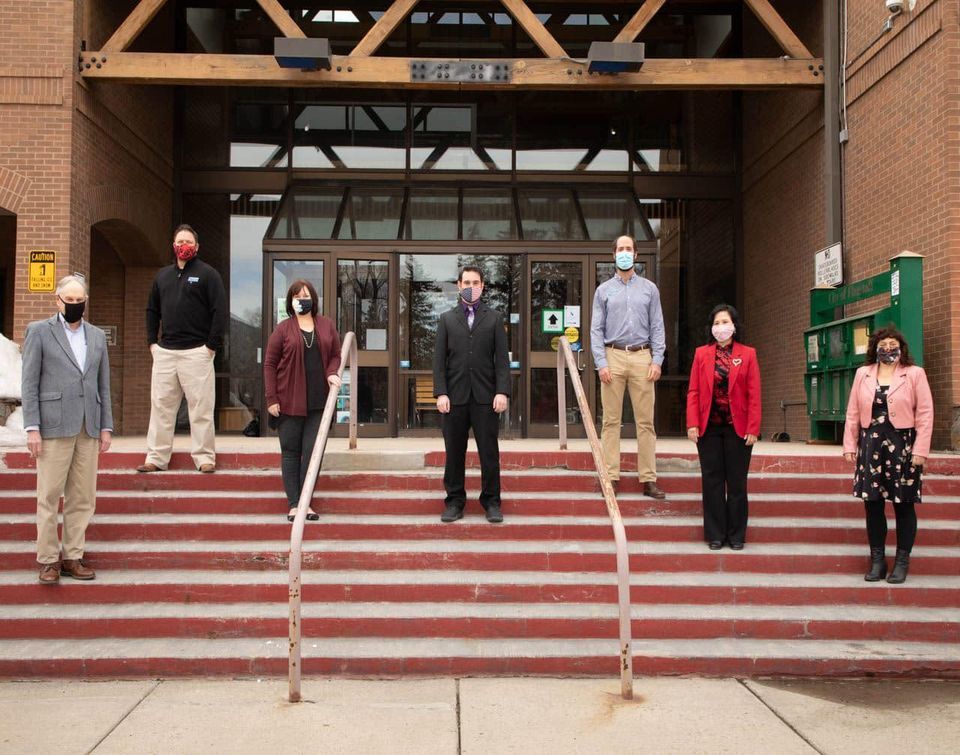 Balancing carbon dioxide emissions to zero is no easy task, but is an undertaking the City of Flagstaff has appeared to take on willingly.
After months of fine tuning and gathering public feedback, the city's sustainability section will present the Carbon Neutrality Plan before the Flagstaff City Council on June 15 for final approval. If approved, the plan outlines a strategy for the city's emissions to reach net zero by 2030.
The plan was initially scheduled to be up for approval earlier this month, but was delayed to allow for further public input. The Council hosted a work session on Tuesday to go over the plan's draft once more and allow a space for further public comment.
Overall, both the city council and public commenters were supportive of the plan as it was workshopped publicly for the final time before approval. The plan, which outlines strategies to both reduce and eliminate carbon emissions, has not seen major changes since it was last discussed by the Council.
Even so, sustainability managers looked to clarify some of the plan's key components after questions had been raised by the public.
Flagstaff Sustainability Manager Nicole P. Antonopoulos addressed a public concern that the plan is "too aggressive," particularly when compared to the high number of emissions created by other communities. Jenny Niemann, sustainability director, said the world "is looking for early leaders" in climate action, and that the city had already committed itself to a leadership role when a climate emergency declaration passed in 2018.
Officials with the sustainability section also addressed public concerns related to carbon dioxide removal, waste management, fuel switching and electric vehicle use.
Niemann said that among those clarifications, the impacts of alternative energy sources, such as solar or wind power, are far lower than that of fossil fuels. It was also suggested that electric vehicles offered a cheaper alternative to gas.
While reaching zero net emissions by the end of the decade is the primary goal, the plan focuses on addressing the effects of climate change in an equitable manner. That means the city will look to ensure that the costs and benefits of climate adaptation are equally distributed among those in the community.
Councilmember Adam Shimoni asked that the plan be brought before the city's Indigenous commissioners for input, and that differing viewpoints would be included in the final document.
"We've done this with other documents in the past," Shimoni said. "It's been very helpful in coordinating that communication and getting us feedback. I'd love to see more of an indigenous viewpoint."
The plan also seeks to prepare the city to be more resilient to the impacts of climate change. The sustainability section gave the outlook that Flagstaff could see hotter temperatures, increased drought, higher risk of wildfires and less snowfall by 2050.
Councilmember Miranda Sweet suggested such measures could prove beneficial to local businesses.
"As a business owner, I look at this as an opportunity," Sweet said. "I can't have my business open if there are wildfires burning down the city, or if we run out of water."
Some local business owners, however, have expressed concerns with the plan, particularly in how it would affect the cost of operations.
Councilmember Regina Salas noted that a business summit is being organized later in June by the Greater Flagstaff Chamber of Commerce and Northern Arizona Leadership Alliance to provide feedback on city policies. Salas questioned whether it was possible to delay the plan's approval until after that feedback is presented.
In response, Antonopoulos referenced an earlier portion of the presentation, explaining that the plan will serve as a continuous framework for climate action.
"We will continuously be evolving this framework and we will continuously be coming back to Council as we move forward over the next eight years," Antonopoulos said.
Other councilmembers, such as Shimoni and Austin Aslan, said the final approval date should remain as scheduled. Aslan said the city has waited long enough to see the plan put into motion.
"There has been so much opportunity for public input," Aslan said. "There is still going to be ample opportunity for those to voice their concerns and troubleshoot things with us."
As of Tuesday, city officials said the plan has now been informed by more than 2,600 members of the public engaging in surveys, open forums and attending discussions hosted by sustainability managers.
"This is an emergency; we must act like it. But more than that, it is an opportunity," Mayor Paul Deasy said. "These plans and ideas have been developed over many years with hundreds, if not thousands, of members of our community … I look forward to seeing continued input from our community."