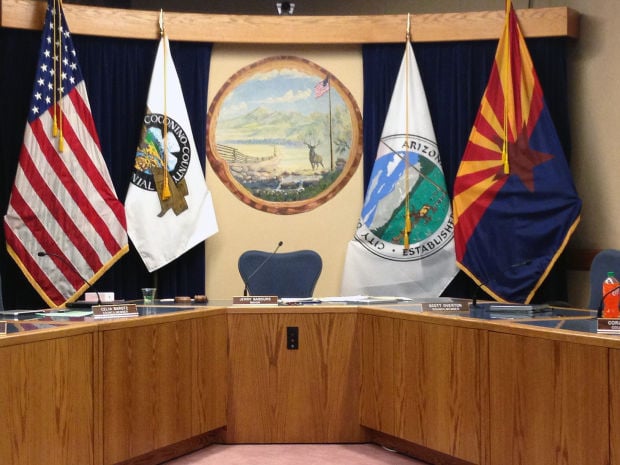 Raising employee pay is once again at the top of the list of Flagstaff City Council's budget list for fiscal year 2015-16.
Mayor Jerry Nabours said employee pay, along with improving technology in the city's various departments, were the top two goals to come out of this week's city budget retreat.
Nabours estimates the top two projects will cost the city around $3 million. That price tag reflects a wish list of all of the things Council would like to get done. Realistically, the city will probably not be able to get everything done and will probably not have the funding to do everything on that list.
It will cost the city about $1 million for the various technology improvements the city departments are asking for, such as digitizing files and paperwork, he said. The remaining $2 million would go to salary and other employee benefits.
But using very conservative estimates for sales tax revenues and state-shared revenues, the city is estimating a shortfall of $1.5 million to $5.5 million shortfall for next year.
Nabours said Council isn't panicking about that just yet.
"It's a very preliminary number," he said.
Last year at this time, the city estimated a $600,000 to $1.4 million deficit and ended up in June with $1 million in ongoing and $450,000 in one-time funding for employee compensation. It also reserved $500,000 in ongoing and $580,000 in one-time funding for additional staff. A surge in sales tax revenue also brought in $4.6 million in one-time funds for building repairs and new equipment.
A lot of the savings came from tweaking the city's insurance policies, which means there won't be a repeat of some of those savings this year, City Manager Kevin Burke told Council during Wednesday's budget retreat.
"We always like to underestimate the sales tax revenue and we're being very conservative on what we will get from the state," Nabours said.
The city's sales tax revenues have been up 5 percent during the last few months over last year, according to city records. But during the city's budget retreats, the city never counts on a growth in sales tax revenues, Nabours said. Sales taxes are too volatile.
The city is also never certain how much money it will get from state-shared taxes such as the Highway User Revenue Fund, he said. During the recession, the state swept money that was supposed to go to local governments from funds such as the Highway User Revenue Fund, leaving cities in the lurch when it came to funding road repairs.
This year, the Legislature has said that it plans to give local governments, including cities, a bigger piece of the HURF pie, but one never knows, Nabours said.
One major concern for Council and the city is the cost to fund pensions for its retired firefighters and police officers. The city owes about $78 million to the pension fund, Nabours said.
The problem is that the city doesn't have a young police or fire department, Nabours said. There are a lot of retirees and a lot of people in the departments waiting to retire. The city has been struggling to meet its share. That figure doesn't have to be paid in one lump sum, he said. But the city will have to figure out a way to pay that debt off.
Vice Mayor Celia Barotz agreed.
"It's certainly going to be one of the biggest budget challenges in the year to come," she said. "We've directed staff to provide us with more information on the issue. It's a very discouraging picture."
A lot of things have changed with the state's pension plan, such as new state laws that have  the city facing a problem that it wasn't facing five years ago, Barotz said.
Council has already been brainstorming about ways to reduce costs, create savings and increase revenue, Barotz and Nabours said.
"We have a list of I think about 50 different ways to do that. Some of those are feasible and some are pretty wild," Nabours said.
Some possible solutions would be increasing the city's property tax. By state law, the city is entitled to a 2 percent per year increase in property taxes. The city hasn't increased its property tax rate for the last four years, which means the city could increase it by a maximum of 8 percent in the coming fiscal year.
Two other options that came up during the brainstorming session included outsourcing some city services or charging a fee to apartment complexes or businesses that use more than a normal service level of public safety services from the police or fire department. A "normal service level" wasn't defined.
Another option was making more cuts to the budgets of various city departments, but that could affect service to residents, Barotz said.
"The question becomes, will we be able to maintain the level of service that the community has come to expect," she said.
The city needs to find the best combination of cuts and revenue generators in order to balance the budget and still provide the right level of services to residents, Barotz said.
"It's going to be tight year," Nabours predicted. "We're hoping income will be better than we're projecting but even then, we're not going to have an abundance of extra funds."