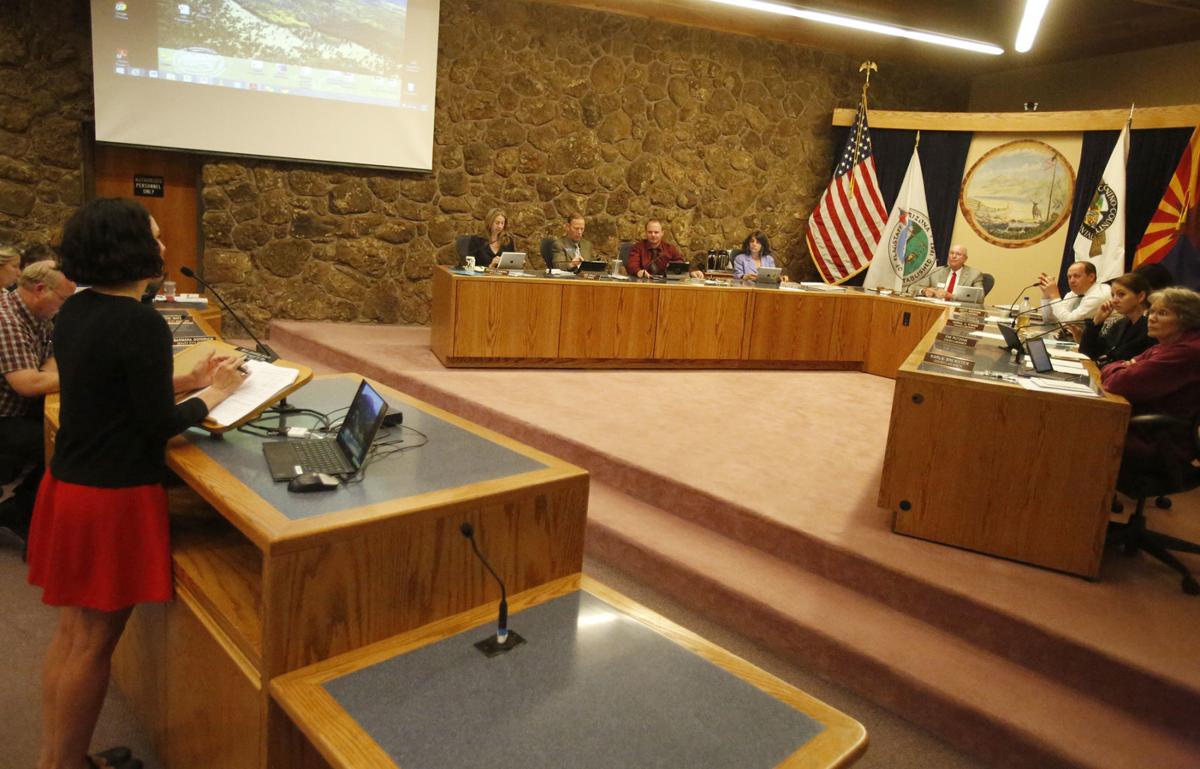 In one action, the Flagstaff City Council is considering how to fund the city's wildfire and watershed protection work, and whether to structure the sustainability section's fee based on ratepayer use.
As part of that consideration, the city is considering implementing a fund for the Wildland Fire Management program that includes the possibility of money for the Flagstaff Watershed Protection Project (FWPP). At the same time, they are also considering restructuring the current Environmental Management fee that finances the city's Sustainability Section.
The Flagstaff City Council dropped all possible bond opportunities on the November 2020 ballot to focus on funding the response to the COVID-19 crisis, which included the possibility for another voter initiative on the city's forest thinning project. Members of the council have voiced their continued dedication to the work despite the voter initiative, but are now discussing what a possible fee could look like.
FWPP was originally funded through a $10 million voter initiative in 2010 that was intended to finance three large phases of forest thinning to protect homes and valued city resources from catastrophic forest fire and post-fire flooding in the Dry Lake Hills area and on Mormon Mountain. The project has been able to grab additional dollars through grants and refinancing to complete projects, but the last phase of the forest thinning project still remains unfinished as the city's $10 million runs dry.
Neil Chapman, the city's new forest health supervisor, said city staff have presented two options before the council in regard to what is being called a Water Resources and Infrastructure Protection (WRIP) fee. Depending on the council's decision, the fee could either solely fund the city's Wildland Fire Management team, or fund both the team and the work done by FWPP.
"Council gave guidance that they did not want any additional bond initiatives, but they spoke highly of the need to invest in the forest," Chapman said.
The proposal to restructure the Environmental Management fee is not expected to notably increase ratepayer rates, said Nicole Antonopoulos, the city's sustainability manager. The proposal is an attempt to create a more equitable fee system where residents and businesses pay based on how much of the city's services they use.
WATER RESOURCES AND INFRASTRUCTURE PROTECTION FEE
The first fee option helps put permanent money toward the city's Wildland Fire Management team that helps plan and conduct prescribed burns while managing things like fire training and qualifications. The tax would be added on to water use.
The first option would add a 52-cent tax for every 1,000 gallons of water a person uses starting in August. The tax would increase to 53 cents in July 2022.
The money would result in $1.1 million per year in August 2020, and over $1.7 million in July 2022.
"The Wildland Fire Management program maintains the community's investment through partnerships on county and private lands," Chapman said. "It's really an important program to make sure the city has its own wildland fire management decision makers at the table to maintain investments made in the city's forest protection."
The second option adds the Flagstaff Watershed Protection Project's remaining work and a city water monitoring project into the equation. If adopted, the fees would go toward paying back a $5 million bond that city staff estimates would be needed to complete the work.
The fee would start at the same rate as the first option at 52 cents per 1,000 gallons of water used in August. In July 2022, the fee would increase to 68 cents per 1,000 gallons.
The August fee would result in $1.2 million. When the fee increases in 2022, the fee would yield $1.6 million to pay back the $5 million bond.
In Chapman's mind, all of this work comes down to a question of whether the city will pay now or pay later. He cited a 2012 study showing a bad fire in Mormon Mountain would require the city to pay for the water supply, habitat, communication towers and firefighting response. That bill is estimated to cost anywhere from $84 million to $215 million.
"When we're responding to these catastrophic impacts, we're spending a lot of money, time and social capacity dealing with these things," Chapman said. "When we're working in front of them, we're always saving money and saving lives potentially."
As the city council considers funding options, FWPP workers are looking to complete the Dry Lake Hills work.
Jake Dahlin, Forest Service contract manager, said a 466-acre timber sale contract was recently sold in the area south of Schultz Tank, meaning forest thinning machinery will be seen in the area within the next six months and remain in the area for the next few years. Additionally there are two more Dry Lake Hills contracts — totaling over 700 acres of forest — that Dahlin is hoping will go out to bid in the coming weeks.
Dahlin said in order to stay safe while moving through those areas, people wearing headphones while they bike, run or walk in the forest should be cautious. He hoped people would stay out of areas that have closure signs for their own personal safety.
"We understand how important it is for people to get out and enjoy the trails and enjoy the roads," Dahlin said. "We just can't stress enough how much we need them to be safe."
ENVIRONMENTAL MANAGEMENT FEE
The sustainability fee currently collects a flat $4 from every municipal service bill and collects an estimated $1.02 million in yearly revenue for the city's Sustainability Section.
The restructure was meant to ensure people and businesses are paying based on how much water they use. The new fee will be a percentage based on residential or business use of water, sewer, stormwater, trash and recycling services, according to Antonopoulos.
"This is rooted in our intent to ensure the fee is more equitably distributed across all service addresses," Antonopoulos said.
For residential customers who pay for water use and stormwater, people who use less now pay $4, while after the restructured fee they would pay $2.03. Residents who use more water and stormwater services would pay $4.77.
Business customers are treated differently under this fee change. For those who use less, their proposed bill will likely rise to $4.77 as opposed to the current $4. Businesses who use more would be charged $12.39 based off of their larger use of water, sewer, stormwater, trash and recycling services.
The city's sustainability manager believes an added benefit of the restructure is that ratepayers could find ways to pay less on their monthly bills by using less.
"Before it was a flat fee. It didn't matter if I don't consume very much at my household. I'm still paying the same amount as the neighbor who consumes a lot," Antonopoulos said. "There is a really strong message there in terms of behavior and incentive."
The Flagstaff City Council will hold their next discussion on the city's environmental management fee and the water resource infrastructure protection fee on June 2.
Get Government & Politics updates in your inbox!
Stay up-to-date on the latest in local and national government and political topics with our newsletter.