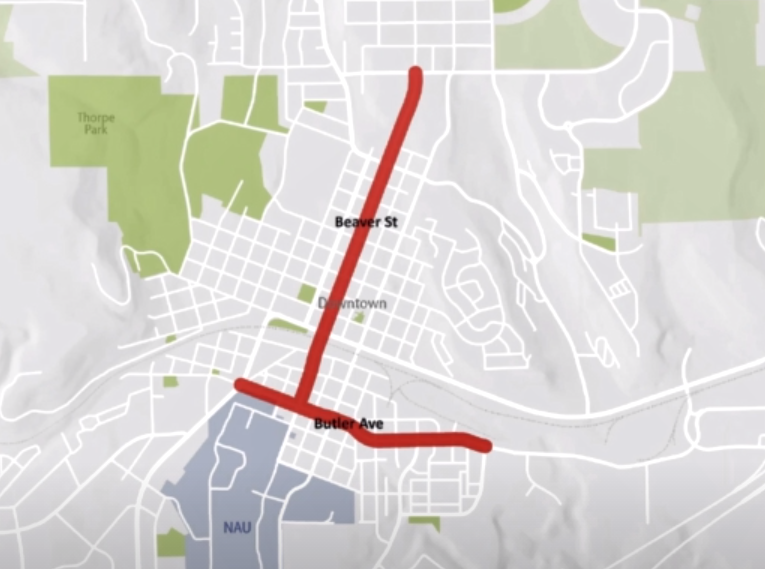 The Flagstaff City Council moved forward on Tuesday with a project to install protected bike lanes along Butler Avenue and Beaver Street.
More than 30,000 vehicles collectively pass through the two corridors daily, according to city staff, creating an environment that is potentially dangerous for bicycle commuters and pedestrians.
The city is adding the protected bike lanes in a more significant effort to make multi-modal transportation both safer and more appealing to the public.
About 2 miles in total, the impacted roadways span from Butler Avenue to North Forest Avenue along Beaver Street and from Milton Road to Sawmill Road along Butler. The city will install concrete curbs (similar to parking blocks) end to end with intermittent plastic rods as a visual cue.
Council's support for the project comes less than a month after a citizen's petition called for the city to make an overall improvement to bike safety, such as lowering speed limits and separating bikeways.
The barriers will serve as a pilot project for future developments to enhance bicycling, aligning closely with the upcoming Active Transportation Master Plan.
That plan, which includes creating a network of separated bike lanes, has already been drafted and is currently seeking public review. City staff see the current bikeway project as an opportunity to experience firsthand the effects barriers will have on traffic and street maintenance.
"This is intended as a pilot project and we have done our best to collect information and anticipate some of the issues that might come up. However, there is still a lot that we can learn based on this installation over the next couple of months, especially if we let it go through the winter," Flagstaff multi-modal planner Martin Ince said.
Seeing how the barriers fare during the winter season is crucial, especially considering the seasonal challenges faced during snow removal, Ince said.
It could mean the city will need to formulate a new approach, and potentially use different equipment, to keep the streets clear of snow. Streets Section Director Scott Overton said he believes the city's public works team is up to the task.
"There are challenges for maintenance," Overton said. "Public works will be nimble, we will procure the equipment and find a way to continue to maintain this. With one season of effort we are going to learn a lot."
Implementing a pilot project also allows the city to gauge potential effects on traffic, such as vehicle speed. Some of the impacted vehicle lanes will need to be narrowed by about a foot to make room for the project -- which generally results in vehicles traveling at a lower speed.
Members of city council, including Austin Aslan and Vice Mayor Becky Daggett, saw that as an added benefit.
"We know that wide lanes also make drivers very comfortable speeding," Daggett said. "Wherever we can narrow down roads to help with speeding drivers, I am in support of that."
The city might also use the project to gather public feedback, surveying residents to figure out what worked well and where the city can make improvements.
Installing the barriers is estimated to cost the city about $287,000 per mile and will be funded by the voter-approved Proposition 419 transportation tax. Flagstaff's annual budget currently directs one million dollars of funding from the tax toward protected bike lanes.
City staff initially presented the council with the option of implementing the pilot project on either Butler Avenue or Beaver Street. But city staff were eventually directed by Council to move forward with the project on both streets.
Council was also presented with three different barrier options, ranging in both longevity and price. It decided not to pursue the cheapest option of only plastic rods ($26,400 per mile) or the most expensive option of a metal railing ($900,000 per mile).
Councilmember Adam Shimoni had previously pushed for the city to get any barrier in place, even if it was a temporary solution. With Council seemingly on board for a more permanent barrier, he said the concrete curbs were the obvious choice.
Shimoni has been outspoken about the need for bike safety measures and said he was grateful that city council was moving forward with the plan before taking a five-week break following Tuesday's meeting.
But like many bike advocates in the city, he hoped it was only the beginning of more widespread action, he said.
"I love that we are moving forward with a pilot, and I'm grateful we are doing it before the break. But I do wonder why we aren't doing more," Shimoni said. "I personally don't feel satisfied with us doing a couple of streets."
Councilmember Jim McCarthy suggested that the city could start with the pilot project and assess the possibility of adding "another street or two" before winter.