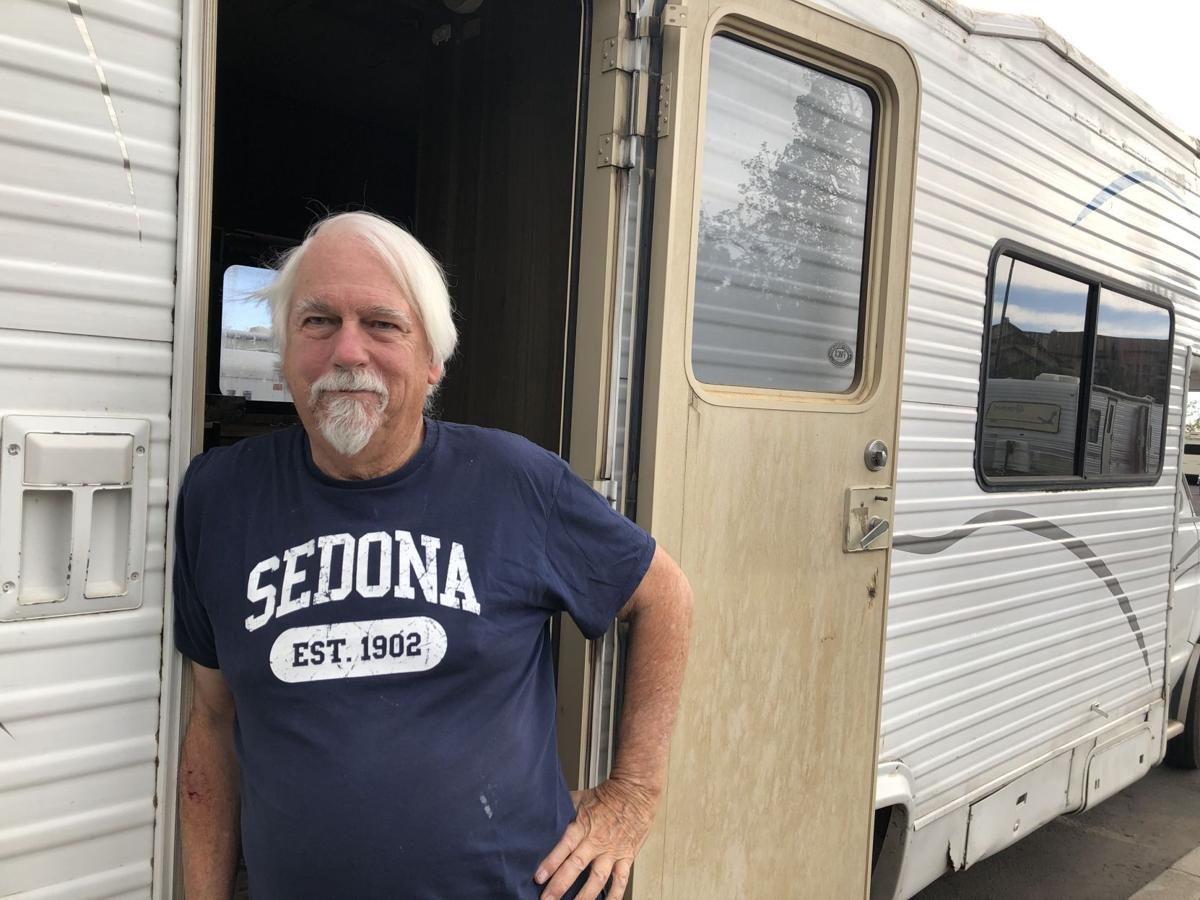 Flagstaff City Council did not move forward a request to repeal the city's public camping ordinance, agreeing instead to have a larger discussion on homelessness and camping within city limits at a future meeting.
Council's most recent discussion on urban camping Tuesday night was prompted by a citizen petition pushing Council to "decriminalize unsheltered residents," and, more specifically, asks to repeal the portion of city code that makes camping on public property illegal.
Mayor Paul Deasy, along with other councilmembers, said the request was too narrow in scope, suggesting there were other solutions beyond repealing the ordinance.
"We need to have a broad perspective," Deasy said. "We need a full plan. We need to take care of our unsheltered far more than just one single law."
Deasy linked the current discussion to an ongoing city effort to implement an alternative response center in the city. The mayor also suggested that funding from the American Rescue Plan, set for city council discussion on Sept. 7, could play a role in providing support.
The conversations surrounding urban camping come on the heels of a turbulent summer of wildfire activity near Flagstaff, which saw surrounding national forest lands undergo a full closure for two weeks.
As forest restrictions are imposed, the city often sees an uptick in displaced forest dwellers moving their camping equipment within city limits.
Earlier this summer, the Arizona Daily Sun reported on a "post-forest-closure crowd" of RV, vans and sedans given 24 hours to decamp in a Walmart parking lot -- just one of many instances of urban camping around the city.
Raymond Otero was about ready to pull out of the Walmart parking lot on Flagstaff's westside on Tuesday afternoon, his destination unknown.
City code defines "camping" as sleeping, storing belongings, making fire, using a shelter or cooking -- all of which are unlawful uses of city property under the camping ordinance, which was passed in 2005 and amended in 2009.
Although a single activity cannot automatically trigger a violation, the code mandates that city officials, including police, consider the circumstances to determine whether an individual is using city property for camping purposes.
A violation of the law is punishable by a class three misdemeanor, according to city code, and each consecutive day in violation constitutes a separate offense.
The ordinance states that the intention of the law is not to criminalize homelessness. But those in opposition, including a citizen petitioner who gathered 28 signatures ahead of Tuesday's Council meeting, contend that the ordinance "criminalizes sleep," and only serves to exacerbate the homelessness problem.
"The ordinance is counterproductive. Criminalization exacerbates the problem with homelessness. Police harassment worsens mental health," Jody Clements told Council Tuesday.
Clements, who submitted the petition to the city manager's office, had last spoken to city council in May of 2018, when the ordinance was previously considered for amendment or repeal as a formal agenda item. She told city council then that she was homeless and living in an RV, unable to afford rent.
Clements said she returned to speak to Council after the recent developments in the city. Tuesday's discussion took place during the first regular Council meeting following a five-week summer break.
Council addressed a similar agenda item request from Councilmember Adam Shimoni during the previous July 6 meeting -- which happened to be the same day the Coconino National Forest's full closure was lifted.
Shimoni's request asked that Council schedule a discussion regarding the unsheltered and vulnerable populations, given the recent forest closures and camping ordinance.
"I asked for this discussion because it seems like our forests are closed every summer and it doesn't seem like we have a clear plan as to how best to support our population that typically lives in the forest," Shimoni said during the July 6 meeting.
While Shimoni said his intention was to "think bigger than the anti-camping ordinance," he was asked by councilmembers to return with a broader agenda item request -- which he said has already been submitted.