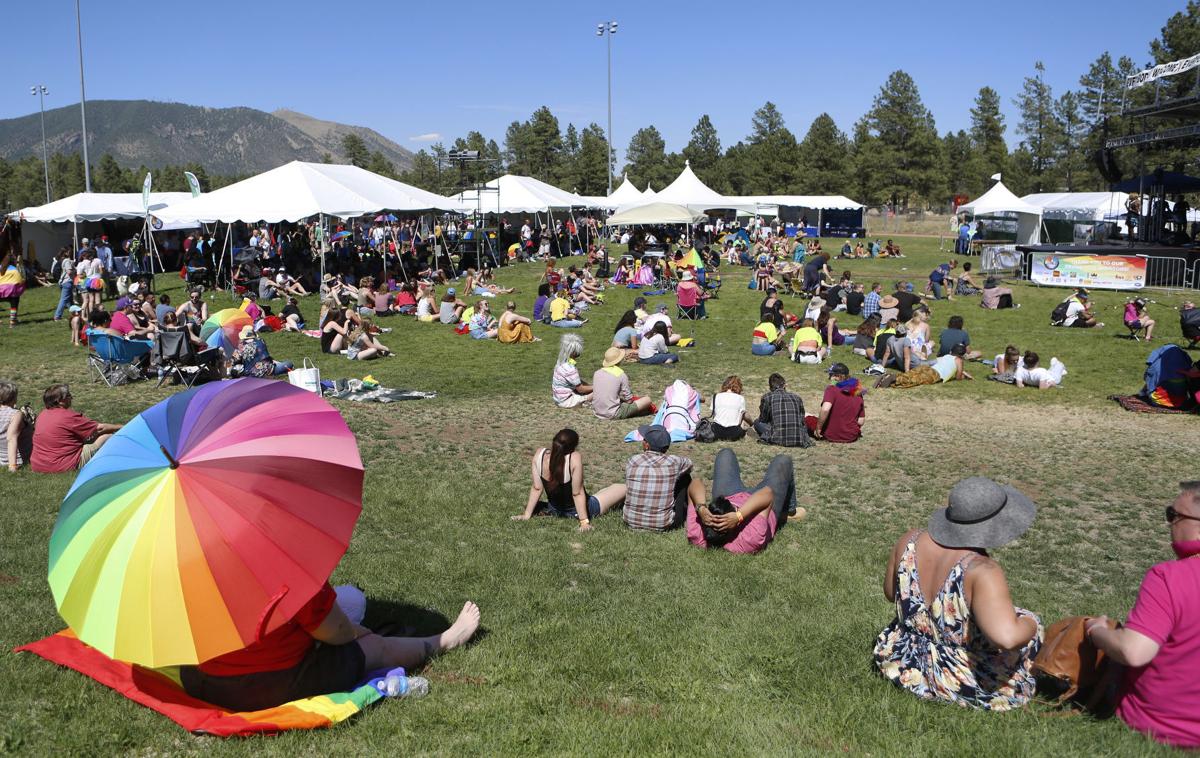 Flagstaff City Council again considered amending the city's COVID-19 re-entry plan to allow greater occupancy at in-person events, specifically those taking place outdoors.
Council's discussion follows an executive order issued by Arizona Gov. Doug Ducey last week that removed coronavirus restrictions for businesses across the state. Shortly after, the Flagstaff City Council released a statement opposing Ducey's order.
The last time Council discussed the re-entry plan on Feb. 25, stricter occupancy limits were being considered and a previous executive order limited Council's ability to issue occupancy increases.
During Tuesday's meeting, Council indicating a willingness to scale back restrictions on outdoor sporting events and event permits even further. That willingness comes from increased immunity and vaccinations, along with lower case numbers seen in recent weeks.
City staff recommended several adjustments to the COVID-19 re-entry plan, such as increasing the city's outdoor field capacity from 30 to 50 occupants. The fields are set to open just as they would during a normal season on April 1.
Also considered were changes to indoor facility occupancy, such as the Jay Lively Arena, and a "capacity calculator" using an area's square footage to determine occupancy limits at outdoor events.
Council unanimously agreed with the proposed field occupancy increase, yet some council members, like Adam Shimoni and Regina Salas, pushed for occupancy to increase even more. Eventually, a council majority agreed to expand outdoor field capacity to 100.
It was also noted that organizations looking to utilize the fields for spring sports would still need to adhere to safe practices to help reduce the spread of COVID-19 and submit "return to play" guidelines for the city to review.
Councilmembers in favor of an increase noted a pandemic update presented earlier in Tuesday's meeting by Dr. David Engelthaler, head of TGen's infectious disease studies.
Engelthaler told the city council that there have been few documented cases of COVID being transmitted outdoors, and that outdoor sporting events are relatively safe due to increased immunity and vaccinations.
"I'm actually all in favor of it," Engelthaler said. "I think it is something mental health-wise that our kids absolutely need. But physical-wise it's a very safe way to start to reintroduce and get back to the things we used to do."
He also added the caveat that it was important for individuals to gauge the risk factors and make decisions for themselves. He also stressed that, in general, reintroduction to regular activities should be approached with caution.
With Arizona schools returning from spring break and resuming in-person classes in March, Engelthaler said, there will soon be more data to back re-entry decisions in the coming weeks.
Regarding increased field occupancy, Flagstaff Mayor Paul Deasy said he preferred to wait for more data before expanding occupancy beyond city staff recommendations. Deasy recommended Council should wait two weeks for the next scheduled discussion on COVID-19 to address the matter.
For that upcoming meeting, Council agreed to consider implementing a COVID-19 occupancy calculator for outdoor events. Public commenter Art Babbott, who helps manage the Flagstaff Community Market, spoke in favor of such a system.
For example, allowing one occupant per 150 square feet of space would allow for about 400 people to attend an event at Wheeler Park, or about 75 people at Heritage Square. That is before accounting for space mitigated by event facilities, such as tents, however.
Addressing larger gatherings, such as outdoor soccer tournaments, Engelthaler said he thinks "it's good to step into it, but maybe with a bit of caution at least for the next several months."
One such event is Flagstaff's annual Fourth of July Parade, which Engelthaler said should be able to commence safely by the time summer comes around. By then, he expects that every adult resident would already have had access to a vaccination and that the risk of an outdoor parade would be "exceedingly low."