Most of Flagstaff's elected officials were in agreement about two things Tuesday night: members of city council said the mayor's recent actions are out of line and funding wastewater testing at local schools is not an urgent need.
Controversy between Mayor Paul Deasy and councilmembers culminated in a decision Tuesday not to fund an expenditure of nearly $50,000 to test the wastewater of local schools for COVID-19. Majority agreed the expense can be reconsidered at a later time.
But the dispute between the mayor and members of city council runs deeper than a disagreement on public health initiatives and funding priorities. Last week, Deasy found himself in hot water after calling a special meeting to approve the wastewater expenditure upon giving councilmembers one day's notice.
As questions arose regarding whether the expenditure was urgent enough to warrant a special meeting, four councilmembers chose not to attend. Without a majority present, the meeting was adjourned just minutes after it began.
Frustration among local leadership intensified after the mayor and his wife posted comments on social media insinuating that Deasy's absent colleagues did not prioritize public health and the safety of local educators.
At the beginning of this week's discussion, five of the councilmembers publicly decried Deasy's comments last week.
"Whether it be at Council meetings, via email or through social media, your words and your actions reflect upon the entire community," Vice Mayor Becky Daggett said. "I implore you to take your responsibility as an elected official seriously and conduct yourself accordingly."
Councilmember Jim McCarthy, who attended the mayor's proposed special meeting, defended the councilmembers that were not present, noting that they were either out of town at the Arizona League of Cities and Towns conference or had made prior commitments.
"The charge that the councilmembers do not value health and safety, and that they just casually skipped Council meetings is completely unfounded," McCarthy said. "Personal attacks on fellow councilmembers and members of the public will not be tolerated. They must cease immediately, and permanently."
The statements by councilmembers were preceded by a public comment from local business owner John Conley, who called for the mayor to resign, citing "a significant lack of leadership." Conley, who has lived in Flagstaff for 35 years, said the behavior was unprecedented in the city.
"I'm deeply concerned about this idea of consensus and the chances of this Council moving forward in light of our current leadership," Conley said. "So I'm compelled to ask for two things. One is to lose that large hammer -- I don't even know what that is -- and to fully ask for your resignation, in the hope that this council can move forward."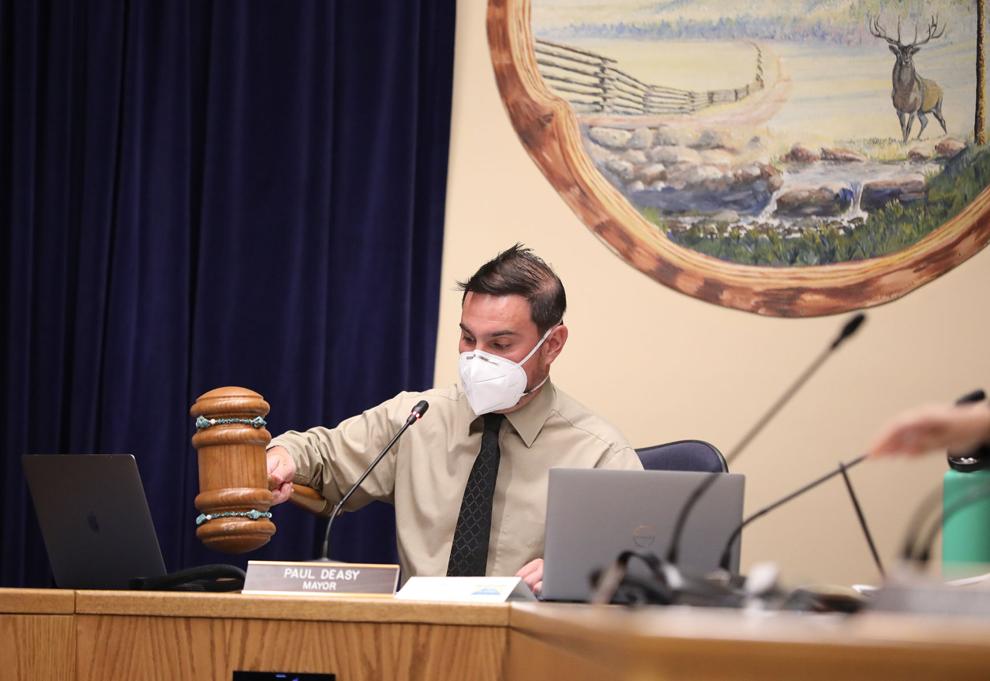 Though the councilmembers stopped short of calling for Deasy to resign, talks surrounding the mayor's resignation or an eventual recall effort have been present in the public discourse. According to the city clerk, a formal effort to recall the mayor has not been submitted.
Austin Aslan was the sole councilmember who did not make a statement Tuesday night but had already pushed back against the mayor's conduct in a Facebook post last week.
"It seems clear to me that the city council denied Flagstaff's mayor a quorum tonight for abusing his authority to call an 'emergency' meeting on a topic already set for discussion in a few weeks," Aslan said on the social media platform.
Attempts to contact the mayor for a comment were made via email, text message and through phone calls, but not returned as of press time.
Deasy maintained throughout the meeting that authorizing the wastewater expenditure was an urgent matter and of benefit to the community. Addressing his comments on social media, the mayor did not explicitly apologize on Tuesday but admitted his word choice was disrespectful and "unproductive."
"I'm not here for me. I'm really here to help and I understand that does not get communicated well at times. And, yes, my ego can be big and I need to set it aside," Deasy said. "Right now I have a real sense of urgency to do something over COVID."
Deasy pointed to the recent outbreak at Sinagua Middle School last week that forced classes to be transitioned to online learning for two days, as well as anecdotal evidence from local healthcare workers, to explain why he felt the special meeting last week was warranted.
"This seemed very urgent to me and I just wanted 30 minutes to get something done," Deasy said. "I realize that a more respectful tone toward all of you, a respectful approach to building bridges, is a way we can actually get things done for this city that I want to see prosper."
Deasy explained that he called the special meeting after learning there was interest from both the Flagstaff Unified School District and researchers at Northern Arizona University to conduct a wastewater testing program at primary, intermediate and secondary schools.
The program, a partnership between NAU and FUSD, was previously implemented in January at remote-learning sites and eventually expanded to additional school campuses as in-person instruction returned.
Crystal Hepp, an assistant professor at NAU and the scientist leading the program, said the testing was used as an early warning system for students and their families.
Hepp is seeking nearly $50,000 in funding from the City of Flagstaff in order to run initial sewage tests for COVID-19 at more than a dozen schools through 2022. The funding was slated to come from the $13 million the city was allotted through the American Rescue Plan.
The goal of the work, according to a summary provided by Hepp, is to provide proactive information allowing schools to better enforce or alter mitigation strategies. Testing is conducted at least once weekly and results will be returned within 48 hours. If a viral load is high enough in a particular sample, it can be submitted for genomic sequencing to determine the variants of the virus that are present.
"Wastewater treatment plant testing would help the city understand what the viral load may be one week ahead of time," Hepp said.
But given the current high rate of transmission in the community, city council was not firmly convinced assessing the sewage of schools was an effective use of the funding in the short term.
"I want to be very clear. I do think wastewater testing has a lot of promise," Aslan said, likening the current state of the pandemic to a wildfire. "I see this as a great tool to put out spot fires as they arise. But the fact is that we are in the middle of a raging wildfire."
Sweet and Salas were among the other councilmembers who agreed a wait-and-see approach was in order.