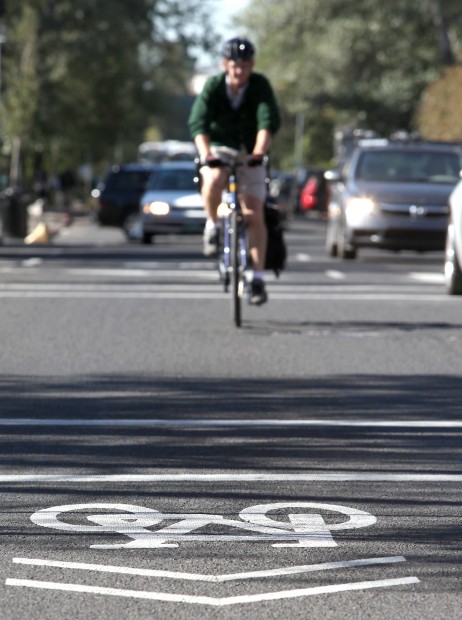 Less than a month after concerned residents met with Flagstaff police in the wake of a spike in bicycle accidents, one of their ideas -- more shared bike-lane signs on roadways -- is close to becoming reality.
Flagstaff police say they are hopeful the city will paint new shared bike lanes north of Route 66 on San Francisco and Beaver Streets in the next month or so.
The officials say they see the most incidents in the downtown and Southside.
The new bike symbols, which denote shared use of the lane for cyclists and motorists, would be similar to those painted in Southside several years ago.
"The biking community loved it when they put those lanes in," said Lt. Ken Koch of the Flagstaff Police Department. "It serves as a reminder to motorists."
City planners say they've been working to get the symbols painted since a resident called to request the markings several months ago.
However, the new markings would cost the city around $4,500 and there's no funding in the budget for them, said Traffic Engineering Manager Jeff Bauman.
"It's not going to cause us not to pave another street, but it's not money we have lying around," Bauman said.
Another obstacle is finding a crew to do the work. After recent budget cuts, city work crews are understaffed and tied up with road maintenance. Hiring a private contractor would cost even more.
The city also thinks it could save money if it waited until spring when a new, high-tech sign-painting piece of equipment becomes available.
Still, the markings will most likely be painted this fall, Bauman said.
"We'd love to be able to find the funding," said Martin Ince, multimodal planner for the city of Flagstaff. "If cost were no object we would do it, but cost is always an object. We're working on it and if we can't do it this fall, we'll do it this spring."
Among the other ideas discussed at the meeting earlier this month were:
-- street signs to remind motorists that they need to stay 3 feet away from cyclists;
-- having officers ride around Flagstaff in plain clothes to get an understanding of the problems (Absolute Bikes offered to donate the bicycles);
-- a public awareness campaign to educate more people about the laws.
Arizona is one of the deadliest and most dangerous states in the nation for bicyclists.
There were 19 cyclists killed in Arizona last year and 1,500 injured, according to a recent Arizona Department of Transportation study.
The yearlong study, which cost the state nearly $200,000, found that half of all accidents happened when bicyclists traveled against the traffic flow and only a small number of them happened at night.
Those findings are consistent with a local study done by the city of Flagstaff, which found 97 percent of accidents happened on sunny days -- the time when most cyclists are out.
The local study also found a nearly even split between cyclists and motorists in who caused the accident, with motorists being at fault slightly more often.
The police department adopted a state public relations campaign and launched it last week. The campaign, which was originally drawn up by the Arizona Department of Transportation, is called "Be a Roll Model."
The campaign includes placards describing the laws, which will be handed out at bike shops around town and given away with new bikes. Motorists and cyclists alike will get stickers reminding cyclists to ride to the right and motorists to give cyclists at least 3 feet of space.
"We think the education component is really the biggest bang for the buck here," Koch said.
The police department also looked into getting additional signs similar to one on Lake Mary Road that describes the 3 foot law, but they were told by ADOT that it wasn't a possibility because the sign was experimental.
The sign is one of only a few in the state and ADOT hasn't determined whether it works as a "traffic control device." However, there is no current work being done to make that determination.