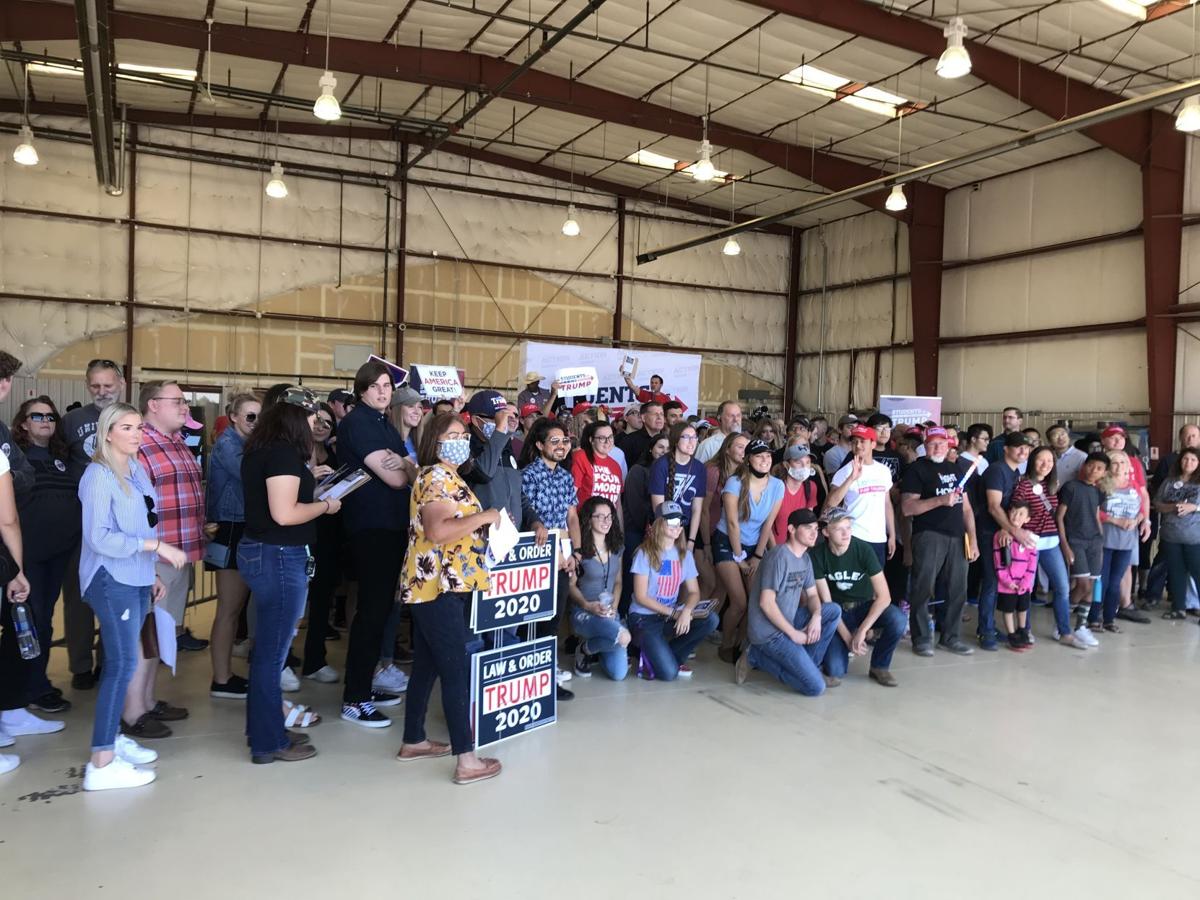 Masks were few and far between as over 100 supporters of President Donald Trump crowded into a hangar at Wiseman Aviation in Flagstaff on Saturday.
At the event, conservative figurehead and Turning Point USA founder Charlie Kirk joined several local candidates to speak to a crowd of mostly young people.
Organized by the group Students for Trump, the rally highlighted just how competitive the state of Arizona has become and the vast difference in how Democrats and Republicans are campaigning as COVID-19 remains a challenge in northern Arizona and the country.
At a time when many Democratic candidates are staying at home, holding virtual events and town halls, Republican candidates have not let the pandemic stop them from traveling across the country and state to hold gatherings in person.
Likewise, while Democrats have held off on door-knocking campaigns, Republicans have kept those operations going. And on Saturday, attendees were encouraged to knock on doors across Flagstaff after the rally had ended.
Trump visited Phoenix for a rally in July and his campaign has held events across the state, including several in Flagstaff.
Those events are an important part of keeping the state red, Kirk told the crowd, adding he couldn't live with himself if Arizona went for Vice President Joe Biden.
And that difference in strategy led Kirk to accuse Biden of courting the votes of Arizonans without ever visiting the state.
"Would you rather have Joe Biden, [who] does not even visit the state that he wants you to vote for him? He has not visited Arizona and this entire site," Kirk said.
Kirk added he believes one reason young people may be struggling today is because "we decided to foolishly lock down our country."
The candidates who spoke included Congressman Paul Gosar; congressional candidate Tiffany Shedd, who is challenging Rep. Tom O'Halleran; and State Rep. Walt Blackman, who is running for reelection in Legislative District 6.
Former State Rep. Brenda Barton, who is also running for a seat representing LD6, was in attendance but did not speak.
At times, the speakers brought up the difference between Democrats and Republicans on the issue of COVID-19 as one reason voters should side with Trump.
Gosar said the restrictions states and localities have put in place to prevent the spread of the virus have given Americans a taste of socialism, something he said Democrats want to promote.
"We've actually been seeing what socialism is all about. We've been living it with this COVID. Do you like it? I didn't either. I want my freedom, I want to pick and choose. And it's sad that we had to go through it, but maybe it's a good lesson because we don't want to turn back that way," Gosar told the crowd. "John F. Kennedy said, 'it's not what my country can do for me but what I can do for my country,' and here we are. This is it, freedoms aren't free. They come at a cost."
Gosar has previously suggested on social media that COVID-19 is a hoax and will disappear after the November election.
The event comes as local officials continue to track a spike in new cases of COVID-19 -- last week, the county recorded 214 new cases.
Several speakers also made reference to Flagstaff politics being farther to the left than other parts of the state. Gosar said the event was taking place in the "belly of the beast, the liberal aspect of northern Arizona."
Get Election 2020 & Politics updates in your inbox!
Keep up on the latest in national and local politics as Election 2020 comes into focus.