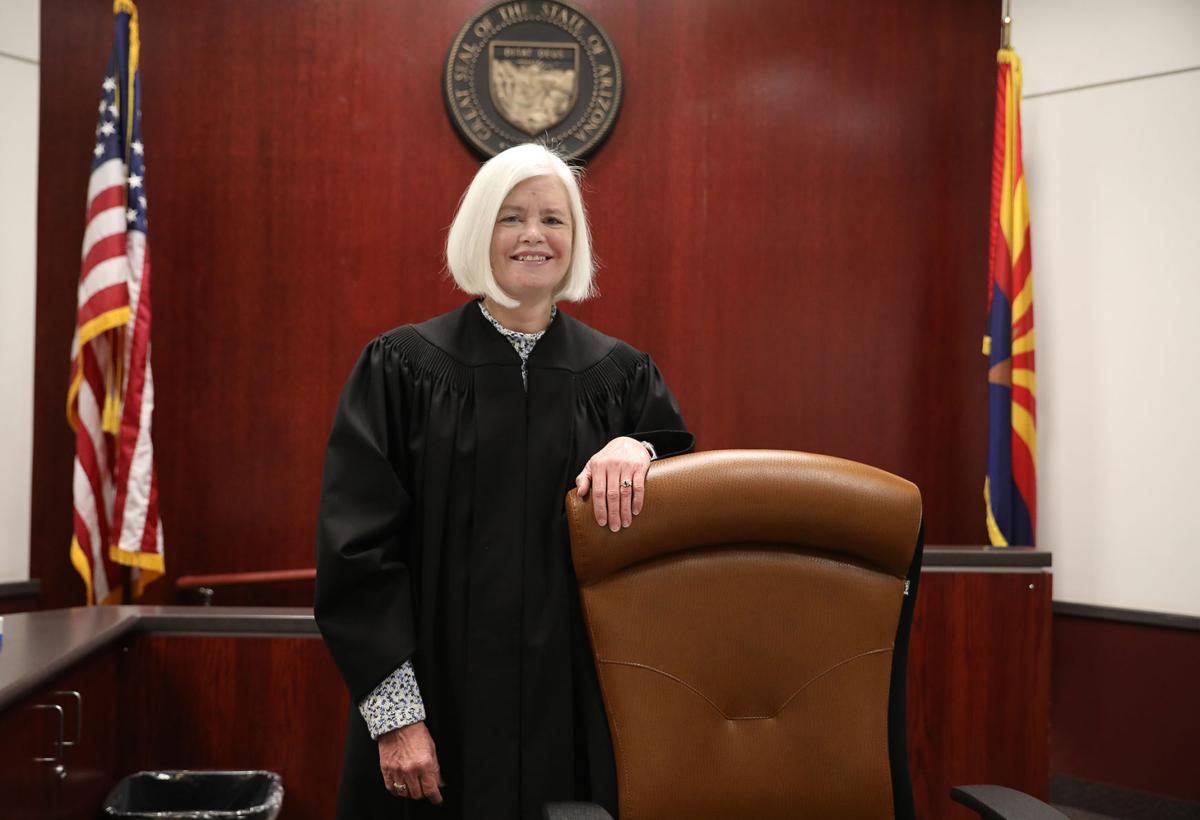 Coconino County voters will be asked for the first time to decide whether or not to retain their Coconino County Superior Court judges on Nov. 3.
Judge Cathleen Brown Nichols will be the only person on the ballot after Judge Mark Moran announced his decision to retire in the coming months this past September. Brown Nichols will be the first judge to test the new retention election system in Coconino County.
Voters approved the proposition on merit selection, retention election with 52.8% of the county's support in the 2018 election. The swap means voters have given up the right to elect judges, and instead will only have the power to keep or nix superior court judges who were appointed by the Arizona governor.
The new system also means that judges will have their performance surveyed, which will be made available for the public to consider when making their decision on whether to retain the judge.
The state has released the results of the 2019 30-day survey that was sent to all attorneys, trial jurors, witnesses, parties and defendants who went before a judge during that time frame.
While both Moran and Brown Nichols were surveyed and their results are online, the Arizona Daily Sun will only review Brown Nichols' scores due to her name being the only one on the ballot.
Brown Nichols said whether people had positive or negative reviews and comments, she tried to take them as constructive.
"Attorneys and parties don't really get to interact with judges and tell a judge, 'Oh, I thought you did a good job on that.' If they're not happy, you may not hear that," Brown Nichols said, adding that she appreciated much of the feedback.
Brown Nichols said she hoped to be retained because the state commission voted 32 to zero that she met judicial performance standards. Additionally, she pointed out that attorneys also graded her legal ability favorably. In the area she scored low, she said she has made steps to improve.
Those interested in the full survey results can find the data on the Arizona Supreme Court's Judicial Performance Review website underneath the Coconino County section.
The Arizona Daily Sun spoke with Brown Nichols through phone and email to discuss her past term as a judge and what she thinks of her first set of publicly available anonymous survey results.
Survey results
Brown Nichols was proud of her attorney reviews on four sections — legal ability, integrity, communication and temperament — that ranged from 90% to 96%.
For all survey sections, 100% is the highest possible rating.
Witnesses, parties and defendants rated her between 85% and 87% on the integrity, communication and temperament sections.
The topic of integrity is based upon questions related to equal treatment of people based on factors like gender, religion, disability, economic status and others. Brown Nichols said she tries to respect people's differences whenever she's on the bench.
She pointed to the discrepancy between results, showing her integrity according to attorneys is 96% whereas witnesses and defendants rated her 85%.
She said none of the attorneys, who often spend a lot of time with judges, rated her unsatisfactory in any of the integrity sections. Defendants, parties and witnesses mainly rated her integrity as superior, with only a few going as far as rating her integrity unsatisfactory.
"I do not know why any litigant, witness or pro per party would rate me low in the areas of basic fairness and impartiality, or low in equal treatment regardless of economic status. I believe that the few low ratings that I received in these areas may have come from defendants in criminal cases who were unhappy with the decision I made in their cases," Brown Nichols said via email. "As you can see from the survey results, the attorneys rated me well in these same areas."
Administrative performance
The lowest showing Brown Nichols had was in administrative performance.
Brown Nichols was initially surprised by her 77% for administrative performance. Witnesses, parties and defendants gave her an 85%.
Attorneys were asked questions ranking five qualities of her job as a judge:
• punctual in conducting proceedings
• maintained proper control over the courtroom
• prompt in making rulings and rendering decisions
• was prepared for the proceedings
• efficient management of the calendar.
Brown Nichols said she spoke with some members of the legal community after seeing her results to ask what she could be doing better. In response, she restructured her method of calling cases to make it easier for attorneys to expect when they will be called.
As for her score on punctual proceedings, Brown Nichols said she tends to take on one of the largest caseloads in the superior court. Her cases stem from a fourth of all criminal and civil cases, mental health cases, veteran's court twice a month, limited jurisdiction court appeals and administrative appeals. She also takes on the occasional family law case.
As for ways she can be more punctual despite her large caseload, she wants to be better at asking for help from other judges when cases are piling up.
She said she can be overly patient sometimes. But Brown Nichols still felt patience was an important quality to have in a judge even if it means her cases might run long because of it.
"Every hearing is often one of the most important events in the life of a litigant or defendant in a criminal case, and I believe it is vitally important for judicial officers to be patient and take the time necessary to listen to the attorneys and parties and explain my decisions to them," Brown Nichols said.
A new system
Across the state, many of the results sent out to participants in the judicial system are not returned.
This year, out of the 63 surveys distributed to attorneys who worked with Brown Nichols, only 23 people filled out and submitted them. Out of the 239 surveys sent to witnesses, defendants and parties, only 30 filled out and returned them. Moran had similar turnout on his results.
As to why many 2019 surveyors did not fulfill their civic responsibility to provide their feedback — good or bad — on judges, it is unclear.
"I've never given a good or bad review in my life when I buy stuff online. I just never have," Brown-Nichols said. "I wondered about that — the low rate of return — are these just segments of people that are not happy? If you're happy, do you say: I'm not going to fill it out; I'm fine; I had a good experience? I wonder about all that."
Additionally, Brown Nichols did not hold a trial during the 30-day survey window. Because of that — in addition to the low turnout from respondents — she does not have any juror survey results for voters to consider.
Juror surveys make up one-third of the total information that can be available to consider when voters decide whether to retain a judge. Jury panels are a highly protected part of the criminal justice system, and judges are expected to treat them with courtesy and respect while also protecting their privacy and security.
Additionally, unlike every other appointed judge that will likely encounter this system, Brown Nichols did not get an opportunity to view her survey results privately before being up for her retention election. This is due to the sudden switch to the merit selection, retention election system after the 2018 election.
Normally judges will have an opportunity to be privately surveyed in order to learn from and improve their results before seeing their name on the ballots and survey results released to the public.
During the 2019 survey window, all superior court judges were surveyed. The judges that are not on the ballot will all privately view their results this year and have the time to improve. After this years' election they will be surveyed again, and the results of that survey will be publicized the next time their name comes up on the ballot.
Going forward most judges — including Brown Nichols if voters decide to retain her as a judge this election — will likely have the opportunity to be surveyed privately before being asked to be retained by voters.