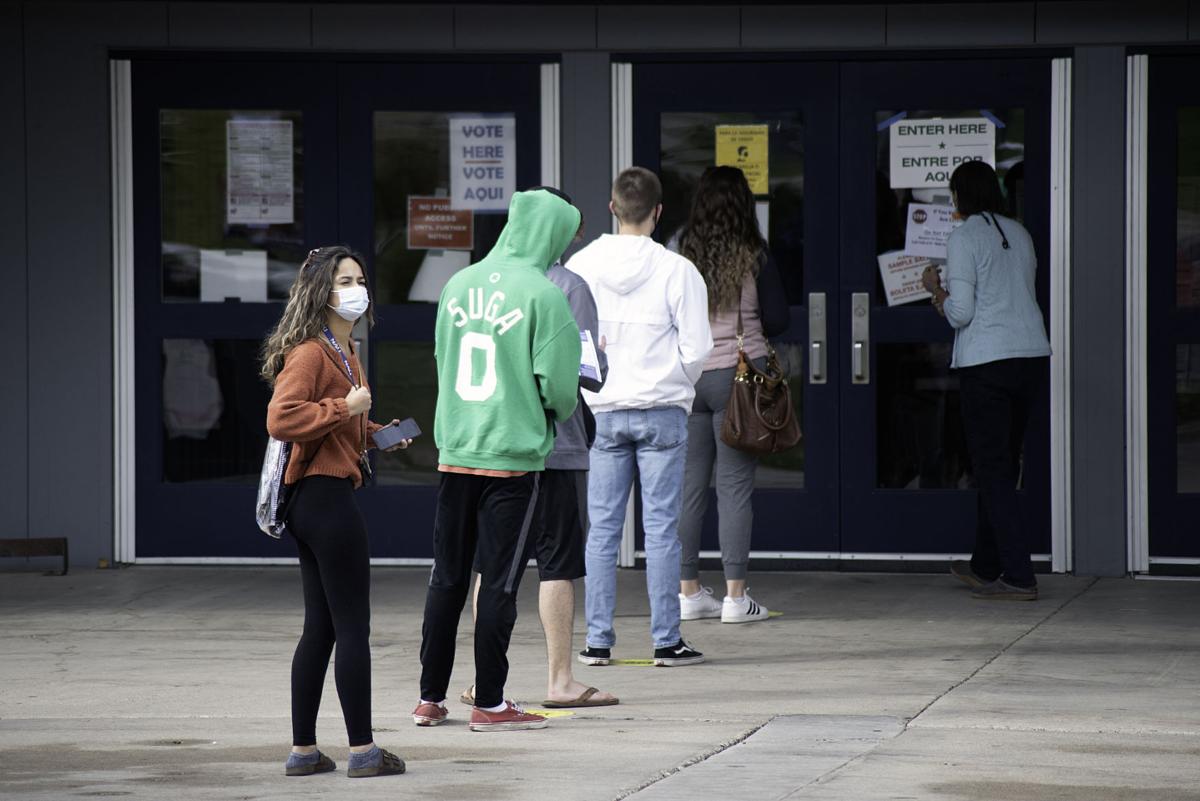 Flagstaff and Coconino County voters headed to the polls on Election Day, but some results were too close to call as Tuesday rolled into Wednesday, leaving the outcome of a few races up in the air. This post will be updated throughout the day as additional results continue to come in.
PHOENIX (AP) — Democrats have been asking the question for a long time: Is this the year Arizona turns blue? In 2020, the answer was "yes."
Joe Biden won Arizona's 11 electoral votes for president and Mark Kelly won a seat in the U.S. Senate, ushering in an era of Democratic leadership not seen since Republicans dominated the 1952 election in the state.
Whether Democrats would also dominate lower on the ballot was less clear — with key races for the U.S. House, the state Legislature and the state utility regulator up in the air but within reach for Democrats.
But Arizona voters decided to legalize recreational marijuana sales four years after rejecting it, going against the Republican political establishment opposed to having the state join other U.S. states with legal weed.
Voters also appeared poised to approve a tax increase for the wealthy to pay more to fund financially hurting schools. That was a strong rebuke for Republican Gov. Doug Ducey and the state's business community that spent millions campaigning against the tax.
The outcome delighted Democrats and was sure to bring a reckoning for Republicans who have enjoyed decades of dominance in Arizona politics.
"Now people recognize that Arizona is in play, will always be in play," said U.S. Rep. Ruben Gallego, a Phoenix Democrat who comfortably won reelection.
In turning toward friendly territory for Democrats, Arizona is following a path blazed by its neighbors Colorado, New Mexico and Nevada. It's also the Democrats' brightest light among the Sun Belt states they tried to flip from the GOP this year.
A decade of work organizing Latinos to vote helped Arizona Democrats outperform other states where Democrats came up short, Gallego said.
Arizona Democrats benefited from the state's changing demographics — with more young people and Latinos registering, an influx of new residents from more liberal states like California and unease among some suburban women about President Donald Trump.
Adding Democrats' gains Tuesday to their victories in 2018, the party now controls both Arizona U.S. Senate seats, a majority of the U.S. House delegation with a possibility of leading it 6-3 and two statewide offices.
The Republican-dominated state Legislature was also within grasp and so was the state's Corporation Commission, which sets rates for electric, gas and water utilities.
In Maricopa County, where Phoenix and its suburbs are home to more than 60 percent of Arizona's population, Democrats seemed poised to win the races for county attorney, sheriff, and to secure a majority on the Board of Supervisors.
Even at the height of GOP dominance, Arizona wasn't a monolith. Democrats were occasionally elected to statewide office, such as Gov. Janet Napolitano in 2002 and 2006. President Bill Clinton won Arizona in his 1996 reelection bid.
But never in memory have Republicans been so far back on their heels.
Arizona voters turned their back on Trump, McSally and Ducey because they failed to lead, said Chuck Coughlin, a longtime Republican political consultant.
"Trump's Republicanism is not Arizona Republicanism...Our tent is bigger than that. He keeps shrinking the Republican party into a mirror of the Democratic party, of identity politics of the right, rather than being about ideas and coalition building." Coughlin said.
Errors made by the state's Republican leaders included relentlessly cutting taxes even though the growing state needs more revenue for schools, healthcare and infrastructure, and not handling immigration reform, he said.
Republicans weren't ready to concede on Wednesday, believing they could still win enough of the uncounted ballots to put Trump and McSally over the top. Ducey tweeted that it was premature to conclude that Democrats have won.
"Let's count the votes — all the votes — before making declarations," Ducey tweeted.
According to the Coconino County Recorder's Office, there are a total of 12,998 ballots still to be processed, including 11,250 early ballots and 1,420 provisional ballots. More than 60,000 votes have been counted to this point.
(AP) -- As states across the U.S. release vote totals for the presidential election, some social media users are falsely claiming that ballots are being invalidated in Arizona. The supposed culprit: Sharpie markers.
In what's come to be known as #Sharpiegate, social media posts suggest that election officials in Maricopa County provided voters with Sharpie pens, which interfered with ballots being recorded, specifically those for President Donald Trump.
Arizona election officials say that voting with a Sharpie would have no impact on the votes being recorded by tabulation machines, and if there was an issue, there is a process that would keep the ballots from being canceled out.
Here's a look at the facts:
CLAIM: Votes were eliminated in Arizona because people were made to use Sharpie pens to mark their ballots. This caused the tabulation machine to cancel the vote.
THE FACTS: As Democratic presidential candidate Joe Biden was declared the winner of the presidential vote in the Republican stronghold of Arizona, social media posts circulated falsely suggesting that votes for Trump were canceled because people were told to use Sharpies to fill out their ballots.
Arizona election officials confirmed that Sharpies were used in voting, but they said that would not invalidate a ballot. The Maricopa County Elections Department tweeted on Election Day that voting centers use Sharpies so that ink does not smudge when ballots are counted.
"New offset columns on the ballots means bleed through won't impact your vote!" they tweeted in an informational video.
One video with more than 821,0000 views showed a woman speaking about how four different polling places were using Sharpies and a man asks her if "those ballots are not being counted" and "are invalid."
"They are invalidating votes is what they are doing," the man says. He went on to suggest voters use a ballpoint pen instead.
"People are coming here to vote for Donald Trump, and all those votes are getting invalidated," he says in the video.
Sophia Solis, public information officer for the Arizona Secretary of State, said in an email that votes would not be canceled if there was an issue with the ballot.
"If a voter's ballot is listed as canceled, it usually means the voter made an additional ballot request if they needed to have their original ballot replaced," Solis said. "Depending on when they returned their replacement ballot, that ballot is most likely still being processed by the county."
According to the state's election procedures manual, a ballot review board duplicates ballots that cannot be read by the machine in cases that they are damaged or smudged with ink.
Videos making the false claim about Sharpies were also widely shared on TikTok. TikTok said the claims on invalidated ballots violated its policy against misleading information around the elections and would be removed. Facebook said it has blocked the Sharpiegate hashtag on its platform and pointed to fact checks on the matter by its outside fact-checkers, including The Associated Press.
While election officials took to social media to debunk the Sharpie rumors, others in Arizona were not convinced.
Republican Congressman Paul Gosar added his voice to the Sharpie claims Wednesday with a tweet that said he was reaching out to the state attorney general's office.
Arizona Attorney General Mark Brnovich's office sent a letter to Maricopa County election officials Wednesday demanding answers about which voting centers used the Sharpies and how many votes were rejected because of issues with the Sharpie ink.
With only Pinal County left to finalize its voting reports, Tom O'Halleran remains in the lead over Tiffany Shedd for Arizona Congressional District 1.
As of early Wednesday afternoon, O'Halleran led the race by less than 5%, with 159,725 votes to Shedd's 145,762. Pinal County, where Shedd lives, has 98.33% of precincts reporting.
O'Halleran exceeded Shedd by more than 17,000 in Coconino County. Coconino, which has third-highest number of votes submitted for CD1, currently has all precincts reporting but a yet undetermined number of early ballots still to be counted. So far, it appears Coconino voters had cast 60,333 votes, while Pima County had 62,560 and Pinal County currently has 73,275.
O'Halleran's campaign team told the Arizona Daily Sun they are "feeling good and glad that Arizona is committed to counting all votes."
Voters in Coconino County overwhelmingly decided to keep Coconino County Superior Court judge Cathleen Brown Nichols for the next four years.
As of 10:40 p.m. Tuesday night, Coconino County cast 34,874 votes or 79% of its ballots to retain Brown Nichols as their Coconino County Superior Court judge.
The decision will allow Brown Nichols to continue her tenure as a judge that first began in 2013. Before that she had a long history of working in the county's legal profession.
Voters were asked on Tuesday's ballot whether or not to retain the judge in the county's first retention election. Voters decided to move to the merit selection, retention election system in 2018.
With candidate Becky Daggett picking up one of the three available seats on Flagstaff City Council on election night, two seats remained up for grabs into the morning.  
Councilmember Jim McCarthy and community members Miranda Sweet and Anthony Garcia all had about 17% of the vote as of noon the day after Election Day.
In raw vote totals, that translates to McCarthy with 11,147 votes, Sweet with 11,076 votes and Garcia with 10,922 votes.  
Eric Nolan and Eric Senseman were both below that in total votes with 9,107 and 7,374 respectively.
At this point in time, it is not yet known exactly how many ballots are left to be counted. In past council races it has taken several weeks for all votes to be tallied up and final winners to be determined.
Dorothy Denetsosie Gishie and incumbents Christine Fredericks and Carole Gilmore have been elected to four-year terms on the Flagstaff Unified School District Governing Board.
They will join Anne Dunno and Carol Haden, whose terms end in 2022, to make up the five-person board that oversees FUSD operations.
Of the four candidates competing for the three positions, Denetsosie Gishie secured the most votes at more than 20,000, or 27.79%, followed by Gilmore at 26.47% and Fredericks at 26.12%. Northern Arizona University student and Flagstaff High School alumnus Makaius Marks, 19, fell behind the other three candidates with 19.63% of votes.
Winners among uncontested races in Coconino County last night: Bill Ring for County Attorney; Jim Driscoll for County Sheriff; Patty Hansen for County Recorder; Armando Ruiz for County Assessor; Tommy Lewis, Jr. for County Superintendent of Schools; and Sarah Benatar for County Treasurer.
If Democrats were confident about their chances in Legislative District 6 last night, that feeling has mostly dissipated this morning.
While Democratic State Senate candidate Felicia French was leading Republican Wendy Rogers as of about 10:30 p.m., that lead disappeared as the night drew on and more ballots were counted.
By this morning, Rogers had surpassed French's early lead and had 53% of the vote. That has left French about 8,000 votes short with 46%.
In the race for the Arizona House, Democratic Flagstaff Mayor Coral Evans had been leading the pack last night. But her lead also slipped by morning.
Republican Rep. Walt Blackman took the lead by a significant margin, garnering 28% of the vote. Based on the current numbers, Blackman looks to be secure in a second term.
Evans has landed down in third, but is just 267 votes behind former Rep. Brenda Barton at this point. Barton has 47,071 votes with 26% of the vote, and Evans has 46,804 votes with 25%.
But with ballots still being counted, the district's second seat is still up for grabs. In the district's 2018 state house election, the difference between second and third place was decided by just 577 votes.
Barton and officials from Evans' campaign told the Arizona Daily Sun this morning that every vote would need to be counted before the winner of the second seat could be determined.
"I knew it would be close," Barton said. "I worked very hard to get the message out to folks in District 6."
Coconino County Supervisor Art Babbott, the only Independent in the race, conceded last night after receiving only 19% of the vote.
(AP) — Democrat Mark Kelly won the Arizona Senate seat once held by John McCain, riding Arizona's changing electorate to flip a Republican Senate seat in a state long dominated by the GOP.
Arizona will send two Democrats to the Senate for the first time in nearly 70 years when Kelly joins Kyrsten Sinema in Washington.
Kelly, a former astronaut, defeated Republican Martha McSally, who was appointed to the seat by GOP Gov. Doug Ducey after McCain's death in 2018.
In his first run for political office, Kelly positioned himself as a pragmatic centrist with no patience for Washington partisanship. When the coronavirus pandemic struck, he retreated to mostly online outreach, minimizing face-to-face campaigning while blasting McSally and President Donald Trump for allowing the pandemic to get out of control.
"The work starts now. And we desperately need Washington to work for Arizona," Kelly told a small group of family and reporters gathered for his victory speech in Tucson. "My top priority is making sure we have a plan to slow the spread of this virus, and then getting Arizona the resources our state needs right now."
Kelly flew four space shuttle missions and leaned heavily on his NASA background in campaign ads and speeches, but he's perhaps best known in Arizona as the husband of former Democratic U.S. Rep. Gabrielle Giffords, who was shot in the head in an assassination attempt during a constituent event in Tucson in 2011.
Giffords introduced Kelly when he launched his campaign, appeared in a television ad for him and joined him at events for supporters in the campaign's closing days.
McSally did not speak publicly, nor did she concede.
"Hundreds of thousands of votes have still not been counted," McSally's spokeswoman, Caroline Anderegg, said in an email. "Every Arizonan deserves to have their voice heard and vote counted. We continue to monitor returns. The voters of Arizona decide this election, not media outlets."
An influx of new voters in the fast-growing suburbs of Phoenix and extensive get-out-the-vote effort in the Latino communities in Phoenix and Tucson helped put Arizona, a longtime Republican stronghold, in play for Democrats. The trend accelerated with a shift away from the GOP among white suburban women who turned against Trump.
The 2018 victory of Sinema, the first Democrat to win an Arizona Senate seat in 30 years, illustrated the changing nature of the state.
McSally was a trailblazing woman in the U.S. Air Force — the first woman to fly in combat and to lead a fighter squadron. More recently, she revealed a darker side of her military career, disclosing last year that she was raped by a superior officer.
Kelly flew combat missions for the Navy during Operation Desert Storm before becoming a test pilot and later an astronaut. He flew four missions to the International Space Station. After Giffords was shot, the couple founded a group that works to elect lawmakers who support gun control.
Kelly had a big fundraising advantage, outraising McSally by more than $30 million through Oct. 14. Both candidates shattered fundraising records for Arizona, raising more than $146 million between them, more than triple the combined spending on the 2018 McSally-Sinema race. Independent groups spent tens of millions more to sway voters.
That money flooded airwaves, websites and mailboxes with ads.
Democrats portrayed Kelly as an independent thinker not beholden to either party. They slammed McSally's votes to repeal the federal health care law, which they said would make it expensive, if not impossible, for people with preexisting conditions to get health care coverage.
Republicans presented McSally as a tough-minded fighter on behalf of Arizona residents. They targeted Kelly's business ties to China, pointing to an investment from a Chinese firm in a business Kelly co-founded and alleging he would "do anything for a buck and say anything for a vote."
McSally also tried to deflate Kelly's independent image by linking him to left-wing members of his party, such as Vermont Sen. Bernie Sanders and Minnesota Rep. Ilhan Omar.
She warned that a Kelly victory could give Democrats control of the Senate and usher in liberal priorities such as Medicare for all and the Democratic Green New Deal climate plan, though Kelly has said he opposes both.
Kelly will take office as early as Nov. 30, finish the last two years of McCain's term and then face reelection in 2022.
PHOENIX (AP) — A changing electorate in Arizona handed historic victories to Democrats in the former Republican stronghold, with Joe Biden becoming only the second Democratic presidential candidate since 1948 to win the state and retired astronaut Mark Kelly giving the party both Senate seats for the first time in nearly 70 years.
The extraordinary turn of events had been building for some time in a state long associated with late Sens. Barry Goldwater and John McCain, who were the Republican nominees for president in 1964 and 2008, respectively.
Democrats benefited from Arizona's changing demographics, with more young people and Latinos registering to vote, an influx of new residents and unease among some suburban women about President Donald Trump.
Trump and his allies made an aggressive, but ultimately futile, push to hold on to Arizona, which he won by 3.5 percentage points in 2016.
In a narrowing presidential contest, Biden collected Arizona's 11 electoral votes by winning over swing voters who split their tickets two years ago to elect a Republican governor and a Democrat to the U.S. Senate.
Meanwhile, Kelly beat Republican Sen. Martha McSally for the seat once held by McCain, a popular senator who often sparred with Trump. The senator's wife, Cindy McCain, threw her support behind Biden, citing the president's disparagement of her husband.
McSally was appointed to McCain's seat following his death two years ago. She had lost in 2018 to Kyrsten Sinema, who became the first Democrat to win a U.S. Senate seat in Arizona in 30 years — a race that illustrated the changing nature of the state.
Arizona hasn't had two Democratic senators since Earnest McFarland lost his reelection bid in 1952. Tuesday's win by Kelly, who will join Sinema in Washington, could prove crucial in determining which party controls the Senate.
Kelly is perhaps best known in Arizona for being married to former U.S. Rep. Gabrielle Giffords, who was shot in the head in 2011 in an assassination attempt in Tucson.
Before the race was called, Kelly said he was "confident that when all the votes are counted, we're going to be successful in this mission."
The state was in play down the ballot, giving Democrats a realistic shot even at winning control of the state Legislature. Voters also approved an initiative allowing Arizona to join other states that have legalized recreational marijuana.
Arizona voters were in a negative mood as they chose their president, according to AP VoteCast, a survey of more than 132,000 voters and nonvoters nationwide conducted for The Associated Press by NORC at the University of Chicago. The survey shows that 61% of Arizona voters said the U.S. is on the wrong track, while 39% said it is headed in the right direction.
But they also were motivated. Election officials in Maricopa County, the state's most populous, said multiple voting locations with people still in line when they were set to close at 7 p.m. remained open as required by state law.
Carla Retana, who turned 18 on Election Day, called it "amazing" to cast a ballot on her birthday.
She was with her cousin, Anthony Medina, who turned 18 four months ago. Registered independents, they both voted for Biden.
"Our current president has said so many bad things about Hispanic people, Black people, calling our current virus the 'Chinese virus.' I couldn't really side with him," Medina said.
Brandon Ross, 27, a financial adviser and Republican, said he voted for Trump as he did in 2016. He said he understands Trump's demeanor rubs people the wrong way but said his policies on the economy and civil liberties are what matter.
"What he supports is by and large what I support," Ross said.
Statewide participation was high, with nearly 62% of voters casting their ballots either by mail or in-person by Monday morning.
Speaking early Wednesday from the White House, Trump said many votes were outstanding and "there's a possibility, maybe even a good possibility" that he could win despite the deficit.
Bill Clinton was the most recent Democratic presidential candidate to take Arizona, winning with 46% of the vote in 1996, helped by Ross Perot's strong third-party bid. Before that, the last time Arizona selected a Democrat for president was in 1948 with Harry Truman.
The makeup of the state's U.S. House delegation also had been on the line, with all nine incumbents facing challenges. But reelected were Republicans Debbie Lesko in the 8th Congressional District, Paul Gosar in the 4th District and Andy Biggs in the 5th.
Democrats Ann Kirkpatrick in the 2nd District, Raul Grijalva in the 3rd, Ruben Gallego in the 7th and Greg Stanton in the 9th kept their seats.
However, Republican Rep. David Schweikert, haunted by an ethics probe, was in a close race against Democrat Hiral Tipirneni in a district that has historically favored the GOP.
10:45 p.m. Tuesday update:
Incumbent Democrat Tom O'Halleran of Sedona was leading the race against Republican Tiffany Shedd, an Eloy lawyer, for Arizona Congressional District 1's seat in the U.S. House of Representatives as of 10:45 p.m. Tuesday.
With 66% of precincts reporting, O'Halleran had received 54% of votes, totaling more than 136,000, to represent the district that encompasses much of eastern Arizona from just outside Tucson through northern Arizona.
In Coconino County, with 87% of precincts reporting, O'Halleran had received 35,615 votes to Shedd's 18,245.
Projections on the race suggested O'Halleran would take the win, but that an upset from Shedd was possible.
Final results are delayed as a result of this year's increased number of mail-in ballots, which take longer to verify, as well as a new county voting system — implemented to reduce the chance of voter fraud — that requires all paper ballots, including those in the region's most rural areas, to be submitted physically for counting instead of transmitted virtually.
"We spent Election Day campaigning on the Navajo Nation and had a great reaction from the voters," Shedd's campaign spokesperson said in a statement. "We're encouraged by the returns thus far and believe the outstanding ballots will be favorable to us."
Members of O'Halleran's campaign did not wish to provide a statement before the race was officially called.
CD1's representation has historically flipped between red and blue. Before O'Halleran was elected to his first two-year term in 2016, Democrat Ann Kirkpatrick held the seat for two terms. She was preceded by Republican Paul Gosar, who held the role for a term before being redistricted to the 4th district.
In 2018, O'Halleran won the seat over Republican Wendy Rogers after securing 53% of all district votes, including 64% of Coconino County votes. During the previous election against Republican Paul Babeu, O'Halleran had 59% of Coconino votes and 50% of district votes to Babeu's 43%.
In the primary election, O'Halleran won 17% more votes than former Flagstaff City Councilmember Eva Putzova on the Democratic side, while Shedd had 9% more votes than Oro Valley lawyer Nolan Reidhead for the Republicans.
Both Shedd and O'Halleran expressed goals for the upcoming two-year term that include supporting small-town economies, improving forest management, expanding internet access and addressing uranium mine hazards. As of Oct. 14, O'Halleran had spent nearly $2.6 million on his campaign, while Shedd had spent $1.2 million, according to the Federal Election Commission.
Shedd grew up in Pinal County, where she and her husband are now the fourth generation to farm their land in Eloy, about 50 miles northwest of Tucson. She attended college and law school at the University of Arizona, and has worked as a bilingual kindergarten teacher, natural resource attorney and homeschool parent. She is also a Republican Party Precinct Committeeman and firearms coach.
O'Halleran has represented the district since 2017 but previously served three consecutive terms as a state representative followed by a term as a state senator, both positions he held as a Republican before switching parties in 2014. He is current the co-chair of the Blue Dogs Coalition, a centrist U.S. House caucus focused on fiscal responsibility.
10:15 p.m. Tuesday update:
In an apparent repudiation of the current establishment on Flagstaff City Council, it appears voters have awarded candidate Paul Deasy with the position of Flagstaff mayor.
At 10 p.m. and with 66% of precincts reporting Tuesday night, Councilmember Charlie Odegaard had conceded to Deasy on social media and over the phone. At the time, Deasy had received 57% of the vote while Odegaard had garnered 42%, a difference of about 3,500 votes.
Throughout the campaign, Deasy had positioned himself as the answer to voters unhappy with the status quo on the council and those looking for change in city leadership. He said he believed it was that desire for a new direction that granted him so much support with voters.
Deasy said he was surprised to see voters support him in such significant numbers.
"It sounds a little cliché but I think that people think it's time for change. It is 2020 and I think most of us, regardless of what specific issue, most of us are looking for new ideas and new ways of doing things rather than just the same old same," Deasy told the Arizona Daily Sun. "People want to be involved these days, they want to know what's going on. And they want to be a part of the decision making process when it comes to their policymaking."
"I mean, Charlie's a great guy and he's been on Council and I'm just the challenger in this race and I was not expecting that level of margin," Deasy added. "This is when the real work begins. This is where we can really make a difference, when we can really make change rather than just talking about it on the campaign trail."
Meanwhile, Odegaard said while he was disappointed at the results, he was still extremely proud of all the work he was able to accomplish during his time on the city council.
"We've worked really hard for the last four years. A lot of good things done for a community. A lot of things that the city has been wanting to do for a very long time. We got them done in my short time on Council," Odegaard said.
One accomplishment Odegaard pointed to was the unfunded public safety pension liability. That debt had been a massive drain on the city budget, but the council was able to refinance it and put the city on much more stable financial footing, Odegaard said. He had hoped voters would support him for accomplishments like that, but he said that clearly was not how it turned out.
As to the future, Odegaard said he doesn't see himself in politics again. Rather, he said he will serve the city by working with the nonprofits he already has relationships with as well as his business, family and church.
"You know, politics is politics and I guess I'm not very good at it," Odegaard said. "My service in an elected role is over."
Odegaard, who owns and operates the Odegaard Sewing Center on Fourth Street, has been on Flagstaff City Council since 2016, when he narrowly beat current vice mayor Adam Shimoni for the third and final seat.
Meanwhile, Deasy is a research analyst at Northern Arizona University, where he works on improving student success and graduation rates. Deasy ran for a seat on Council in 2018 but narrowly lost out to Councilmember Regina Salas.
In regards to city council seats, the story was more mixed. Based on the returns at 10 p.m. it appears that Becky Daggett can be secure that she will hold one of the three seats available, and likely take the position of vice mayor. That role is determined by whichever council candidate receives the most votes.
Daggett has worked in leadership positions at several local organizations over the years including Friends of Flagstaff's Future, Flagstaff Arts and Leadership Academy and the Flagstaff Arts Council. And she said she believed that experience was one reason so many voters supported her.
Huddling around an outdoor heater as she watched results roll in with several friends and volunteers, Daggett said she was excited.
"I was blown away by that, shocked and excited," Daggett said. "My volunteers and I were just working as hard as we could right up until the end. […] I'm so grateful that Flagstaff is going to give me this opportunity."
The remaining two seats are still up in the air.
Councilmember Jim McCarthy, the only candidate running for reelection, was in the running, as was Miranda Sweet and Anthony Garcia.
Sweet, who owns and operates the downtown shop Rainbow's End, had 17% of the vote, as did McCarthy. Meanwhile, Garcia, who grew up in Flagstaff and chairs the city's Beautification Commission, received 16.9% of the vote as of 10 p.m.
As results continued to pour in, Sweet, McCarthy and Garcia were all within only a few dozen votes of each other.
That left Eric Nolan, who currently sits on the city's Planning and Zoning Commission, with just 14% of the vote and professional trail runner Eric Senseman with 11% of the vote.
Turnout
One thing that is clear is the 2020 election will rival the past record-breaking years for participation.
Even before Election Day, the county had seen 58.7% of registered voters cast more than 53,200 ballots. That number of early ballots alone comes close to meeting the total number of ballots cast in 2016.
By noon on Election Day, more than 6,000 more voters had turned out to polling places with votes coming in at an average rate of 1,000 an hour. By 4:30 p.m. voters were still voting at about the same rate, with 10,155 in-person votes cast.
On top of those voting in-person, a yet undetermined number of voters may have also cast early ballots through drop boxes on Election Day. And with over 18,000 early ballots yet to be turned in as of Monday evening, those could represent a significant number of ballots.
Indeed, during the primary election earlier this year, Hansen said, they saw a large number of early ballots turned in through drop boxes the day of the election. Based on early voting numbers, it appears the number of early ballots turned in on Tuesday won't be as high as before. In the last months of the campaign, voter information groups and the Democratic Party heavily encouraged voters to get ballots in sooner rather than later.
That was in part because all ballots turned in before 7 p.m. on Monday have already been processed and counted. Mail-in ballots turned in on Election Day may take several days to process and count.
Prop 436
While other races were still too close to call by publication, it was clear that Flagstaff voters have supported the renewal of a 1% city sales tax.
As of 10 p.m. the proposition had 64% of the vote.
The sales tax, that first passed in the 1960s and consistently renewed by voters throughout the years, provides much of the revenue for the city's general fund.
That fund goes to pay for everything from public safety in the form of the police and fire departments to parks, street maintenance and city administration. The tax had been set to end in November of 2024 but with the support of voters last night, the city will continue to collect that revenue until at least 2035.
Last month, city management services director Rick Tadder had emphasized the importance of the revenue to city operations and suggested it would be devastating to the city if the tax was lost.
The 1% tax is applied to hotels and motels, restaurants and bars, retail and commercial rentals, but groceries are exempt. And it brings in enough revenue on average to pay for about 33% of the general fund.
The sales tax question, Prop 436, was the only question Flagstaff City Council placed on the November 2020 ballot.
Councilmembers had considered placing a proposition to bond for affordable housing solutions, and one to improve and build parks in the city. But the COVID-19 pandemic changed those plans as many councilmembers felt it was inappropriate to ask voters for money when so many continue to struggle.
The pandemic has also led to drops in city revenues and an uncertain financial future for Flagstaff. Last month, staff told Council the city could see between a $5 million and $15 million reduction in revenues due to the crisis.
9:15 p.m. Tuesday update:
(AP) — In other state races, Democrat Ann Kirkpatrick defeated Republican Brandon Martin to win another term. Kirkpatrick represents the 2nd District, which includes parts of Tucson and southeastern Arizona. And Republican Paul Gosar won reelection to U.S. House in Arizona's 4th Congressional District.
9:05 p.m. Tuesday update:
(AP) — Arizona has joined other states across the nation that have legalized recreational marijuana.
Voters approved Proposition 207 on Tuesday. It will allow people 21 and older to possess up to an ounce of marijuana. Recreational marijuana sales will be permitted and people can grow their own plants.
Approval came after voters narrowly defeated a marijuana legalization proposal in 2016. Voters in New Jersey, South Dakota and Montana also have pot legalization measures on their ballots.
The Arizona measure levies a 16% excise tax on pot sales, on top of the standard state and local sales taxes. Possession becomes legal when the election results are certified in about a month and sales should begin in May.
Get Government & Politics updates in your inbox!
Stay up-to-date on the latest in local and national government and political topics with our newsletter.