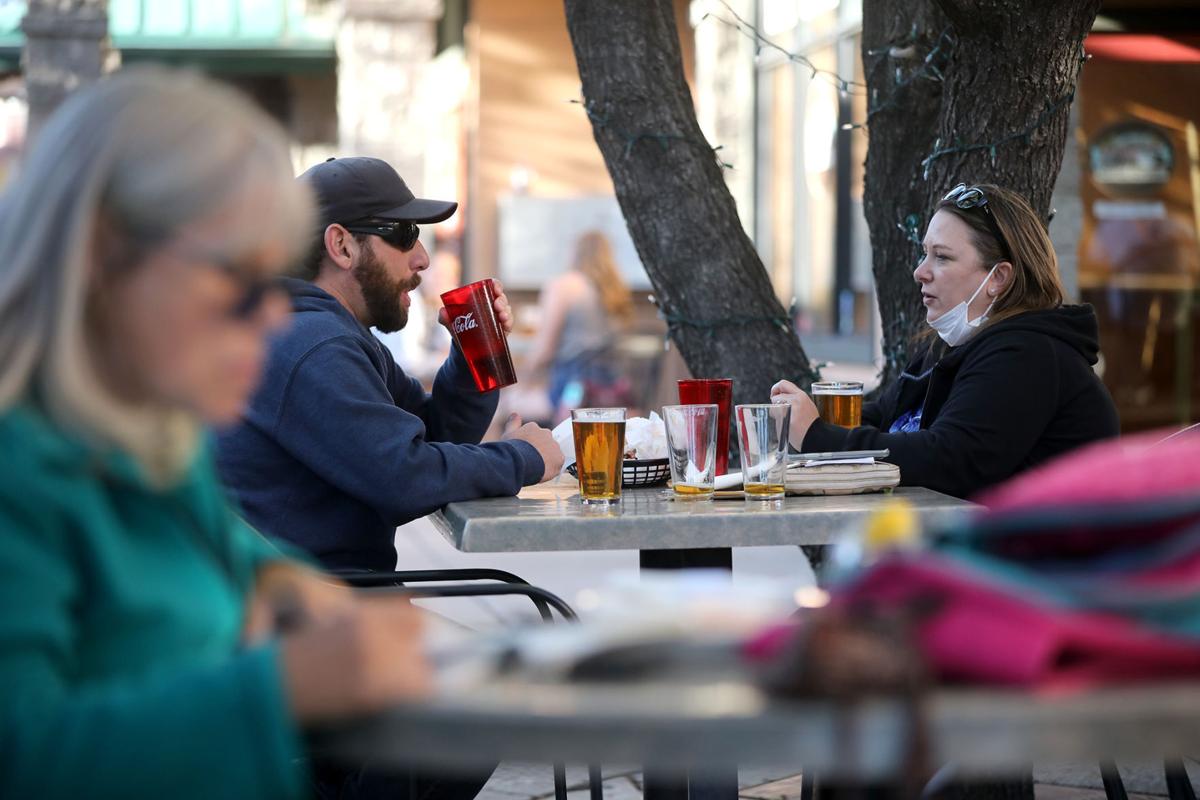 Coconino County health inspectors will add to an increasing amount of coronavirus protocol enforcement restaurants can expect on Monday, Aug. 10.
The move comes after the county continues to receive complaints from the public about people and businesses not following COVID-19 restrictions. Eve Wolters, county division manager of environmental health, said 11 new investigations into businesses are started every day at the county level.
"That's investigations. Those don't include somebody complaining about somebody not wearing a mask," Wolters said. "Those are complaints that call for us to do something more than education."
Coconino County continues to see an overall drop in weekly positive case numbers, with just one week of increases since the high of 326 positive cases in mid-June. Last week, 115 positive cases were reported. Overall, 2,928 positive cases of the virus have been confirmed by Coconino County as of Friday, with 114 deaths since the virus broke out in late March.
The Arizona Department of Health Services reported 1,698 new cases Wednesday, with 182,203 total cases across the state and 3,932 deaths since the pandemic began.
The county has a series of steps it plans to take to enforce Governor Doug Ducey's Executive Order 2020-47, including reaching out and educating businesses. The executive order was implemented on July 11 and applied to many different sectors of businesses from spas and gyms to restaurants, but the county enforcement will only be applied to restaurants.
Wolters said the health inspectors are experts on the subject and in many ways are better equipped to enforce restaurant violations.
"Health inspectors have been educating the community and restaurants all along the way to say get ready for this, space chairs out, space tables out, eliminate these things and prep for this," Wolters said.
If restaurants fail to follow these steps, enforcement actions will range from a verbal warning to a written warning and eventually closing the business until it comes into compliance.
The order defines restaurants as an establishment regularly open for the serving of food to guests for compensation and that has kitchen facilities connected with the restaurant for keeping, cooking and preparing foods required for ordinary food service.
"My hope is that we've done enough upfront education we will find very little of our restaurants out of compliance with the executive order," Wolters said. "If we do, we're able to assist them, getting to where they need to be relatively quickly."
Businesses with questions can call the environmental health general line at 928-679-8750. Members of the public with complaints can continue to reach out to the call center at 928-679-7300.
The requirements from the executive order include:
Restaurants with indoor seating operating at 50% of permitted fire code capacity with six feet of separation between the parties at different tables unless separated by glass.
Restaurants with outdoor dining areas shall ensure six feet of physical distance between tables, benches or other areas for patrons to sit while dining.
Restaurants shall eliminate indoor standing room where patrons can congregate and are encouraged to use reservation systems to limit capacity and congregating of patrons.
Facilities with retractable roofs or garage type windows or doors that open to the outdoors shall be considered indoor facilities despite openings.
All buffets, cafeteria style and self-serve food bars at restaurants shall be closed.
Concerned about COVID-19?
Sign up now to get the most recent coronavirus headlines and other important local and national news sent to your email inbox daily.