Last year, Flagstaff City Council approved the sale of three pieces of city land for the purpose of developing affordable housing. Now, we have a better picture of what those three developments will look like.
The developments are being built by Illinois-based Brinshore Development and will provide a total of 80 affordable units with a possible completion date of sometime in 2020, according to the company's website.
Those 80 units, providing a total of 144 bedrooms, will be split between a development on North Izabel Street, one at 3050 North West Street and one at 303 South Lone Tree Road.
The apartments will be earmarked for those making anywhere from 30% to 60% of Flagstaff's median income. In 2018, the median income for a family of four in Flagstaff as determined by the Department of Housing and Urban Development was $75,100.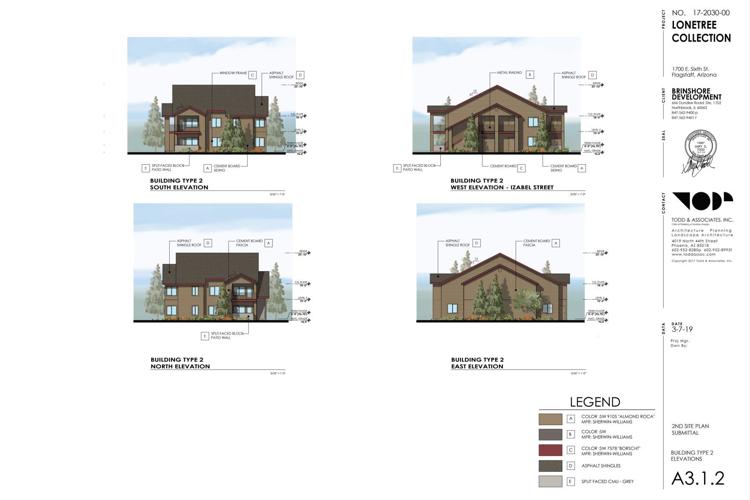 Housing is considered affordable if a family is paying no more than 30% of their annual income to housing and related costs such as utilities.
As a developer, Brinshore has experience building low-income and workforce housing mostly in the Midwest but across other parts of the United States as well.
During last week's council meeting, Richard Sciortino of Brinshore Development told the council that they have been impressed at how welcoming the community has been.
"We develop affordable housing around the country and were often not received as well as we have been in Flagstaff," Sciortino said.
And Council was similarly positive about the developments.
"This is a prime example of a private-public partnership that works and brings a project that the community needs to fill the affordability issues that Flagstaff struggles with," Councilmember Charlie Odegaard said.
Councilmember Jamie Whelan agreed but wondered about the proposed colors of the developments. As depicted in the renderings, all three developments are composed of dark shades of brown.
Whelan wondered if they might make the buildings more colorful.
Sciortino said they have not decided exactly what colors the developments should be and are considering a variety of shades. He added if the dark color remains, they do plans to have strong accent colors that are not shown on the renderings.
Site on North Izabel Street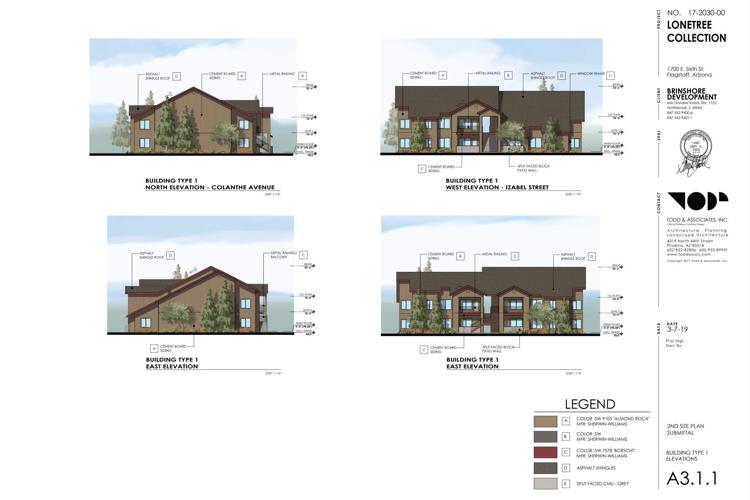 The North Izabel Street development will have 11 three-bedroom units totaling 33 bedrooms on a 1.37-acre piece of land that also has an existing city skate park and a community garden.   
The site will be made up of three buildings, two of which will be two stories and contain the 11 units. The third, smaller building will be used for a leasing office and some storage.
The development will also have 20 parking spaces.  
You have free articles remaining.
Planning Development Manager Alaxandra Pucciarelli said city staff worked with the developer and nearby residents to make sure room is preserved to keep the community garden. About half of the garden is staying in its current location while the second half will be relocated just to the north, making room for a portion of a building in its place.
Pucciarelli said they have also worked with Brinshore and residents to design the landscaping so it does not overly shade the garden, and will protect it so materials and vehicles will not crush the garden during construction.
The skate park will also remain unchanged despite the nearby development.
Site on North West Street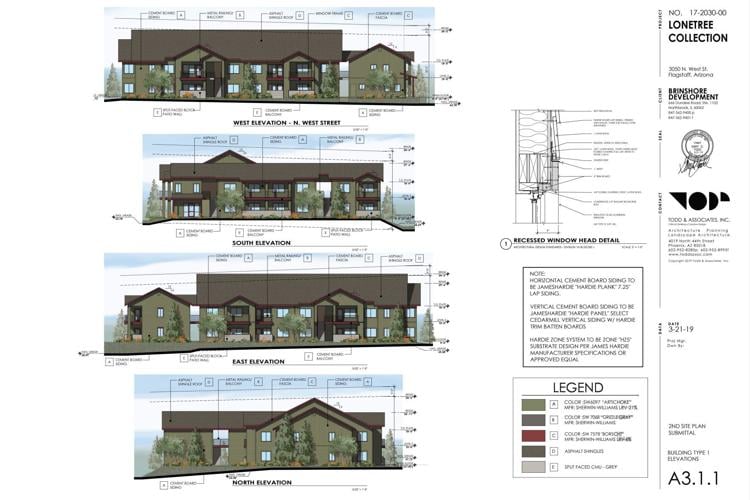 The North West Street development, on a 1.38-acre piece of land next to the Cedar Safeway shopping complex, will have 19 units totaling 31 bedrooms.
Unlike the Sixth Avenue site, the development will be made up a variety of units: one studio apartment, 10 one-bedroom apartments, four two-bedrooms and four three-bedrooms.
The site will have just one two-story building that will contain all 19 units as well as the leasing office.
In the southern section of the development, there will also be 25 parking spaces and a small dog park just next to the shopping center parking lot.
There are single family homes and backyards that neighbor the development just to the north. Pucciarelli said during the public meetings, some residents were concerned that because the new building is two stories, people might be able to see into their yards.
To address this, Pucciarelli said the development will be set back on the north side by 25 feet and they will preserve existing trees that should provide some additional separation.
Site on South Lone Tree Road
The largest of the three developments and located just across from the Aspen Place Shopping complex, the South Lone Tree Road development is the only one that includes commercial space in addition to the residential.
On 1.95 acres, the development will have 50 units totaling 80 bedrooms along with 3,000 square feet of commercial space.
The development will have 5 studio apartments, 25 one-bedroom units and 10 each of two- and three-bedroom units.
The development will also have 65 parking spaces.
The commercial space will face Butler Avenue and will be split in two with about half serving as a leasing office and another 15,000 square feet for other uses.
Mayor Coral Evans was concerned that the commercial would go unused, as has been seen in other recent housing developments across Flagstaff, but Sciortino said this should not be an issue. He said they are not planning on charging rent for that space and are not counting on any profits generated for the success of the development.
"Our hope is we can find somebody to use it who is going to provide some community benefit," Sciortino said.