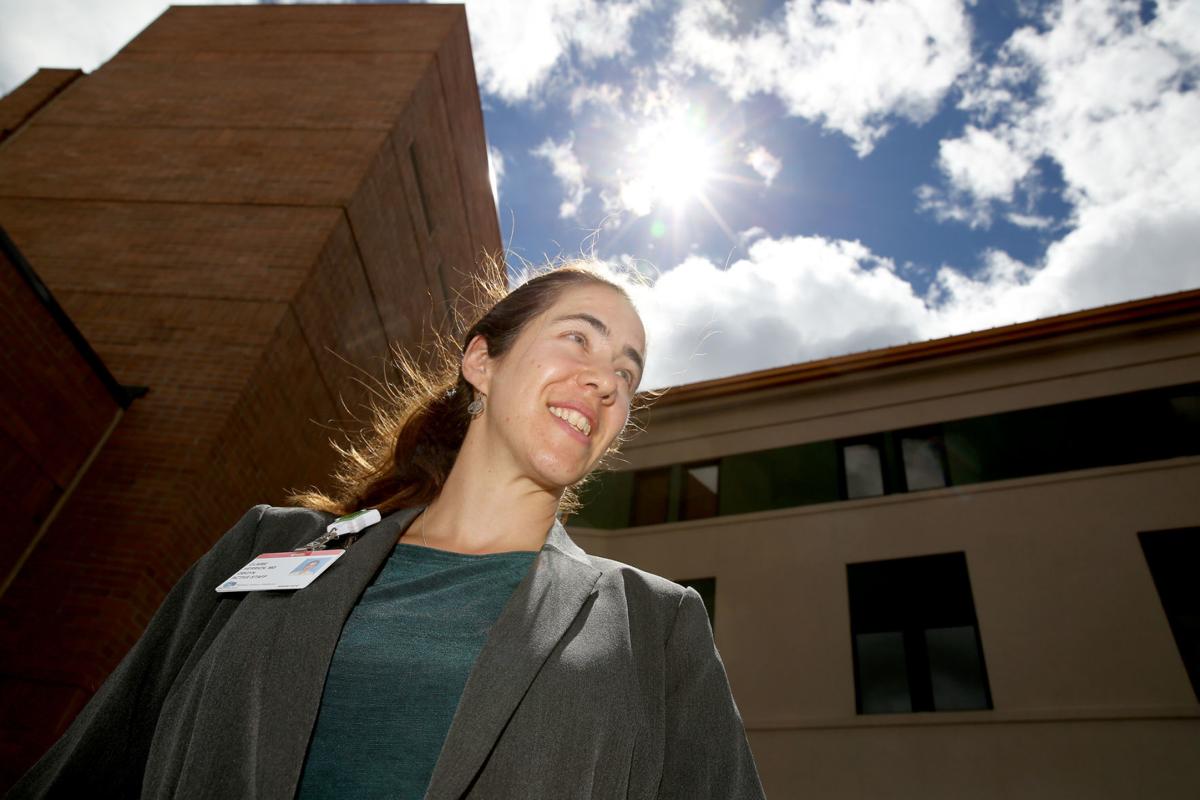 In an auditorium inside Flagstaff Medical Center Wednesday afternoon, Claire Herrick stood in front of a small group of doctors and nurses, clicking through slides showing disease incidences, mortality rates and temperature changes. As her audience lunched on Chinese food, Herrick presented a grim outlook of the health impacts of climate change in the region.
Valley fever, allergies and heat-related emergency room visits. They're all conditions that northern Arizona's medical providers know well and they are only expected to increase with warming temperatures and climbing carbon dioxide levels, Herrick said.
Climate change has huge health implications for northern Arizona and with Flagstaff Medical Center the only major treatment facility for hundreds of miles, it's important that this topic is on their radar, said Herrick, an OB/GYN doctor at NorthCountry Health Care and member of the Flagstaff Citizens Climate Lobby. The nonprofit advocates for global carbon pricing.
"Climate change is already having health effects for FMC patients and patients in surrounding areas," she said. "As a healthcare leader in northern Arizona we can better serve our community by addressing climate change and preparing for these effects."
In her talk, Herrick first rifled through an extensive list of big names in the health world, from the Centers for Disease Control to the World Health Organization, who recognize and are taking steps to mitigate the public health impacts of climate change.
She then plunged into the multitude of health issues tied to and expected to increase as a result of manmade climate change. Heat-related mortality and hospital visits are the more obvious ones. Herrick presented studies from Chicago, Europe and multiple states showing that as temperature climbs, so do deaths and heat-related conditions including heart and respiratory problems.
Arizona already deals with an outsized number of heat-related deaths, and average temperatures have only been increasing. Herrick pointed to a NOAA map showing that between 1991 and 2012 temperatures in the state were 1 to 1.5 degrees hotter than they were 100 years ago.
Higher temperatures facilitate the formation of ozone, a molecule that acts as a respiratory irritant at ground level. Studies have linked ozone exposure to increased rates of pediatric asthma hospital admissions as well as mortality due to lung cancer and respiratory issues.
Again, Coconino County and much of Arizona are already in a worse spot than the vast majority of other counties in the nation, with ozone levels that exceed 70 parts per billion. The county is pushing the federal ozone limit of 75 parts per billion due in part to emissions of nitrogen oxide, a building block of ozone, from the Four Corners Power Plant, Herrick said.
Another effect of a warming climate is a longer growing season — the time between the last frost of spring and the first frost of fall has grown by 19 days in the Southwest compared to 100 years ago, according to the National Climate Assessment.
While it may be great for backyard gardeners, the extended season also gives allergy-causing weeds more time to grow and flourish. On top of that, Herrick pointed to a 2005 study showing that at least one common allergen, ragweed, ramps up pollen production as carbon dioxide pollution rises.
A longer frost-free season and warmer temperatures are bad news for the spread of diseases as well. Those conditions prolong an insect vector's life cycle, giving viruses longer to develop inside the bug and a greater opportunity to spread to humans.
Valley Fever, a fungus that lives in soils in the Southwest, also does better with longer periods of warmth. Cases in Arizona have exploded from about 1,500 in 1988 to a peak of about 16,500 in 2011 due at least in part to rising temperatures.
As the frost-free season length increases, the endemic areas are expanding, Herrick said.
Wildfires, one of the top threats Coconino County faces, are not only expected to increase in size, severity and frequency, but are expected to occur over larger and larger parts of the year. That means more smoke drifting into communities, aggravating asthma and increasing the incidences of conditions like upper respiratory infections and heart failure, Herrick said.
Herrick ended the talk with several suggestions for how doctors could do their part to address the intersection between climate change and health, starting with educating themselves and their patients about the topic.
She also encouraged the audience to use their experience and positions to advocate for climate change action.
"As the health sector, we have a huge voice," she said. "We're relatively well off, we're very well educated and we're very trusted and well respected and I think we need to be using our voice to advocate for a stable climate."
Many in the audience were already on board with Herrick's message.
"I was surprised at how much of an impact climate change has made already," said Beverly Tew, a OB/GYN doctor at North Country who attended the talk. "I feel like it's very important to get this knowledge out there because I think that a lot of people do what's easiest for them and close their eyes to the public health sector."
"Climate change is already having health effects for FMC patients and patients in surrounding areas."

--Claire Herrick, Flagstaff physician
Get local news delivered to your inbox!
Subscribe to our Daily Headlines newsletter.