Squinty-eyed and leaning forward with intense concentration, Gordon Holt was keeping to the beat, singing his heart out in a burnished baritone and, in a twist not required but certainly welcomed by fellow choir members, adding some creative hand-gesturing.
Well, I'm runnin' down the road tryin' to loosen my load …
Holt belted out the opening line to the Eagles' "Take It Easy," his voice deeper but melding seamlessly with Neva Williams' and Linda Webb's sopranos and Paul Marfechuk's tenor — and the voices of everyone else in the room taking part in the weekly rehearsal of the Mountain Tremors choir, which helps community members with Parkinson's and other neurological diseases maintain vocal timbre and range through the simple act of singing.
I've got seven women on my mind …
With a barely perceptible tremor, Holt raised both arms and counted to seven on his fingers, while still keeping his eyes glued to the screen where the lyrics were projected.
Four that wanna own me, two that wanna stone me …
He flashed four fingers, then down to two, wiggling them for emphasis. That caught the attention up front of choir director Amanda Everson, a Northern Arizona University music education major. She smiled brightly, but kept nodding and gesturing to keep the whole group on task.
One says she's a friend of mine …
Only Holt's index finger remained extended, as he leaned to his right toward Fe Murray, professor of speech-language pathology at NAU, who helped form this choir nearly five years ago. Sitting to his left and matching Holt's phrasing word-by-word was Leah Carroll, a graduate student in NAU's Department of Communication Sciences and Disorders, who had a cup of water at the ready should Holt need hydration before gearing up for the chorus.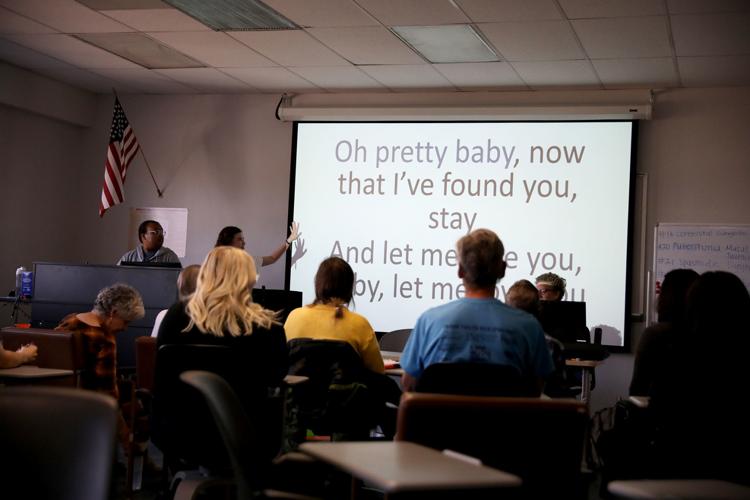 Every Monday morning, seniors diagnosed with Parkinson's — an incurable degenerative neurological condition that, in time, affects people's ability to move, speak and maintain cognitive functions — convene in a campus classroom to tackle popular songs from their salad days, the 1960s and 70s. Three (Holt, Webb and Williams) came from The Peaks Senior Living Community, and Marfechuk from his home near Doney Park, and they were  joined by NAU students studying speech pathology and wanting to lend voice to the project.
The Mountain Tremors have a performance looming on Dec. 2, but this was no "Pitch Perfect" sequel for seniors. The group doesn't necessarily care if it can carry a tune — though it tries mightily and often, as in their rendition of "Take It Easy," succeeds — and they certainly aren't in competition with anyone or anything.
Except, perhaps, their disease.
Researchers have found that singing, whether it be croaking like Bob Dylan or soaring like Luciano Pavarotti, can help Parkinson's patients maintain strong speaking voices. Often, as the condition worsens, Parkinson's sufferers are reduced to a whisper or a slur, just as their motor skills (walking, writing) steadily erode. Too, their facial muscles can become rigid — the so-called Parkinson's "mask" — making it difficult for them to emote and have distinct facial expressions.
Singing, much like physical exercise, can help slow Parkinson's deleterious effects.
"It's not just arms and legs, you know, (Parkinson's) affects the muscles inside the larynx," said Holt, 84, who should know. He's a retired ear, nose and throat surgeon and a founding member of the Mountain Tremors. "Those tiny little muscles that work your vocal chords can get weak. You need to exercise it, just like with physical therapy on your legs."
Murray, the group's facilitator who also works with Parkinson's patients in an individual therapy environment, said, simply, that the choir makes the chore of training their vocal chords fun.
You have free articles remaining.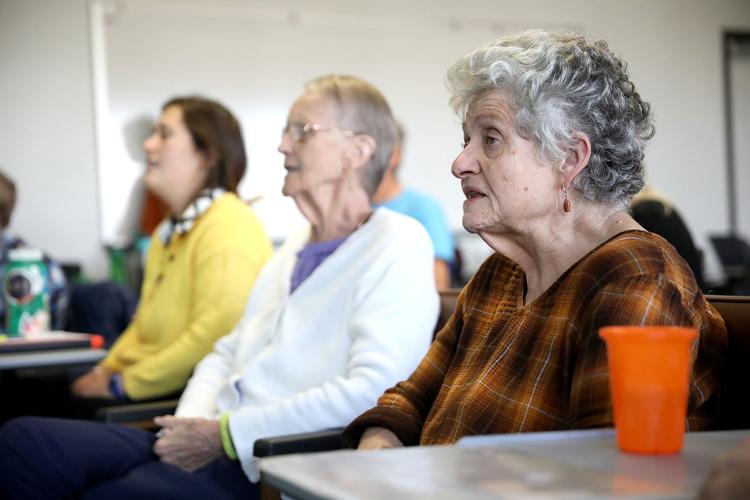 "When you have Parkinson's, your voice tends to get that monotone and you lose your volume — you move your muscles in a very short manner," Murray said. "They also get that (non-expressive) mask. So the over-articulation from the signing helps, too.
"It's hard sometimes because they also lose the ability to self-evaluate. They may think they are singing louder, and they're not. It's a perceptual thing. They don't always have control over their muscles, and that includes the voice."
Beyond therapy, choir members gain immeasurable benefits from socializing with others with their condition. Or just socializing, period.
"It keeps everything in your brain as active as it can be," said Williams, diagnosed with dementia and Parkinson's two years ago. "You can't sit in your apartment and stare out the window and expect to have any type of health. We can't cure (Parkinson's), but we can deal with it. That's why I'm here."
Williams and Holt have lifelong experience with music, Williams in teaching and playing the piano and Holt in church choirs. But for Webb, 71, it's all about staying sharp.
"The singing does a lot for my breath control and expanding the lungs," she said. "It's been 16 years since I've been diagnosed and (her voice) has stayed pretty stable. But I also enjoy it. There's pleasure singing music from our era. When was the last time you heard music you can sing the words to?"
Everson, the NAU music student, was a gentle, friendly taskmaster, but a taskmaster all the same. She had the group do 10 minutes of warmup exercises — humming scales and trilling notes from soft to loud to soft again. At times, Everson had to urge on the group: "Go as high and as low as you can without hurting yourselves."
Then came practicing some of the songs to be performed in the December recital. The Tremors breezed through the Beatles' "Hey Jude," no problem. They lagged a bit on "Take It Easy," Everson urging them to exaggerate their consonant and vowel phrasing.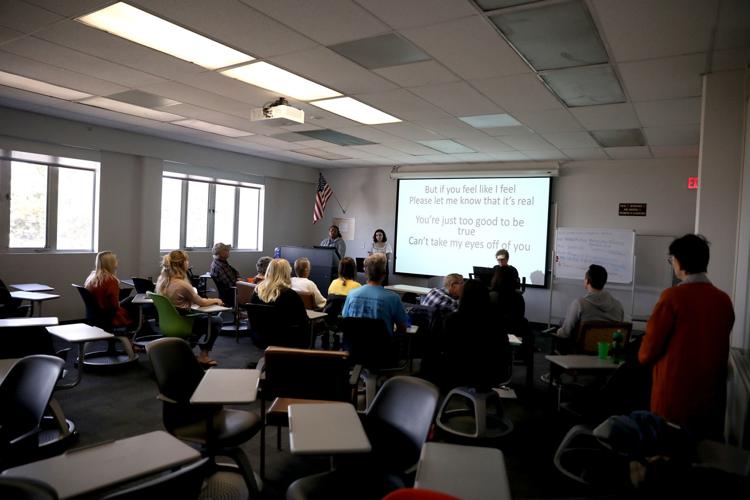 "We need to focus on face shapes," she said, putting the group through its paces without a hint of condescension. "Think the whole time about exaggerating. It's hard when you're trying to sign, but we all forget sometimes."
The group eventually nailed "Take It Easy," having taken poetic license to change the verse mentioning "Winslow, Arizona" to Flagstaff.
The last number, "Do You Believe in Magic?" had some tricky chord changes and vocal breaks, and Everson had them improvise some hand claps to help. They ran through the entire tune without a hiccup. Holt was getting into it, head bobbing side to side.
Do you believe in magic in a young girl's heart …
How the music can free her, whenever it starts …
The Tremors clapped for themselves at the end — deservedly so.
But Holt had a question: "Instead of singing 'young girl's heart,' can we sing 'old man's heart'?"