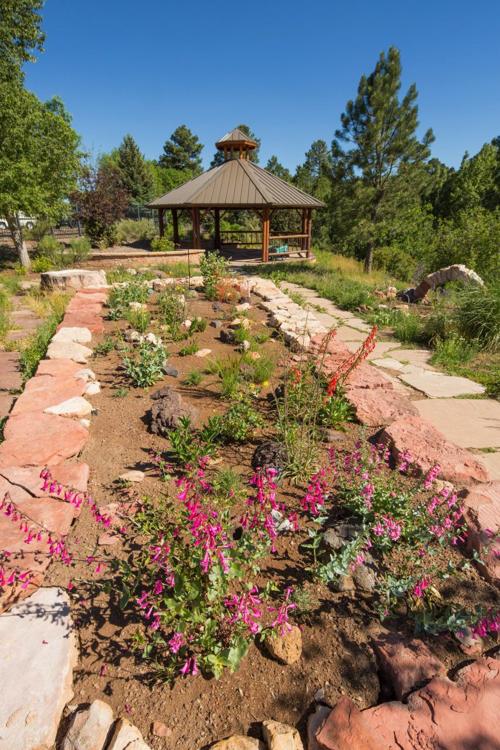 During these strange days of isolation and uncertainty, it seems that more than ever before, every garden is an oasis of hope. In just a few weeks, every flower that blooms and every butterfly that visits will be a realization of hope. I can hardly wait!
I coordinate a group of volunteers called the Friends of Willow Bend Gardens. For two years, we've been caring for the habitat gardens at Sawmill Multicultural Art and Nature County Park. The park is right in the heart of Flagstaff at 703 East Sawmill Road. It's free and open to everybody, any time of day.
The gardens represent several, natural habitats in the Flagstaff area and have a surprisingly diverse range of native plants. There's also a medicinal plant garden, a small kitchen garden, an herb garden, and a Native Heirloom garden where volunteers grow colorful varieties of corn, beans, and squash as well as sunflowers, Hopi cotton, and devil's claw.
When we were asked to help, we thought it was simply a way to support the programs of the Willow Bend Environmental Education Center. We've since discovered that volunteering there means even more to us than that. It brings us the satisfaction of doing something positive for the community and the delight of being outside listening to the birds, seeing the gardens flourish, and sharing our discoveries of blossoming flowers and strange insects. It enhances our understanding and appreciation of the natural world all around us, from the Flagstaff area's climate to its native plants and wild animals.
In an area of increasing high-density development, the habitat gardens offer everyone a portal into nature. They're right on the bluff above the Sinclair Wash wildlife corridor and attract lots of wild creatures up to the pond and bird feeders. This summer, Coconino County Parks and Recreation staff will build a viewing platform in the gardens as part of the Arizona Watchable Wildlife Experience network. And recently, the trail from the gardens down to Sinclair Wash and the I-40 wetlands was nominated for designation as an Audubon Arizona Birding Trail.
People with all sorts of interests come to the gardens: birders, dogwalkers, young families, students to study by the waterfall, seniors out for a saunter, and visitors from all over the world who've googled "park" on their smartphones. We volunteers have observed the common perception of a conflict between generations is hooey and that Sawmill County Park is a unique Flagstaff treasure welcoming to everybody, no exceptions.
According to the Trust for Public Land, "parks are the key to good public health and to the environmental health of cities." Studies reveal that parks within walking distance of neighborhoods not only enhance physical fitness, they also counter stress and social isolation, improve concentration for children with attention deficit disorder, and promote self-esteem and resilience.
Our volunteer season starts with a general cleanup on April 17 and 18. Next, we'll be planting perennials in the meadow and the medicinal plant garden, along with our usual weeding, grooming, and watering all the gardens as needed.
If you'd like to join us, please send me an email at susan@susanlamb.net. You and I can figure out a time for you to come for an orientation. Our workdays are most Fridays and Saturdays between 8 am and 1 pm. County administrators are pleased we can offer this way to support the emotional and physical health of the community. However, they would like to remind everyone of the current guidelines for group activities, subject to revision at any time: stay six feet apart, please stay home if you're ill or at-risk, and no more than ten people in the gardens at a time. We enthusiastically invite you to join us—with gloves on and at a safe social distance, of course.
Note to readers: Guidelines on how to keep ourselves and others safe continue to evolve. Our volunteer program will be conservative this year and we may postpone or otherwise modify our activities. If you'd like to volunteer, do let me know and we'll think this through together as the situation unfolds. Contact me at: susan@susanlamb.net.
Susan Lamb is a local science and nature writer who has gardened in Flagstaff since 1987. She is puzzling over how to explain the meaning of the word "gypsophile" in White Sands National Park, her current work in progress.
Get local news delivered to your inbox!
Subscribe to our Daily Headlines newsletter.