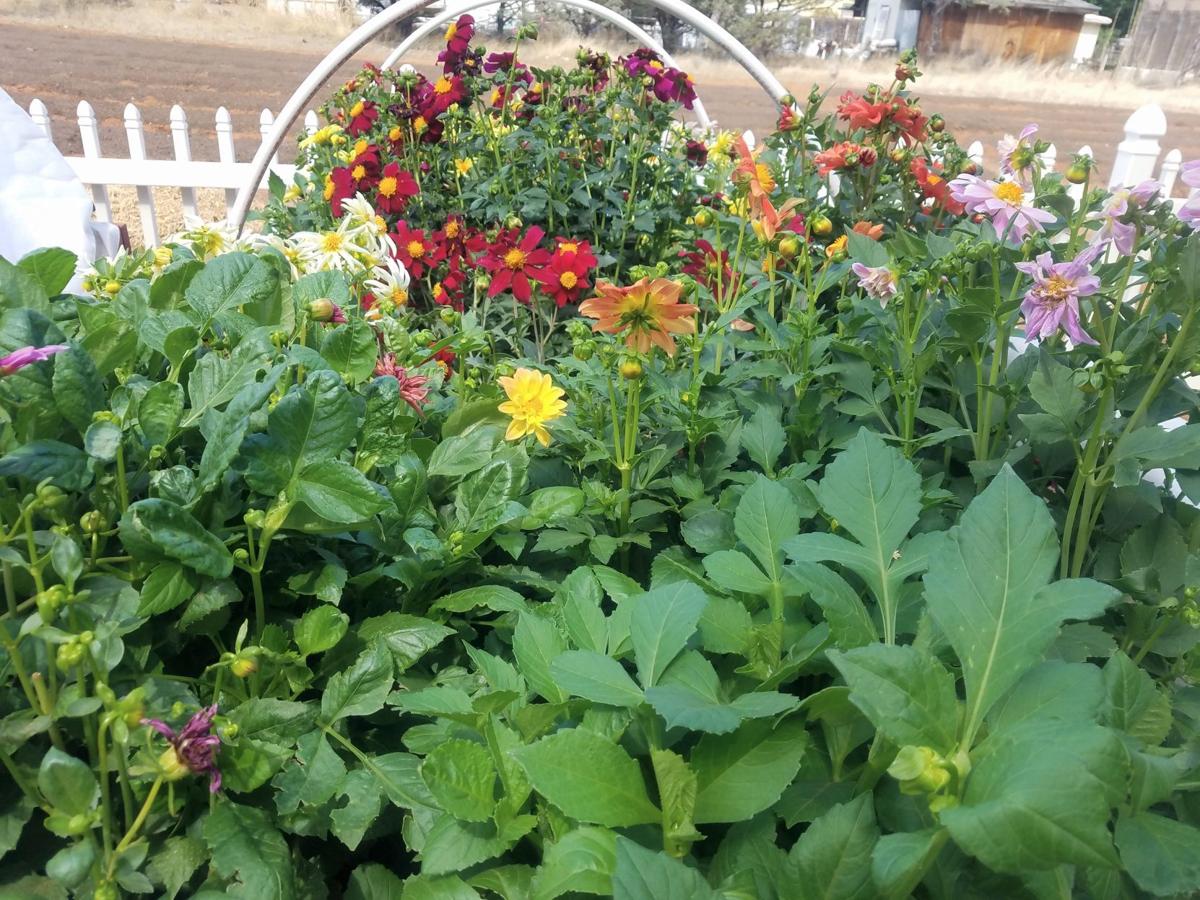 There's something magical about strolling into a garden with a pair of sharp shearers and a bucket of cool water in search of a home-grown bouquet.
This wasn't a luxury I knew until recently because I've always wanted the blooms to last as long as possible out in the garden. But like most things with plants, they are givers. In fact, many flowering plants produce more flowers the more you pick them. A bonus is that these species also don't need a lot of space and can be grown in a small backyard, container, or on a whole acre plot.
Here are a few of my favorites Northern Arizona gardeners might be interested in working into their own spaces:
1. Zinnias
One of the easiest annual flowers to grow, zinnias grown from seed provide an abundance of bright and showy colors all summer long. Be warned, though, they are thirsty plants that will need frequent watering. To grow longer stems for your vases, cut the seedlings back once to only the first two branching leaves. The nodes on those branches will then produce longer and more abundant stems.
2. Sunflowers
Sunflowers, in all their sunshiny goodness, are the ultimate expression of summer. They look great in a vase alone or with a mix of other bright blooms. To keep from having giant stems, plant your seeds or seedlings every 6 inches or so. Also, if you stagger your plantings every two weeks, you can ensure blooms for your vase throughout the growing season, rather than all at once. For pollenless varieties, try cultivars from the ProCuts series, which come in various shades. Sunflowers are generally single stem flowers (one bloom and done) so do not pinch these off as you would for zinnias.
3. Cosmos
With their frilly leaves, cosmos are a great addition to any bouquet. (And the flowers aren't bad either.) Direct sow cosmos seeds after the threat of frost has passed. To encourage as much flowering as possible, cut the blooms regularly and deadhead those you may have missed. Cosmos flowers will blossom all season long and often reseed themselves as well, assuming you're like me and miss a few when deadheading.
4. Black-eyed Susans
Like little sunflowers, black-eyed Susans are a low water solution to those who love cut flowers but live where water use is restricted. As a full sun perennial, they'll come back year after year when mulched over the winter and watered intermittently. They also have a long-lasting vase life, so cut as many as you want, knowing more will be on their way!
5. Dahlias
Currently my favorite group of flowers, dahlias come in all shapes, sizes, and colors. Native to the upper elevations in Mexico, these plants like water and humidity, but can still flourish when mulched well and given well-composted soil. To save money, some varieties can be started indoors as seeds. And for longer blooms, pinch the plants back as described for zinnias. Since dahlias are hardy only to Zone 8, tubers will have to be dug up at the end of the season or some tricks implemented to keep them insulated throughout the winter.
6. Delphiniums
One of the first perennial flowers to pop back up after winter, Delphiniums are beautiful, spiked flowers with colors ranging from light blue to a pink or white-striped mix or a deep purple. Stalks bearing the flowers should be harvested for bouquets when one-third of the blooms are open. The rest will follow once in the vase. One member of this group is the Larkspur, an annual that is a little easier to grow than the perennial varieties. In both cases, the perennials and annuals will naturalize an area.
Growing your own flowers is a great way to keep longer-lasting, fresher bouquets in the home without having blossoms exported from thousands of miles away. Added benefits are the blooms still maintain their fragrances and aren't treated with chemicals.
When you grow your own bouquets, you know what went into getting your flowers on your table. And best of all, you get to experience the flower's journey from seed, to the joyful picking and arranging, and then to your table, surrounded by friends and family.
Jackee Alston has been gardening and farming in the Flagstaff and Verde Valley since 2005 and 2015, respectively. She is the co-editor of the Gardening, Etc. column, a Coconino Master Gardener, founder of the Grow Flagstaff! Seed Library, Development Specialist for the Rocky Mountain Seed Alliance, children's author, and the mother of three remarkable humans. She honors those whose land she now calls home, including the Hohokam, Hopi, Western Apache, Pueblo, and Dine peoples.